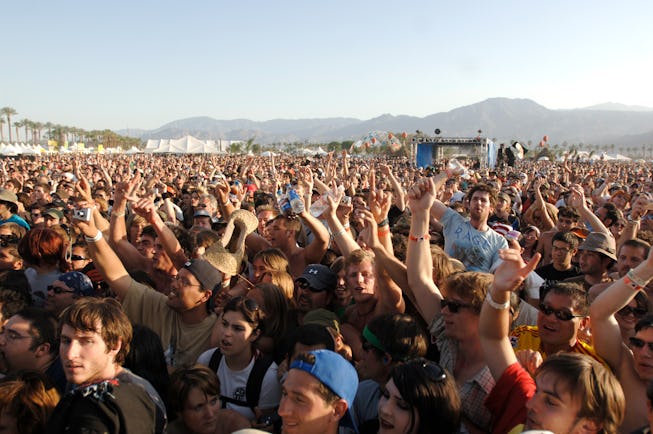 Tim Mosenfelder/Archive Photos/Getty Images
Coachella Finally Confirms April 2022 Dates
Dust off your flower crowns!
If you — like Vanessa Hudgens, we imagine — have been patiently waiting for Coachella to return, wait no more: The gargantuan California festival has officially confirmed the dates for their next festival, taking place in April 2022.
After being rescheduled four times since its original event in April 2020, Coachella is finally making its long-awaited return on April 15-17 and 22-24, 2022 at its usual location in the deserts of Indio, California.
While many other music festivals like Bonnaroo, Lollapalooza, and Governors Ball took the plunge and committed to putting on a 2021 event in the fall, Goldenvoice, the organizers behind Coachella and its sister festival Stagecoach, made the decision to hold off until 2022.
"There's a big difference between having two weekends of Coachella in California and throwing a country festival in Florida," an insider source told Variety earlier this year.
Nonetheless, now that the two weekends are a go, here's everything that you need to know about attending the desert extravaganza in 2022.
Coachella 2022 Lineup
It's official: Rage Against The Machine and Travis Scott will return as headliners for Coachella 2022, festival co-founder Paul Tollet confirmed to the LA Times. The two acts were expected to play the 2020 iteration alongside Frank Ocean and will retake their slots for next year's festival though Ocean won't be joining them. However, fans can rest easy: the reclusive visionary will indeed return as headliner for Coachella but not until 2023, Tollet also revealed, explaining that Ocean wasn't available for the rescheduled dates and that a third headliner for 2022 will be announced soon.
"Right now, it's the Wild West," Tollet told the LA Times. "I'm just trying to be as fair as I can to artists and to the fans to make sure that eventually they get to see everyone that we talked about."
While the full 2022 line-up is still yet to be announced, Tollet seemed to imply that previously announced acts from 2020 like Megan Thee Stallion and Doja Cat will return for Coachella 2022. For updates on the lineup, follow Coachella on Twitter.
Coachella 2022 Dates & Location
Coachella 2022 is returning to its usual time and place in the spring for two weekends in April: the 15-17 and 22-24. It'll take place in Indio, California at the Empire Polo Club: 81-800 Avenue 51, Indio, CA 92201.
Coachella 2022 COVID-19 Regulations
Coachella will require all concert attendees and staff to be fully vaccinated against COVID-19, as music promoter AEG have mandated the policy for all of their festivals, venues, and concerts.
Beginning October 1, there will no longer be an option to show a negative Covid test for entry, and only fully vaccinated ticket holders will be allowed in, except in states where policies like that are banned. See AEG's full statement on the policy here.
How To Stream Coachella 2022 On YouTube
Like past years, YouTube has returned as Coachella's main streaming partner and will live broadcast both weekends of performances via mobile, web, smart TV and other streaming devices.
In 2019, performances were divided across three viewing channels on the official Coachella YouTube page. There was also a scheduling tool that automatically switched streams when a pre-selected artist hit the stage. That was also the first year YouTube provided livestreams for both weekends rather than just opening weekend, which it has done since 2011.
How To Buy Coachella 2022 Tickets
Advance sale tickets for Coachella 2022 will be available for purchase on Friday, June 4, 2021 at 10 a.m. PT through its website.
Those who bought tickets for the cancelled 2020 festival have the option of rolling their tickets over, or getting a refund by logging into their ticket purchase account by 5 p.m. on June 11, 2021.
Editors note: This article was updated on August 13, 2021 with new information about the lineup.
This article was originally published on