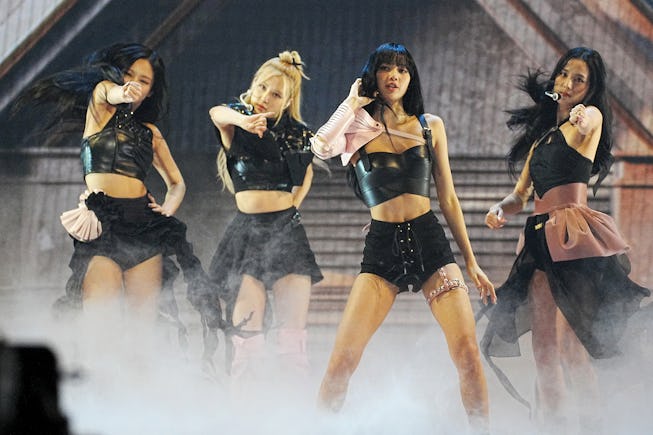 Jeff Kravitz/Getty Images Entertainment/Getty Images
Coachella Is Livestreaming All Six Stages For The First Time
Coachella 2023 is officially a go. The infamous Indio music festival has confirmed the dates for its 2023 iteration and — no surprise here — it'll take place yet again during its usual time slot in mid-April.
On Jan. 10, the festival finally unveiled its stacked line-up which has Bad Bunny, Blackpink, and the previously announced Frank Ocean headlining its 2023 interation. Ocean was originally scheduled to headline the 2020 iteration of the festival, though we all know how that turned out. He wasn't available to perform for 2022, but the festival managed to snag a spot in his schedule for this year, the Los Angeles Times reported back in 2021.
Also on the billing is Rosalía, Björk, Gorillaz, Burna Boy, Becky G, Dominic Fike, Charli XCX, to name a few. Notably, for the sad girl heads out there, Phoebe Bridgers, Lucy Dacus, and Julien Baker's supergroup boygenius is also present, so get your kleenexes ready!
The music festival returned for its first post-pandemic event back in April 2022 with Harry Styles, Billie Eilish, and Swedish House Mafia with The Weeknd as its headliners. The two weekends were packed with surprises, reunions, and special guests as Eilish brought on Damon Albarn during her sets, while Styles invited Lizzo and Shania Twain. K-pop groups 2NE1 also shocked audiences with a surprise reunion, and girl group aespa made their stateside festival debut with a performance as part of 88rising's Head In The Clouds Forever showcase.
While most passes for weekend one are already sold out, you can still try your hand at weekend two or Coachella's own ticket exchange. Read on for everything we know about Coachella 2023 including the exact dates, the lineup so far, and how to snag tickets.
Coachella 2023 dates & location
Coachella 2023 will take place at its usual location in Indio, California during the weekends of April 14-16 & April 21-23, 2022.
Coachella 2023 Lineup
Bad Bunny, Blackpink, and Frank Ocean will headline the gargatuan festival on Friday, Saturday and Sunday night, respectively. Blackpink will be the first K-pop group and girl group in general to hold a headlining slot at the festival.
The rest of the festival's billing is just as spectacular with Rosalía, Björk, Gorillaz, Burna Boy, Charli XCX, Kaytranada, Blondie, Becky G, Metro Boomin, Kali Uchis, Porter Robinson, and Dominic Fike, among others, holding prime time slots. Cult internet sensation Jai Paul is also slated to perform, marking Coachella as his first-ever festival appearance, as is supergroup boygenius, whose follow-up record has been long overdue.
Calvin Harris will also hold a prominent slot at the festival, though it's unclear exactly when and in what capacity he'll play.
See the full line-up below.
How to buy tickets to Coachella 2023
Though most weekend one and weekend two passes were sold out in the first wave of release, Coachella is releasing a few more for both weekends, though, per Coachella, "Very limited Weekend 1 passes remain. For your best chance at passes, look to Weekend 2."
Presale for the second wave of passes begins Friday, Jan. 13 at 11 a.m. PT. Registration for access to the presale is open now. Otherwise, you can join the waiting list for a chance at passes here.
How to livestream Coachella 2023
For the first time all six stages at Coachella will be livestreamed on YouTube. Both weekends of performances will be available to watch for free online, in addition to on-the-ground coverage of the art, artists, installations, behind-the-scenes Shorts moments, and more.
The livestream for weekend one kicks off Friday, April 14 at 4 p.m. PT / 7 p.m. ET, and at the same time on Friday April 21 for weekend two. And if you happen to miss your favorite set live, the performances will broadcast on repeat after the night's final performance until the live show picks back up at 4 p.m. PT/ 7 p.m. ET the next day.
Tune into the livestream on Coachella's official YouTube channel. Stay tuned for the full livestream schedule.
This article was originally published on