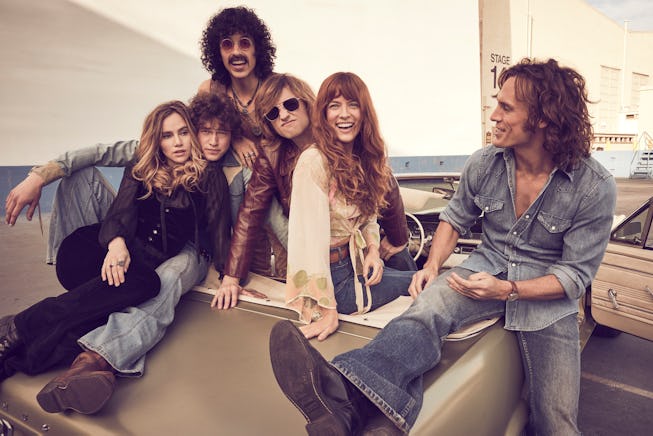 5 Things You Should Know Before Watching 'Daisy Jones & The Six'
No, it's not a real band.
After nearly three years of waiting, the highly-anticipated rock 'n' roll musical drama Daisy Jones & The Six is finally here. The 10-part Amazon Prime limited-series premiered its first three episodes on Friday, March 3, kicking off the show's epic centering around the titular world-famous '70s band and the sex, drugs, and drama that led to its ultimate demise. With much critic hype and a star-studded cast (including Zola's Riley Keough, Suki Waterhouse, The Hunger Games' Sam Claflin, and more), Daisy Jones & The Six is already shaping up to be one of the biggest television events of 2023.
Before diving in, read on for five important facts about the show, which arrives with an already significant amount of lore.
1. Daisy Jones & The Six is a fictional band.
As real as the music, characters, and storyline behind Daisy Jones & The Six may seem, the band is purely fictional. Like many great digital media nowadays, the show actually an adaptation of a book, the wildly popular 2019 novel of the same name by author Taylor Jenkins Reid.
The novel itself is formatted as a faux oral history (a reason as to why it may read so real), aimed at "revealing the truth" of what exactly happened to cause the downfall of the titular band. The plot follows the formation of the group, and the events leading up to one critical performance at Chicago's Soldier Field which ultimately led to its disbandment. Shortly after the book's release, Daisy Jones & The Six landed on the New York Times bestseller list, and was later also selected as one of Reese Witherspoon's picks for her bookclub. To date, the novel has sold over one million copies.
2. Daisy Jones & The Six is (very) loosely based off of Fleetwood Mac.
Music history nerds — and maybe people who just lived through the '70s — will notice a lot of similarities between Daisy Jones & The Six and the arguably biggest real band of that decade, Fleetwood Mac. That isn't a mistake — Fleetwood Mac was a huge inspiration for the band, but only loosely so.
In a 2019 interview with Reid, the author explained that Daisy Jones & The Six definitely intentionally has a "Fleetwood Mac vibe," but that the story is "not their story." "I just wanted to spend more time listening to Rumours," she said of writing the book to The Guardian.
Specifically, Reid said one real Fleetwood Mac moment helped kickstart the entire creative process behind Daisy Jones & The Six: a 1997 live performance of "Landslide" that featured some fiery glances between lead singer Stevie Nicks and Lindsay Buckingham.
"When I decided I wanted to write a book about rock 'n' roll, I kept coming back to that moment when Lindsey watched Stevie sing 'Landslide,'" wrote Reid in a 2019 essay for Hello Sunshine. "How it looked so much like two people in love. And yet, we'll never truly know what lived between them. I wanted to write a story about that, about how the lines between real life and performance can get blurred, about how singing about old wounds might keep them fresh."
That being said, despite Fleetwood Mac being a strong muse for the story, Reid has emphasized that the events of the book are purely fictional: "Almost nothing in the book actually happened with Fleetwood Mac."
3. The actors behind Daisy Jones & The Six have musical roots.
The biggest challenge the creators of Daisy Jones & The Six was facing was obviously wrangling together a group of actors to convincingly pull off being members of a world-famous band. So you won't be too surprised to learn that almost all the actors that make up Daisy Jones & The Six have substantial musical backgrounds and roots.
Riley Keough, who plays our heroine Daisy Jones, is none other than the granddaughter of Elvis Presley. (Her mother is the late Lisa Marie Presley.) Although this is Keough's first-ever singing role, she's dabbled in music in the past. She provided backing vocals to Orville Peck's countrified cover of Lady Gaga's "Born This Way" in 2022. But, Keough maintains that she's never had professional training.
Suki Waterhouse, the actress behind the band's keyboardist Karen Sirko, is a certified rockstar off-cameras, too. She released her debut album, I Can't Let Go, in 2022, which fittingly also oozes a retro pop-rock sound. Since then, she's treked across U.S. on a sold-out tour, and most recently played an explosive show in NYC.
The actors behind the other band members, Sam Claflin (lead singer Billy Dunne), Sebastian Chacon (drummer Warren Rojas), Josh Whitehouse (bassist Eddie Roundtree), and William Harrison (lead guitar Graham Dunne) came from varied musical backgrounds. Whitehouse and Harrison both came into their roles knowing how to play the guitar (Whitehouse is part of his own band More Like Trees). While Chacon has had musical theatre experience. Claflin, most well-known for his role as Finnick in The Hunger Games film series is perhaps the only member of the band's cast who didn't have major musical experience, however he did attend the famed London Academy of Music and Dramatic Art.
4. Real, big-name musicians helped write the band's original songs.
All of the band's original songs that will be performed on the show were written and produced by the Grammy-winning Blake Mills, the California-based musician who's worked with artists the like of Bob Dylan, Fiona Apple, Alabama Shakes, John Legend, and Perfume Genius.
However, a long list of other real, big-time musicians also lent a hand to the makings of these songs, including Marcus Mumford, Chris Weisman, Phoebe Bridgers, Jackson Browne, Z Berg, Jason Boesel, Matt Sweeney, Cass McCombs, Ali Tamposi, James Valentine, Barbara Gruska, Ethan Gruska, Stephony Smith, Jonathan Rice, Joe Keefe, Ashleigh Collins and Taylor Goldsmith. They all have credits as co-writers on select tracks.
And despite the fact that a lot of readers will recognize many of the song titles from the book, like "Regret Me," the lyrics of the songs on Aurora are all original and not lifted from the books.
5. Author Taylor Jenkins Reid had a hand in the TV Show.
Book purists, you can let out a sigh of relief knowing that the Daisy Jones & The Six adaptation won't be straying too far from its original source text. Unlike with some adaptations, Reid was reportedly integral in the show creation process as a credited producer and writer. She also seemed to have been involved in the casting decisions for the show.
"I think we all thought it was going to be really hard to find Daisy Jones because she's this really larger-than-life character. And then Riley showed up and immediately (we were) like, 'Oh, there she is. She is Daisy Jones'," she told the Today show about Keough's audition. Reese Witherspoon is also heavily involved in the show as an executive producer.
'Daisy Jones & The Six' is streaming now on Amazon Prime Video.