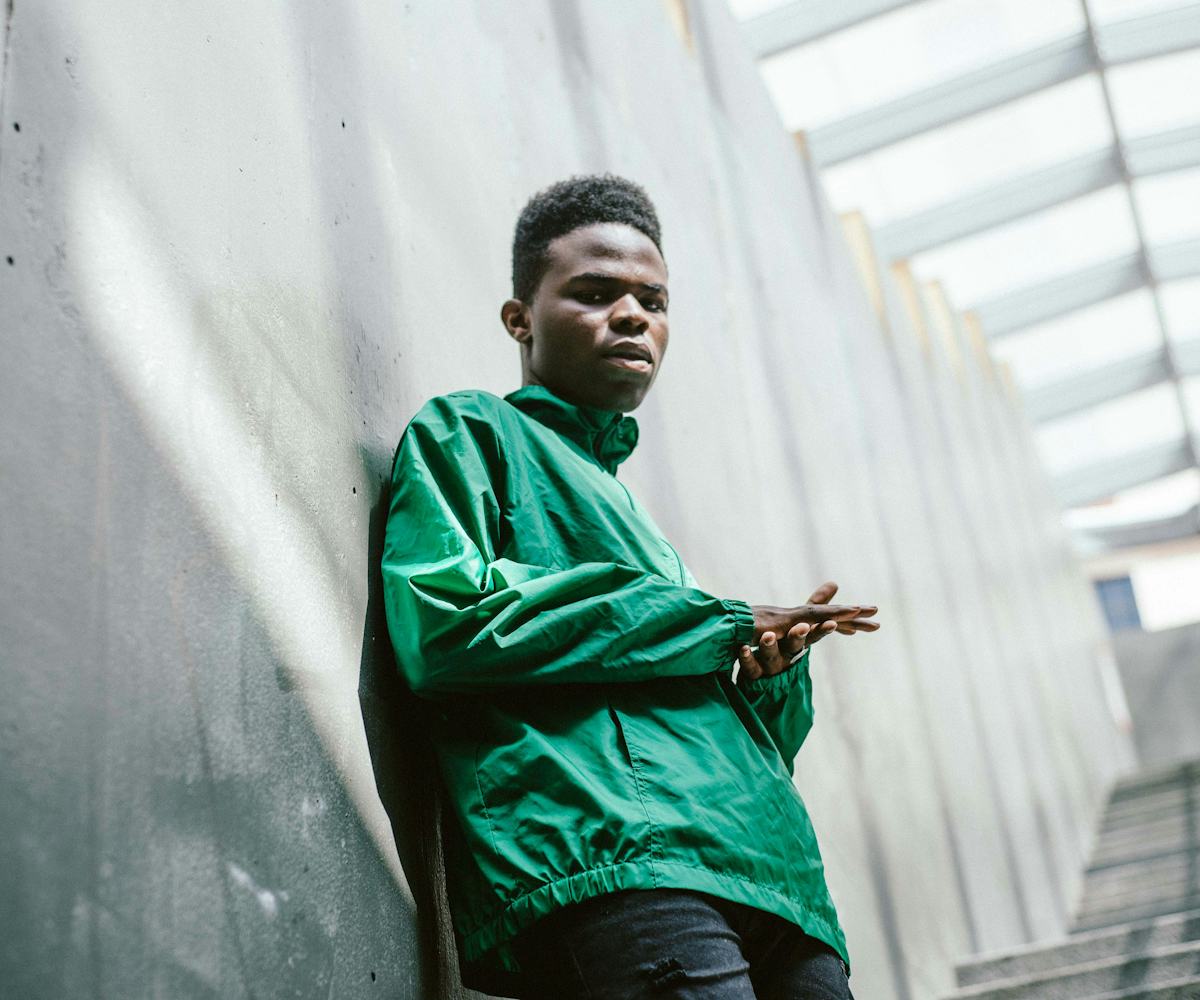 Photo by Diane Abapo
Daye Jack Is A Millennial Rapper With The Drive Of Steve Jobs
Learn how he's killing the game
Like all young millennials, Daye Jack, a 20-year-old rapper, was raised in the digital age. Based in Atlanta, by way of Port Harcourt, Nigeria, the hip-hop artist's melodic beats and poignant lyrics are synthesized into an exploration of the culture and opportunities born from the rise of modern technology.
Before expressing his love and interest for the internet creatively, Jack did so academically as a computer science major at NYU. It was there that he was introduced to the hustle mentality of New York, which influenced his decision to leave school and focus on music.
Like most millennials, he used social media as a tool to get close with some of the best connections in the music business. The SoundCloud rapper had enough clout with his first two projects Hello World and Soul Glitch to be signed by Max Martin, and now he's blowing up thanks to his latest EP, Surf the Web.
Daye Jack stopped by our office to talk about his latest project, diverse upbringing, and how everything came together for him on the internet. Plug into the conversation in the interview, below.
Can you tell me a little bit about your project?
It's called
Surf the Web,
and this is an EP I started working on right when I left NYU. I was studying computer science, but I moved to L.A. and left school when I started working with Max Martin. And then I was thinking,
What type of project or style would be like a cool debut and cool introduction to who I am?
When I was 13, I was listening to a lot of Eminem's 
Relapse
, Outkast because I'm from Atlanta, [Justin Timberlake's] 
Justified
was one of my favorite albums; I wanted to make an EP that puts myself in the shoes of all those albums that I really like and keeps the sonics to something I would have been listening to when I was 13.  
Why did you choose the title Surf the Web?
Well, the story of the EP is trying to tell what it means to grow up in the internet age, where you get a girl by sliding in her DMs, or you learn how to dress off looking at blogs. It's all so digital, and I wanted to make an EP that was true to that.
What is your personal relationship with the internet?
I don't think I would have come this far, even though I have ways to go, without the internet. What really kickstarted me was being able to navigate through this industry and work with Mike Elizondo, who is executive producing the album I'm working on, and with Max Martin, who's a genius songwriter and taught me a lot. What got me to that position was blogs picking up my songs and those people being able to hear it. 
Who else inspires you?
I'm hella inspired by Steve Jobs. That was the reason why I wanted to go into programming and stuff. I love the idea that you don't have to be really good at anything, you just have to have really good ideas, and then the rest will come. I read his book like five times. He was not good at anything technical on that level, he just knew how to get good people around what he was doing, and knew how to translate his ideas to make them real. That being said, Kanye to me is like the modern Steve Jobs; he's been able to do the exact same thing on the musical side. Those two people are the two staples when it comes to art.
What do you have to say about Atlanta now that it seems to be emerging as a cultural hub?
I love the city of Atlanta. I feel like that's what made me. If I wasn't listening to Outkast when I was younger, I wouldn't be singing and rapping. Right now, there is definitely an Atlanta sound. I was back in Atlanta for a show opening up for Lukas Graham, and this kid was like, "Yo, I really like your music, but to really pop off in Atlanta, your songs have to go off in the strip club, and you don't really have any songs that will go off in the strip club." I was like, "Yeah that's true, but I feel like Atlanta is a little bit deeper than that." I feel like a lot of people out here are just telling their own stories. Like Childish Gambino, who is one of my favorite artists, he doesn't really go off in the strip club.  
How do you want to grow as a creative individual?
I want to do more. I have kind of like gotten thrown into the music industry. I feel like I didn't really understand it with the whole major label thing. Just big names around you, people kind of start to convince you, "Yo, this is the kind of music video you want to shoot, this is the type of style you want to have." They try to give you bullet points, and over the past year, just swimming through the mess of it, I realized that the best stuff that happens for me is the stuff I do by myself or with a close friend, like the people who make art that I respect. I want to take it to a bubble where I am directing videos or making my own cover art, and just doing as much for this music that I can do before getting so-called big budget people to come stick their hands into what I am doing.
What do you hope that your impact will be on the music industry?
I'm more trying to impact kids. I come from an immigrant family, I was born Nigeria. I moved out here when I was six years old, and I just want to impact kids who have stories that aren't supposed to be in the limelight or pop. Like a Nigerian kid who grew up in the suburbs of Atlanta is not supposed to be in the spotlight at all. If I can, I just want to be able to go as far as possible so that some kid who is from an obscure background where the white people don't really understand can still dream and be a successful musician or artist or go any place he wants to go.
What do you think is a common misconception that people have about the millennial generation?
That's loaded. I get that a lot from my parents; I feel like when you're on your phone all the time, people think you're doing nothing. They think your life is connected to it because you're always looking down on your phone to live. The cover art for my EP is just me looking down on my phone because that's what living is. You got to connect with people, reach out, post stuff on your 'gram, not just for nothing but it's your career. You are trying to show people what you are doing because that's how you get fans. You want to reach out and touch people on Twitter. At the end of the day, that's work. That's life and that's work and that's what living in 2016 is. 
Do you have any criticisms of your generation?
I think it's hard to tell what's real and what's fake now. Everyone is a character. Recently, I have been meeting more people through [the internet]. People will slide in my DMs like, "Yo, if you're ever in so-and-so area, come through." Because I'm on tour right now, I get to go to those cities, and I'll invite people to those shows. Sometimes there is a disconnect between someone's internet character and who they are in real life, and you can never predict that. That's the one bad thing. Also, I feel like there is a certain quality about doing things in real life and we sometimes forget that. I was at a party in L.A. and everyone was looking down at their phone and I was like, "Yo, let's hang out or do something." It's almost like a crutch, at some point you just have to put the phone down and step outside and get some fresh air.