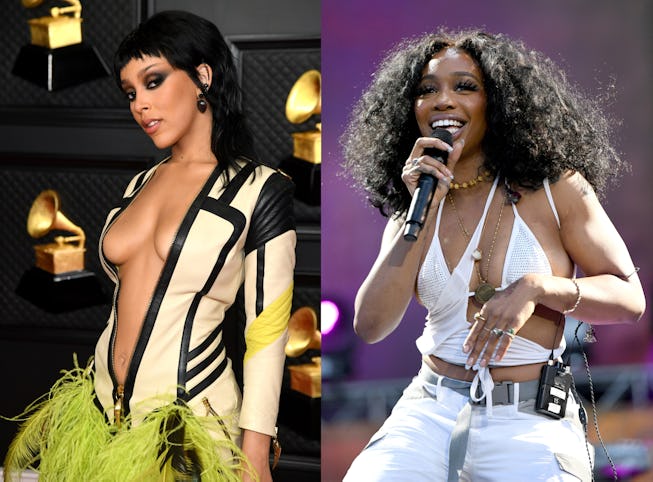 L: Photo by Kevin Mazur/Getty Images for The Recording Academy R: Photo by Craig Barritt/Getty Images for Something in the Water
Doja Cat's First 'Planet Her' Single Will Be A Collab With SZA
Doja Cat is finally ready to kick off her new era for Planet Her. After months of teasing and trolling her fans, the lead single for the pop star's next project is almost here — and surprise, it will include a feature from none other than SZA. The song, "Kiss Me More," is out this Friday, April 9, and will be Doja's first single since the release of her massively popular second album, Hot Pink.
The details surrounding Planet Her have been sparse, but everything we do know Doja has delivered with a heavy dose of her signature internet chaos. Back in January, she unfollowed everyone on Twitter except a select group of artists, prompting her fans to take a wild guess as to why. Heavily rumored to be the features on her next album, the star-studded list included Saweetie, Ariana Grande, Young Thug, SZA, The Weeknd, A$AP Ferg, and Megan Thee Stallion.
Later in March, she offered her fans a sneak peek into Planet Her. The multi-hyphenate uploaded a short video of her jamming out to a grinding club track that was clearly just a chance to troll her fans. The song included lyrics like: "The baker is the cash man/ The photographer's the flash man/ The barber is the 'stache man," and so on. She ended up releasing the song ,"Trash Man," on Soundcloud the same day.
All that being said, Doja Cat will likely deliver some heat with her official lead single if her previous track record with Hot Pink is any indication (and it is). Her sophomore record, released back in 2019, spawned a slate of singles that dominated the Billboard Charts, including "Say So," "Like That," and "Juicy." "Streets," the latest track from the album to get its shining moment, has TikTok and the late 2020 #SillhouetteChallenge to thank, but only Doja can be held responsible for its utterly memorable lines — "Damn papa you a rare breed!" — that are rolling through our heads at any given moment.