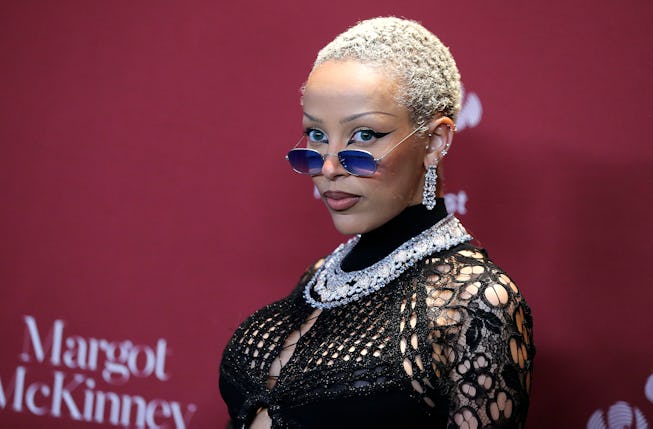 John Lamparski/Getty Images Entertainment/Getty Images
Doja Cat Kicks Off New Era With Single "Attention"
The singer's new song is out on Friday.
Doja Cat hasn't released new music since "Vegas," last year, the buzzy song for Baz Luhrman's Elvis soundtrack. But in a Twitter post today, June 13, the singer dropped artwork for her latest release "Attention," with shows blood drizzled in the shape of an upside down triangle. "6.16.23," she wrote, alluding to a Friday release date.
There was reportedly a leaked pre-save link to the song yesterday that's since been taken down, but today, fans got confirmation of the track that Doja has been teasting for months.
On Wednesday, June 14, Doja offered a preview to the melancholic-sounding rap track with a short clip that shows the singer being mobbed by a crowd of fans. "Look at me, look at me/ You lookin?" she raps before it cuts out.
Back in the fall, Doja Cat has said she was working on a house music album inspired by German raves, though the artwork looks more cat scratch than Kraftwerk.
"We just have so many ideas and making those ideas consistent is the challenge right now," she told CRJ Fashionbook. "I can't really tell much. I just know there's a lot going on. I'm very into this '90s German rave kind of vibe right now and it's really fun."
In April, she took to Instagram stories to announce some of the tracks of the upcoming album, including "Attention," "Love Life," "97," "Wet Vagina," "Can't Wait" and an unfinished song called "Ouchies." But in the last few weeks, Doja Cat has been saying a lot of things about her newest release, as well as lambasting her old albums. In May, she wrote in a since-deleted tweet that "'Planet her' and 'hot pink' were cash-grabs."
"[Y]all fell for it," she wrote. "[N]ow i can go disappear somewhere and touch grass with my loved ones on an island while yall weep for mediocre pop."
That same day she also somewhat unofficially announced that the album would be called First Of All, though the title could very likely be subject to change. After all, she previously said the title of the upcoming album was Moist Holes, and Hellmouth, but later walked back those announcements.
There is much to be surprised about, but in the meantime you can pre-save "Attention" here.
This article was originally published on