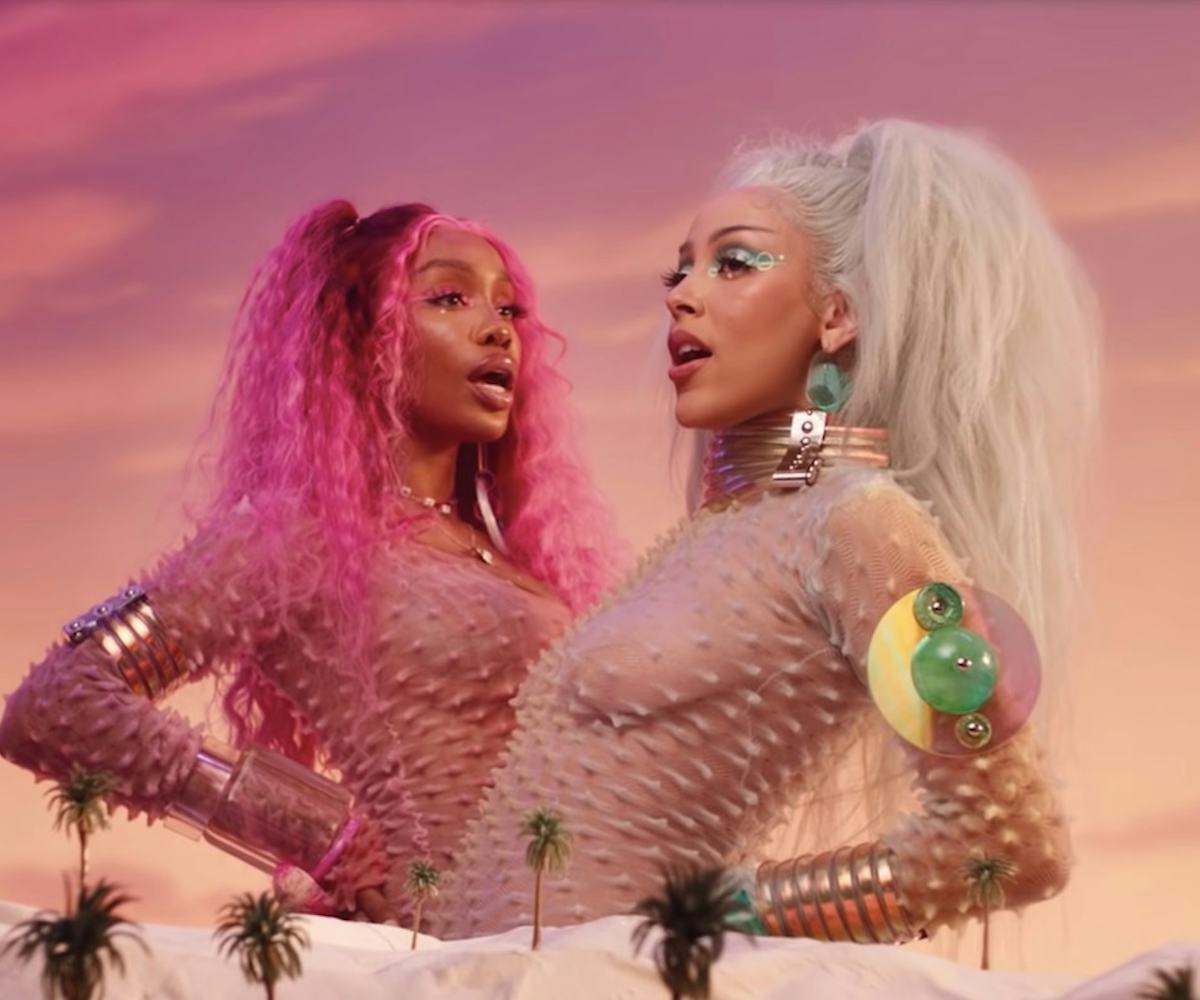 YouTube
Doja Cat & SZA Are Seductive Aliens In New "Kiss Me More" Video
Welcome to Planet Her, an arid oasis dotted with palm trees, hallucinogenic fruits, crystal clear waters, and home to two inhabitants (so far): Doja Cat and SZA. The "Say So" singer has finally unleashed the lead single to her highly anticipated third album, Planet Her, which is double-functioning as a captivating introduction to her new world. Her seductive new song "Kiss Me More" features vocal stylings from SZA, and is a mid-tempo pop number with guitar and sticky melodies that likely won't be leaving your head anytime soon. Doja Cat also shared its music video on Friday, a Warren Fu-directed sci-fi visual that brings the planet to life.
In an interview with Apple Music's Zane Lowe, Doja explained that "Kiss Me More" came to be after she wanted to make a song about kissing. She explained that she created "Kiss Me More"'s sound "in the spirit of [SZA]," after meeting the R&B singer in an American Apparel some five years ago.
"I just thought of her, and it just felt right," Doja Cat told Lowe. "This beat felt right. I love hearing her on uptempo stuff. She did the Maroon 5 song that I was obsessed with. And then, yeah, it was just like, 'Why is this not a conversation? We're putting her on there, right now. We're doing it.' And she killed it."
"She took it to like a deeper level, which is what I needed, you know what I mean? Because then it starts to become like a children's jingle and she just made it feel relatable and adult and sexy and funny and awesome," Doja continued.
In the song's video, which stars the chiseled face and abs of Grey's Anatomy star Alex Landi, Landi is an astronaut who crash lands on Planet Her, tasked to study the new world, but not interact with its inhabitants. Doja and SZA, who catch sight of the traveller, eventually seduce him into their lair, though, because it's still Doja Cat, there's a darker twist at the end.
Doja Cat announced Planet Her back in January, and "Kiss Me More" is the singer's first song since the release of 2019's Hot Pink. Though details surrounding the new project are sparse, it's rumored that the album will include collaborations with Saweetie, Ariana Grande, Young Thug, SZA, The Weeknd, A$AP Ferg, and Megan Thee Stallion. "Kiss Me More" was jointly-released on RCA and Dr. Luke's Kemosabe Records. The track also includes a co-writing credit from him, according to Genius.