Elyanna Is Arabic Pop's North Star
She's not the first Arabic pop star to exist, but if all goes according to plan, she'll be one who's embraced both inside and outside the Arab world.
Photographs by Juan Veloz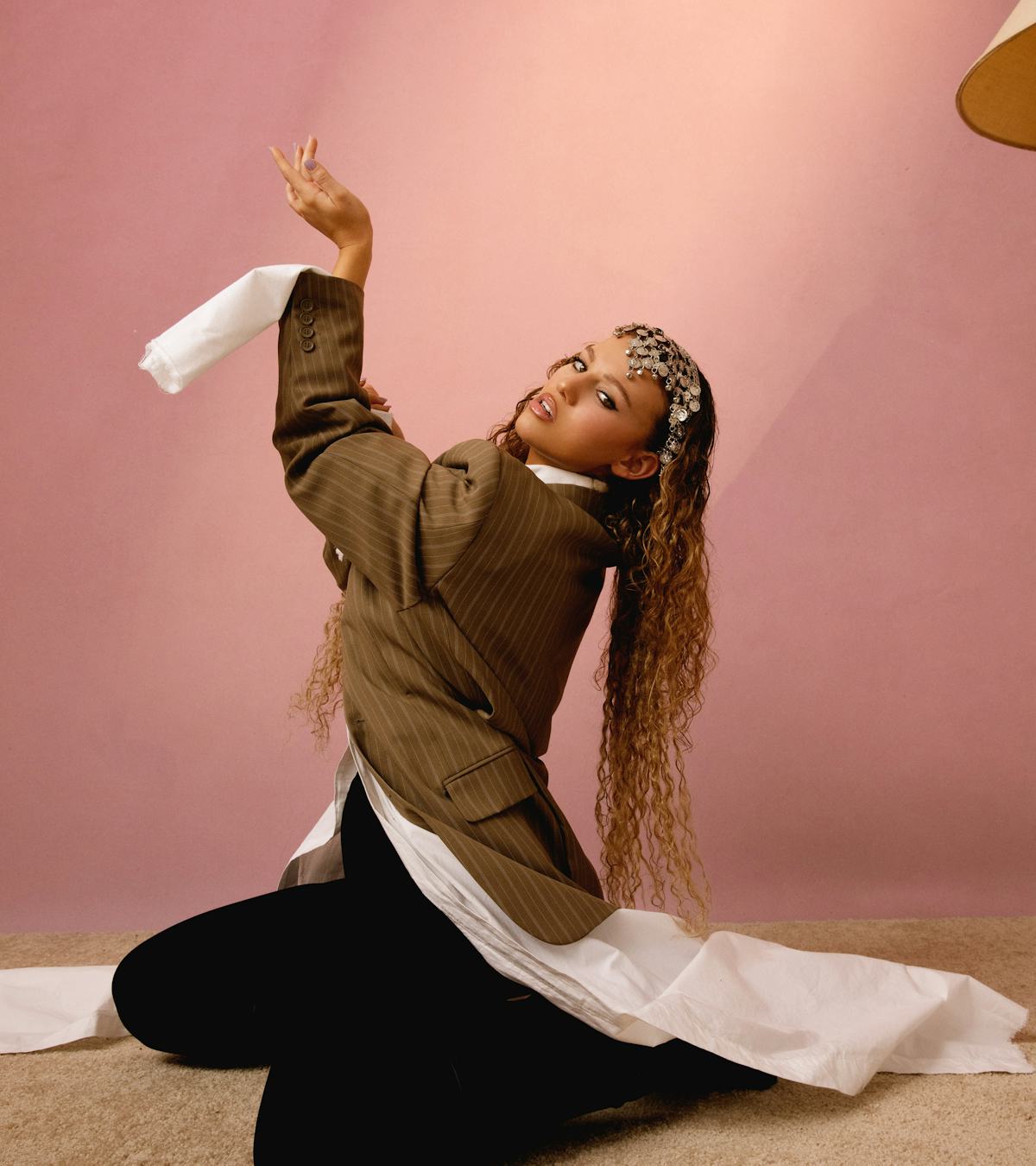 The last time Elyanna, a rising Palestinian-Chilean pop singer, went to Coachella, it was just for fun. She came to the festival with her management team, and while backstage, she ran into one of their other clients and a headliner for the night: Abel Tesfaye, aka The Weeknd. The two exchanged pleasantries, and Tesfaye asked Elyanna if she had ever performed at the festival. She hadn't. "Well, maybe next year," he said.
Now, a year later, it's all happening. "I guess he manifested this," she jokes from Los Angeles, where she's in the midst of rehearsals for her big day. Elyanna's set at Coachella is more than a personal milestone: Come mid-April, she'll be the first person in the festival's history to perform a full set completely in Arabic.
Elyanna, born Elian Marjieh, is from Nazareth — home to both Bella Hadid's paternal ancestry and, famously, Jesus Christ — and her music is a family affair. Her brother Feras works with her on her songs; her mother helps write lyrics; even her grandfather, a poet and singer renowned for his zajal performances, a dueling poetry freestyle genre often performed at Palestinian weddings, gets a shoutout.
Then there's Elyanna herself, the embodied vessel of these efforts. Her music, however, doesn't neatly fit into the Western idea of what Palestinian music is allowed to be; it's not inherently political or focused on the suffering. Elyanna's voice — sleek, sometimes mournful, but always powerful — is paving a different path. She's not the first Arabic pop star to exist, but if all goes according to plan, she'll be one who's embraced both inside and outside the Arab world.
Elyanna, now 21, has been singing since she was 7 years old. It was Feras who first spotted her talent when he overheard his shy sister singing Adele at their mother's vanity. "He was like, 'Oh, my God, you know, you can sing.' He told my mom to come over, so she could hear me," she remembers." Once it happened, once I actually started to sing out loud, I couldn't shut up. I would sing all the time. I wasn't shy anymore. I was so into it."
From then on, she was ready to work. She'd watch live performances from Christina Aguilera, obsess over Lana Del Rey to the point that her mom had to throw away her CD, and immerse herself in the work of legendary Lebanese singer Fairuz, the latter being a huge part of growing up in the Arab world. Fairuz played everywhere, Elyanna tells me, and she was for everyone regardless of age. And most importantly, she had soul. "It's not always about the voice and the vocals. It's not always about that," she says. "It's about how they make you feel when you hear them. And no matter what language, no matter what culture they're coming from, it's about when they sing, you can feel them. And that's the most important thing."
Elyanna sings from this place; you can feel it on her sultry 2022 single "Ghareeb Alay" and in the pleading on "3," another track from her second EP, Elyanna II. She's ready to join the ranks of other timeless legends, to create work with purpose. "I don't want to do whatever," she says. "I don't want to put out things I don't believe in and things that don't inspire me and things that make me lose interest."
Luckily, her well of cultural inspiration runs deep: Arabic vocal scales, belly dancing, Latin music, the Spanish language. As Elyanna's lore goes, singing in Arabic was never part of her grand plan for pop stardom, but now, it's one of her driving forces of inspiration. Back in 2018, a year after Elyanna and her family moved from Nazareth to San Diego, Elyanna sent a fated DM to the Palestinian-Canadian singer-songwriter Nasri Atweh. With her family in tow, the two recorded in a L.A. studio when Atweh suggested she sing in her native tongue.
"I left home; I was crying. I'm like, 'What? It's not that I don't want to; I'm not used to it. I've never done it.' But once I was in a car ride with my parents, and I was listening to my music in the car, it clicked," she says. "I'm not singing Arabic in the way that we hear it all the time. I'm singing it in my way, where I am able to combine what I grew up listening to and what I grew up singing, and I combined it with my language and my culture."
Atweh's suggestion paid off even further: He was represented by Wassim "Sal" Slaiby, the same manager who helped The Weeknd achieve global stardom, and introduced the two. In 2021, the Lebanese-Canadian manager launched Universal Arabic Music, signing Elyanna as his shiniest act and the potential next big thing.
Elyanna's feeling good about her forthcoming debut LP, rapidly describing it as emotional, full of character, and a true representation of what she has to offer. But mostly, she's still in awe about her forthcoming performance. If all goes well, Coachella will expand her fanbase in a new direction — inshallah. "I think that it's crazy that people are going to walk by the stages in Coachella. I'm going to be performing," she says. "I feel it's so crazy that you're going to hear Arabic while you're passing by. You know what I mean? Like, what?!"
Photographs by Juan Veloz
Set Designer: Carlos Lopez
Talent Bookings: Special Projects
Video Director: Kyle Hartman
Photo Director: Alex Pollack
SVP Fashion: Tiffany Reid
SVP Creative: Karen Hibbert