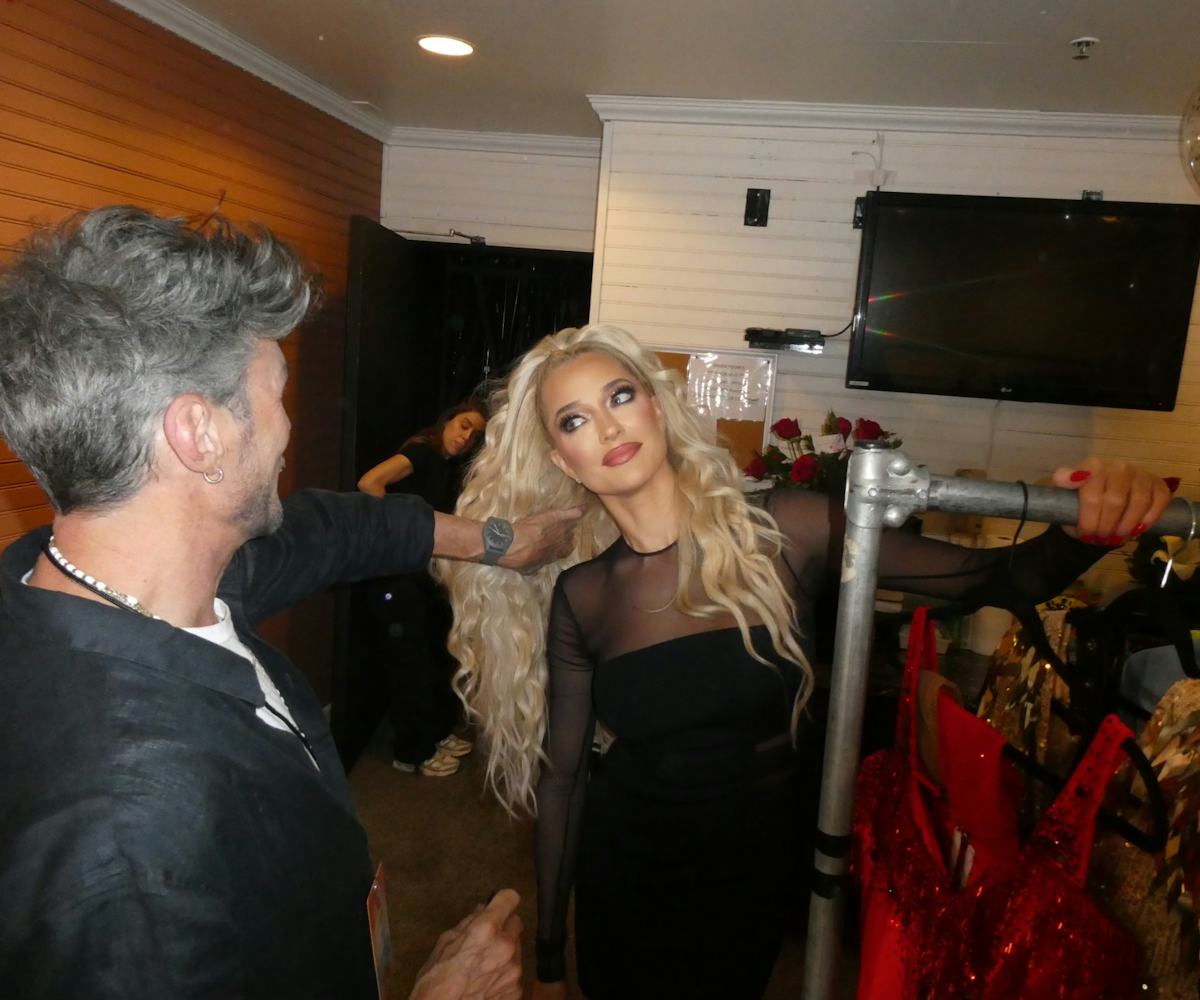 Erika Jayne Gets Ready For The Opening Night Of "Bet It All On Blonde"
An exclusive look with the Real Housewives of Beverly Hills star.
From Broadway to the Las Vegas strip: Erika Jayne has officially touched down in Sin City.
The reality television veteran and part-time pop star kicked off her 11-week "Bet It All On Blonde" stint with a bang on Aug. 25, taking over the House Of Blues at the legendary Mandalay Resort & Casino on Aug. 25 with glitz, glam, and the live debut of her first song in five years, "Drip Drop." There was no shortage of spectacle — and familiar faces: both Tamra Judge and RHOBH alum Teddi Mellencamp Arroyave were both spotted in the crowd at opening night as she made her triumphant return to stage.
Here, get an exclusive peek backstage as Jayne got ready for the big night, sharing her rider, what's on her pre-show playlist, and her must-do activities in Vegas. "Reconnecting with my fans and seeing those pockets of people in every corner of the room that have chosen to spend their night with me will never be something I'm used to," she says.
Describe your getting ready process for the show.
After meeting fans and having some great "therapy time" with them, I head down to my dressing room and begin the glitz and glam process. This show is as much about the hair, makeup and outfits as it is about the music. It is Vegas, after all! My wonderful glam team makes the process easy and fun. I'll do my vocal warm-ups, get dressed into my first outfit and usually spend the final minutes before curtains by myself to really appreciate the moment and get into ultimate focus.
Core team members, Mikey Minden and Laia Ribatallada cozy up for a hug with Erika.
Erika and Mikey walk the red carpet ahead of opening night of "Bet It All On Blonde."
Do you have a rider, and what's on it?
Evian water and Liquid I.V. for sure. Staying hydrated is key, especially in Vegas!! I absolutely love sweet treats and M&Ms are a must-have. Krispy Kreme glazed and PinkBox Donuts here in Vegas have become a staple within the crew as well.
What can people expect from the "Bet It All On Blonde" show? What's your favorite part of the show?
This show is just so fun! I hope that people can escape and enter the worlds of glitz and glamour with me. There are so many great reveals and prop moments, but I'm honestly most proud of the performers on that stage with me every night. They really give it their all.
What's on your pre-show playlist?
Definitely high energy music – '90s hip hop or a nice workout twerkout.
What are your must-dos in Vegas?
Shopping spree, of course. There is also such good food here and I'm excited to explore different restaurants each time I come back.
Photos courtesy of Erika Jayne.