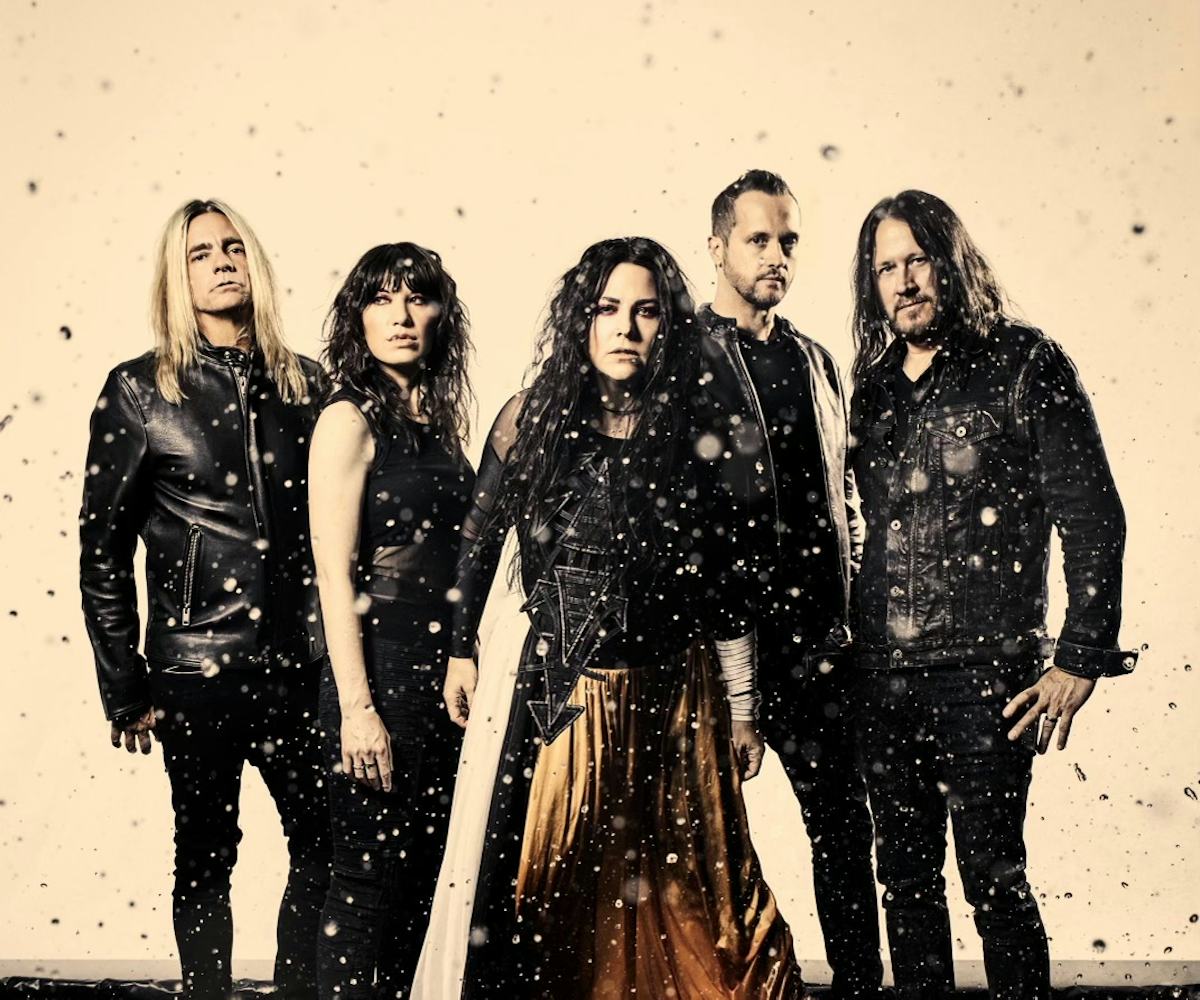 Travis Shin
Evanescence's Amy Lee Is Still Unearthing Things About 'Fallen'
"It's something beautiful that happened and I am proud of it."
Amy Lee, the lead singer of Evanescence, used the 30 minutes she had between her last interview and ours to play piano. She wanted to "hammer out a cover idea," she says. She's happy to be back home after the majority of the year was spent months on the road with Muse's Will of the People Tour, which brought Evanescence as far as Australia – and included their biggest show yet, at Allianz Parque, a soccer stadium in Sāo Paulo, Brasil with a capacity of nearly 44,000.
Lee has been in and out of the write, tour, regroup, rinse, repeat, cycle since she was 21 years old, when Evanescence's monumental debut album Fallen was released. The album, which defined the mall goth rock sound of the early 2000s, reached its 20-year milestone this year. It's hard to overstate the success of Fallen, which wasn't only ubiquitous in 2002 but is still the sixth best-selling album of the 21st century.
In celebration, a deluxe version of Fallen is being rereleased with a new remaster by Ted Jensen, who originally mastered the album. Out Friday, the deluxe edition includes B-sides, previously unreleased demos, live recordings, and more.
"Fallen was this huge moment in my life, but it really was just the start of something," Lee says. "It was the start of something that was going to become so much more than I could have just envisioned or planned for or anything."
There's not a lot about the album that Evanescence fans haven't uncovered over the last two decades. But for its rerelease, Lee wanted to dig up old recordings that hadn't already been unearthed by fans. After 20 years, the album was ripe for a remaster, but Lee didn't want to change everything – she wanted to preserve an album that has meant so much to people, and marked the time in her life where everything began – even if it's a little vulnerable.
"Some of it's very cringy. It's like reading an old diary where you're like, I hope nobody ever finds this, but they have because it's what it is. Fallen is not something that I can really escape even if I wanted to. So I've revisited that time in my life before," she says. "This has been a year of it being a little more intense and really looking at it and remembering a moment. Because the thing is, for me, those songs have stayed with me and continue to be a part of, obviously our band, but my life as well."
Most people don't have to go back and read what are essentially diaries from their teenage years, but most people aren't Lee, who over the last 20 years has gotten used to revisiting the catalog, while also forging a successful career that includes five albums, including 2021's critically-acclaimed The Bitter Truth.
Lee was able to unearth some gems from the vault, including a previously-unreleased 2002 demo of "Bring Me To Life." She also found voice recordings of her writing her early songs, though they didn't make it on the reissue.
"I had to go listen to all these tapes, and that was really sweet because I'm hearing myself as a kid, which is not even cringey anymore. It's been so long," she says. "It's sweet. It's like a little time capsule, but you can hear my siblings when they were little kids running around in the background and making noise and my sister cutting in to hold the tape player up to 'Bye Bye Bye' when I wasn't paying attention to my work."
The rerelease has got her nostalgic for that time in her life, particularly one moment when she was 20 years old and flew to Seattle where the string sections were being recorded by legendary composer David Campbell.
Evanescence was unique in how they blended cinematic, orchestral music with metal guitars to create ornamental, heavy goth rock with a classical bent. Lee was obsessed with Mozart, Beethoven, Hans Zimmer, and Danny Elfman, along with the reigning movie soundtracks of the era: Donnie Darko, Gladiator, and Edward Scissorhands. She wanted Fallen to capture drama and beauty and pain: Strings were essential and were something she had to fight to have on the album.
"Fallen is not something that I can really escape even if I wanted to."
"I dreamed of scoring films before I dreamed of being a rockstar," Lee says. "We had a body of music, and then to hear it immediately in that film score world that I love so much that it was always a dream that we couldn't accomplish on our own, tears poured down my face. I remember exactly what I was looking at and watching him work and hearing the sound of something, that I could never imagine how many times I would hear it and how many people that it would touch after that."
While a lot of legacy acts reasonably shy away from their early work, Lee is different: She's already been through that phase. She's gone through periods of wanting to distance herself from Fallen; she cut off all her hair and made some more albums. Now, she's just incredibly proud of what she's done, even if it took some inner child healing to get to a place where she feels only proud of 21-year-old her.
"It's not my favorite album we've ever made. I'm better at it now than I used to be, but I could never do it again. It's something beautiful that happened and I am proud of it," she says. "I know that our music touches people in a deep way. It comes from a deep place, and I'm grateful that at such young age, I was able to find something for myself where I could exercise all those demons and pour all those things out and be able to express myself in a way that felt like turning things that were bad, turning things that were hard, turning nightmares into something beautiful that could be shared."
The 20th anniversary reissue of 'Fallen' is out Nov. 17.