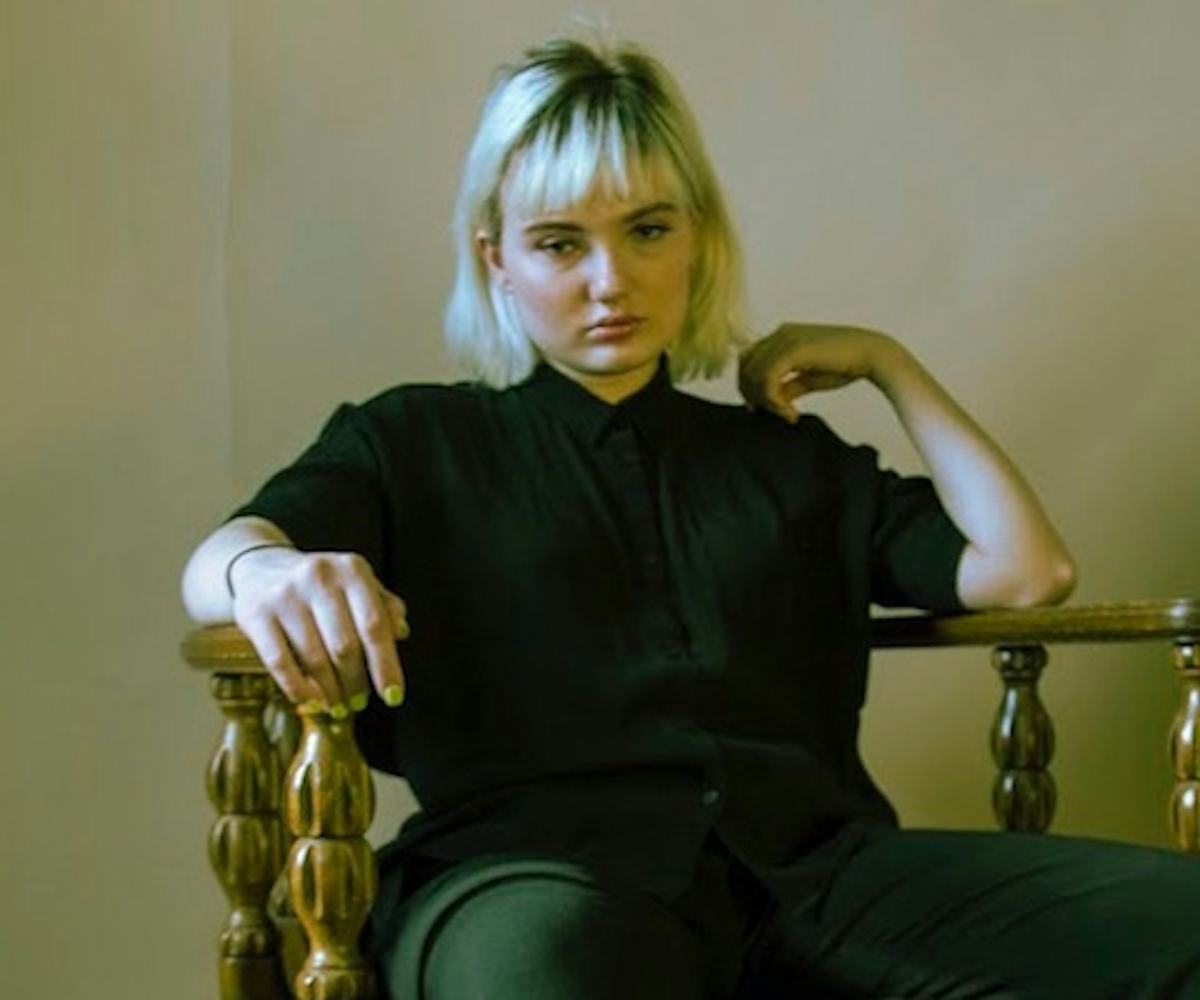 Photograph by Dallas Thompson.
On "Better," Family Reunion's Jackie Carlson Battles The Pressure Of Comparing Herself To Others
Listen to her new single premiering here
If modern music is defined by the way an artist can seemingly pop up out of nowhere, the story of Jackie Carlson's project Family Reunion is about the determination and grit that are still essential to carving out a niche. The 19-year-old Waukegan, Illinois native recalls the ordeal that was her first concert: She played a low-paying gig in Louisville, Kentucky, that she drove five hours to, after sneaking out of her parent's house at night. It resulted in Carlson and a friend getting into a pretty serious car accident in the middle of a blizzard, a detail that didn't go over well with her family when they learned about it after the fact.
"I think my parents actually found out about that while I was doing an interview with a different publication. That wasn't fun," she says. "But even if the cards don't play out properly, I don't really care. I'm just going to do whatever I can to keep making music because I love it."
After electing not to attend her vocal jazz audition for the University of Illinois at Chicago, Carlson finished high school early and fully committed herself to being a singer, instrumentalist, and songwriter, albeit at first without any of the tools she needed to really do those things at a level commensurate with her talent.
"I thought, if I'm not going to college, I need to get my shit together if I want to do music," she says. "I was still 17 at the time, and I was working three jobs at the mall to save up for a guitar, an amp, a laptop, and all of that."
Growing up in a suburb without many other aspiring musicians, Carlson often felt isolated. Trips to Chicago for concerts were a lifeline, as was the internet, which served as an entry point into the Midwest's burgeoning DIY scene. Over time, she began recording in Chicago and Milwaukee and found collaborators from the region like Billy Lemos, Blake Saint David, and Adot.
She also solidified the Family Reunions sound, which draws heavily from her jazz background, as well as her affinity for artists like Amy Winehouse and King Krule, whose songs were some of the first Carlson learned to play on a guitar. Those influences are evident in the woozy seventh chords of her recent standout "Okay," and the blues-y, bruised quality in her voice, which makes laments about no longer receiving texts from a former flame feel as timeless and universal as anything from a '70s soul ballad.
Her new single, "Better," premiering here on NYLON, grapples with several distressing and distinctly modern issues. On it, Carlson opens up about the challenge of trying to break into a competitive industry without any personal connections, while also lamenting the broader pressure young people feel to reach success by their early 20s, and the nasty habit of constant social comparison that creates.
"You said I'm on a different path/ I don't know if I believe that," she admits, backed by crisp snares, a knotty bass line, and shimmering guitar.
Carlson has come a long way musically since that fateful show in Louisville, and has plans to release an EP next year. As for how she defines success, she wants to form real bonds with her audience and points to an experience she had performing in New York. Being the opening act, the crowd was thin, but one listener—who had shown up noticeably early—approached her after the set, asking Carlson to draw a little illustration based on her song "Flower."
"She was the first person there, and I was like, This is fucking awesome. I don't even care if anybody else comes, just the fact that this one person came," says Carlson. "She was saying she maybe wanted to get it tattooed on her."
The candid, confessional nature of her music means that there will likely be many more fans who feel that connected to her work in the future, and even if that takes a while, Carlson's artistic origin makes it clear she will fight tooth and nail to make that happen.