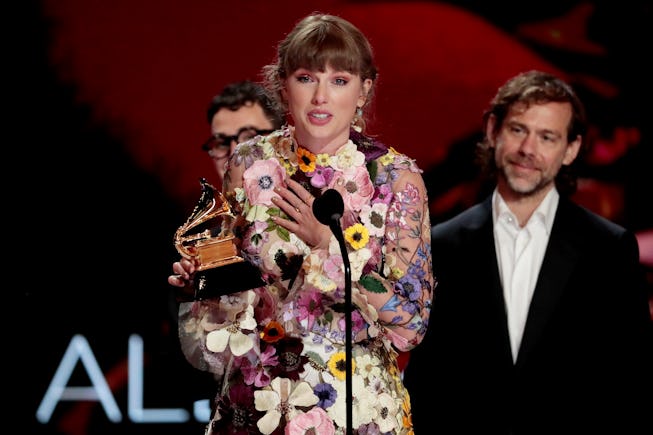 Robert Gauthier/Los Angeles Times/Getty Images
When The Grammy Nominations Look Like A Pop Crave Tweet
A year with no surprises OR snubs.
There was a time when the Grammy nominations used to be exciting. Or anger-inducing. Or maddening, perplexing or offensive, even. On Friday morning, when the Recording Academy unveiled its latest batch of nominations for the upcoming 2024 Grammy Awards, rather than feeling any one of those feelings I was left instead with a pang of boredom. There's Taylor Swift and "Anti-Hero," Miley Cyrus and "Flowers," SZA and her massive hit SOS, Olivia Rodrigo and her critically beloved GUTS — and there's even Billie Eilish, somehow, even though she hasn't released an album since 2021. In the faraway distance, you can hear the checkboxes being ticked.
But I should probably take a few steps back. For many, this year's nominations might be anything but boring: as outlets like the New York Times have pointed out, women and young women, like boygenius, Rodrigo, Ice Spice, are overwhelmingly represented across genre-specific and general fields, a phenomenon that's most stark in the Album of the Year and Record of the Year categories which both only include the same one male nominee: Jon Batiste. This is a great thing, something that should've been happening regularly years and years ago — and it's certainly not because of this thing that's the source of my disinterest. Instead, it's more that I could've predicted all of these nominations if you'd asked me to.
A friend of mine compared this year's Grammy nominations to a Pop Crave tweet, which feels like hitting the nail on the head. There's something to be said about how strongly the cult of online pop fandom has seemingly influenced this year's Grammy nominations, which look like its top awards were picked from the list of tracks that have gone viral on TikTok in the past year. How else do you explain why songs from a movie soundtrack are being nominated in major categories; or a Taylor Swift and Ice Spice collab getting a Pop Duo/Performance nab; or boygenius receiving a whopping seven nominations after experiencing a hype-filled victory-lap year surrounding the release of their album, The Record? These aren't bad by any means but, to me, it speaks to some sort of flattening of the industry taking place at the Grammys, where the top awards are saved for music that's been talked about online.
Maybe this is just the Grammys over-correcting, accounting for its past of rarely ever acknowledging the "people's choice" over the esoteric institutional favorite; when that stubbornness threatened to lead the Recording Academy toward irrelevancy. Or maybe this is just the natural result of music discovery and what's "popular right now" being molded by online algorithms and streaming playlists; everyone on the voting committees must just share the same FYP page as me — and everyone else. But I'm strangely finding myself missing the days of getting angered by a wildcard Grammy nomination or a snub that makes no sense. Today, there aren't even wild cards or snubs to be mad about.
It was nice to see Alvvays' "Belinda Says" getting an unexpected nod for Best Alternative Music, and Kylie Minogue's "Padam Padam" infiltrating the Best Pop Dance Recording category (when her last Grammy nomination was in 2009), and even Lana Del Rey's "A&W" getting a nod for Record of the Year; it's a sensual and strange song that feels like a push outside of the Grammys' comfort zone. Victoria Monét, who's paid her dues extensively behind-the-scenes, more than deserves the many flowers she's now getting with Jaguar II and "On My Mama." I hope we can see one (or all) of them actually win. These nominations make me remember when a record like Kacey Musgraves' Golden Hour could win Album of the Year, which for the time felt extraordinary.
It makes me wonder about the Grammys and its place in the wider institution of award shows, and what it might mean now that its basically indistinguishable from fan-voted awards like the VMAs. Does that make it even more irrelevant?