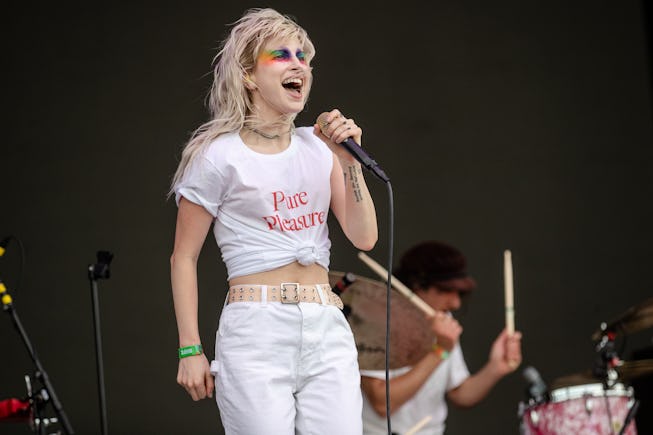 Photo by Josh Brasted/WireImage
Hayley Williams Has a Message For Paramore's Homophobic Ex-Bandmate
"There's a reason why there are 3 people left in Paramore."
There's a few rules to consider before being part of Paramore. First and foremost, you better rock. But most importantly, you sure as hell can't be homophobic. Think I'm joking? Paramore frontwoman Hayley WIliams set the record straight on the matter on Twitter.
"There's a reason there are only 3 people left in Paramore," she tweeted on Oct. 28. "Surprise, haters, it ain't cause of me. Paramore do not condone religiously/politically dogmatic beliefs which leave our LGBTQ+ friends, fans, & family feeling abandoned and hopeless."
The statement was not directed at anyone specifically per se, but fans recently sleuthed out an alleged public Facebook comment from former Paramore guitarist Josh Farro that connected the dots. In the post, Farro (who left Paramore in 2011) compares homosexuality to pedophilia, considering both as sexual perversions.
Williams ended her call-out with a final message: "And ya know, if that doesn't jive with you, well, feel free to go to where all past members of Paramore have gone, which is literally anywhere else but Paramore."
In non-homophobia related Williams news, the singer is releasing the Petals For Armor: Self-Serenades EP in December. It will include acoustic versions of the Petals For Armor tracks "Simmer" and "Why We Ever" as well as an unreleased song called "Find Me Here."