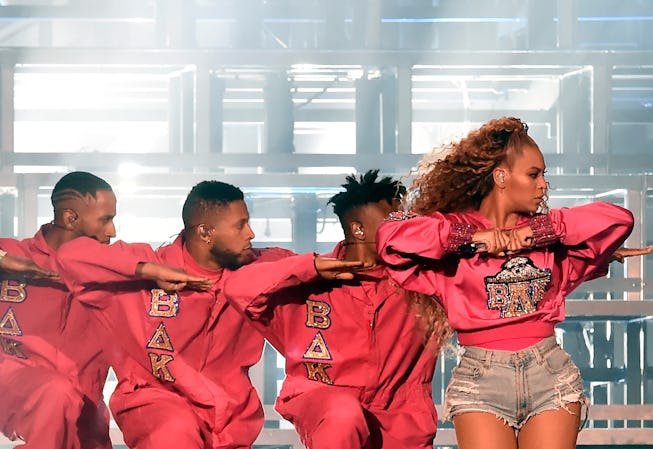 Kevin Mazur/Getty Images Entertainment/Getty Images
Beyoncé & Megan Thee Stallion's Choreographer Is Copyrighting His Dance Moves
JaQuel Knight will be the first choreographer in history to do so.
Uploading a video of yourself doing the "Single Ladies" or "Formation" dance may soon get a little bit more difficult. JaQuel Knight, Beyoncé's longtime choreographer and the mastermind behind the iconic moves in both of those songs, is now the first choreographer to copyright his dance moves. Knight has launched Knight Choreography and Music Publishing Inc., Variety exclusively reports, a new company that will attempt to take creative and legal control over his work.
According to Variety, the company will function like a music publisher, "where it will broker licensing deals and protect IP, except rather than copyright music, Knight Choreography & Music Publishing will oversee the rights to Knights dance moves." The company will also represent the rights of other choreographers and creatives as their partner in copyrighting, licensing their work and more.
That means, soon, if you want to upload a video of yourself dancing to "Formation," or maybe even partake in the dance challenge for "WAP" — because Knight choreographed that, too — you may need to ask for permission or make a disclaimer in the same way you would when uploading songs on YouTube. However, it's still a bit unclear from Variety's report how the company will go about enforcing and regulating the copyright online.
The issue of crediting dance moves and choreographers has become a bigger question in past years with TikTok's rise. There was the debacle surrounding the "Renegade" dance creator Jalaiah Harmon, who initially didn't get the credit she deserved after creating one of the nation's most viral dance challenges.
More recently, Jimmy Fallon and Addison Rae both faced criticism for not crediting the original creators of certain dance challenges during Rae's last appearance on the talkshow. Fallon later invited the original creators to the show, and addressed the controversy saying, "Now, we recognize that the creators of those dances deserve to have their own spotlight."
Knight's new company, ideally, could be the beginning of the end for these sorts of controversies.
"Copyrighting movement is about putting the power back in the artist's hands," Knight told Variety. "We set a historic precedent with our 'Single Ladies' copyright achievement, and we are thrilled to be launching Knight Choreography & Music Publishing, Inc. so that the next generation of artists are afforded the same platform, resources and tools to thrive, creatively and financially, in the commercial music industry."
Beyond his work with Beyoncé and Cardi B, Knight served as creative director for Megan Thee Stallion's virtual concert, and has also worked with Britney Spears, Nicole Scherzinger, Rihanna, and Tinashe.