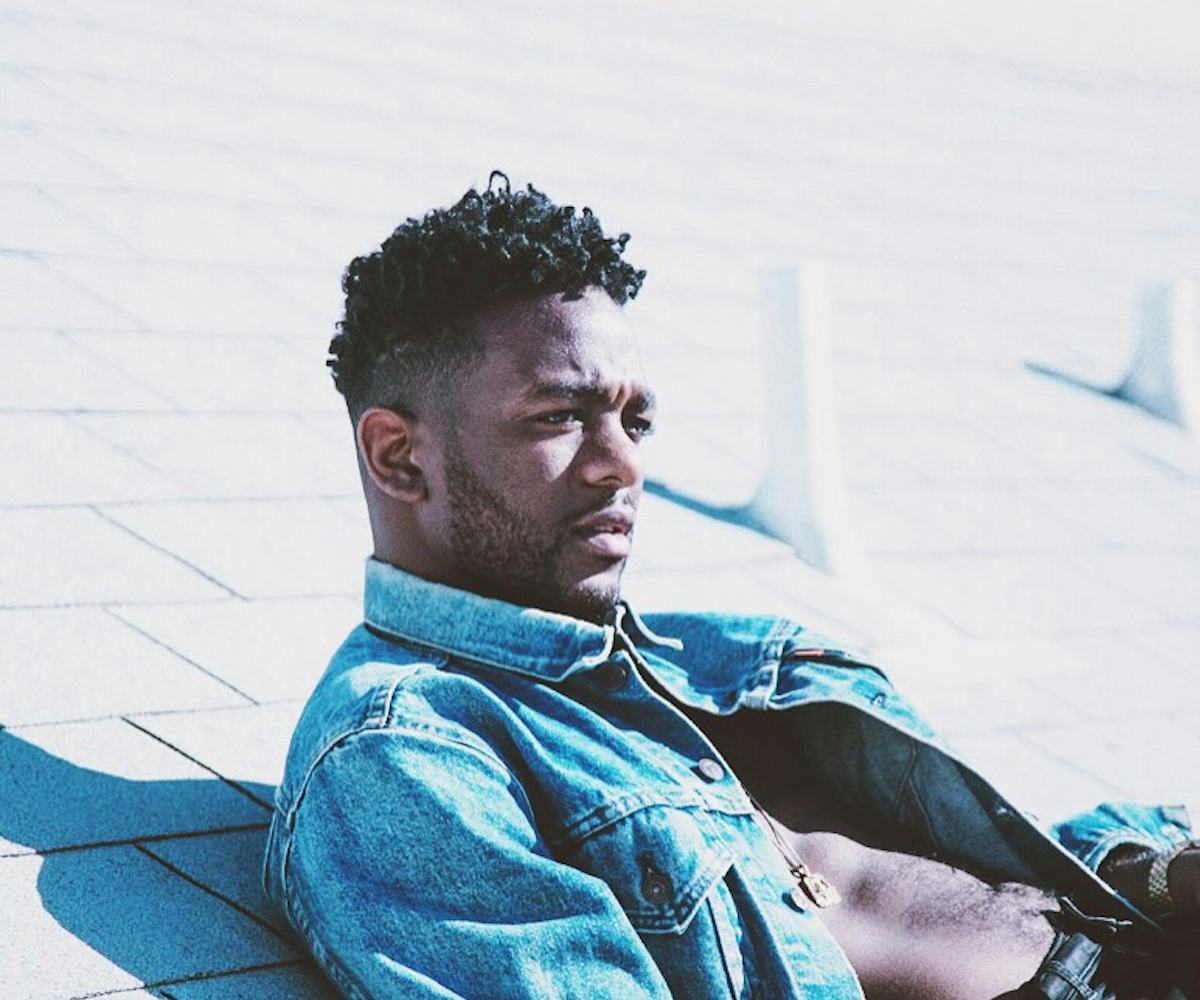 Photo by Stevenson Opoku
Jaylien Is Ready To Take Center Stage
The musician has written songs for the likes of Akon and LL Cool J
Producer Jaylien Wesley is stepping out from behind the console. The Los Angeles-based musician, better known by the mononym Jaylien, has been writing and recording songs for artists like Akon and LL Cool J for years, but now he's saving a few for himself. He just has one obstacle to overcome. "I have really bad stage fright," says the St. Louis native, laughing. "I would go onstage, and I would be frightened, even when I wasn't the one performing, so I was like, 'I could never be an artist.'" However, at the urging of friends and family who'd heard his music, Jaylien reconsidered.
Good thing he did. His debut EP, Summer's Over, is a rhythmic seven-song set that showcases his well-honed pop chops. On "Hotel Costes," Jaylien croons over thunderous bass as he makes the case for a romantic Parisian getaway, while glossy synths are punctuated by snaps on the title track.
We talked to Jaylien about his new EP, the difference between writing for other artists and writing for himself, and his love of Paris. Read the interview below.
How did you get started making music?
Both my parents are musicians, and I grew up in church, where they both would produce, write, and record music themselves, so I just was born into it. I'm the firstborn, and, as a child, all I remember is going to weddings and funerals and bar mitzvahs and parties and functions and songwriting competitions with my parents. My dad was the choir director and my mom was in the choir, so that's kind of how I got into it—it was almost inevitable.
When did you start writing your own material?
In high school, I started taking producing and writing seriously, and I started making music for people around the city and then I was like, "Hmm, maybe I can make some decent money off of this," 'cause I didn't have a job, but I was like selling tracks for like $200 or even $500. It was easy money, and all I was doing was making music, so I was like, "This is kind of cool." My mom and I looked up music schools, and I found one in New York. A month after graduation, I went to SAE Institute in New York, and I started marketing myself as a producer. I knew nobody in New York at first. I just spent years and years marketing myself on the internet. MySpace was my biggest tool—I had a lot of followers and friends on there, and it got me through a lot of doors. I met different A&Rs, different influential people. I just kept at it. Then I landed a song with Akon when I was 21, and that kind of changed my life.
What was it like working as a songwriter and producer with people like Akon and LL Cool J?
Working with Akon was like a dream come true. We're both from St. Louis. And at the time, [Lady] Gaga was just exploding and T-Pain was just exploding, so I came in at a very, very exciting time of Konvict Muzik and the Akon reign. He kind of just showed me the ropes without saying too much, but he led by his actions, and was like, "This is how you run a label. This is how you pick artists. This is how you pick songs. This is how you make a song. Don't do too much, keep it simple." I always remember him saying, "I don't do too much in my music. I just keep it simple and open." LL Cool J taught me that relationships are key. He's like, "Who do you hear on this track?" I was like, "Hmm, I don't know. Maybe Charlie Wilson or blah blah blah." He's like, "Alright, I'm gonna call Charlie. 'Yo, Charlie! I need you on this record. Come to the studio.'" That just showed me, he's a good person, and if you're always a good person, other good people will have your back.
Your song, "Hotel Costes," is a kind of like an ode to your time in Paris during Paris Fashion Week. What inspired that song?
That was my first time in Paris, and I was just blown away, 'cause I've always wanted to go. When we went, it was just like everything I thought and more, and maybe it's because I went during Fashion Week, but I saw some of the most beautiful women I've ever seen in my life, I saw some of the best clothes I've ever seen in my life. It was just a grandiose experience. I was at Hotel Costes almost every night. As soon as you walk in, there's a long hallway, there's the dining room, and then there's the outdoor seating, and the vibe is just crazy. So when I was on the plane back to L.A., I was just thinking about that experience, like, "Wow, this was really the swaggiest thing I've done in a long time." I had to make that song.
What was the recording process like for Summer's Over?
It was a mistake, 'cause I wasn't recording an EP when I started recording. I'm just always recording, and I'm always just trying to get things off my chest. When I recorded "Hotel Costes," I wasn't trying to be an artist; I was just recording 'cause I didn't know what else to do with all that energy. So I made a song about it, and I just let it sit on my laptop. But once I released the video, and then I released another song and another song on my SoundCloud, and I did my first show in February of this year, I was like, "Oh, okay, I probably should start working on a project or something so that people can have a full body of work from me." A lot of my songs just came from life experiences with different women in my life, and I just get inspired by the music and put it together with these stories I have in my mind. The EP was fun, man. It was something new for me 'cause I'm always making albums and music for everybody else, so, when it came for me to do it, I was so amped and just, like, ready. 
Does your writing approach differ a lot when you're doing it for somebody else versus when you're writing for yourself?
Yeah, it's different, and it depends on the artist, too, because every artist has different life experiences, every artist is at a different place in their careers, every artist has a different goal, so I have to see where they are at the present moment, and then make a song based off of where they're trying to go, what they haven't done before. Before I go into the studio and I'm working for other artists, I kind of watch their videos over and over. I become obsessed with them. I listen to their whole albums, and, like, I become them, so when I'm making the songs, I'm, like, channeling my inner them, so it's a little different. But when I'm working for myself and I'm writing for myself, it's just me and I'm with myself every day. [Laughs]
Finally, if you could travel anywhere tomorrow, where would it be?
I would travel to Dubai because I see all the Instagram posts of people that go there, and any time an artist leaves Dubai, they leave with, like, you know, a bag of money. [Laughs] Some prince or some king has paid for them to come down and perform. So, if I could go down to Dubai and perform Summer's Over and come back with like a nice bag, that would be great. So let's put that in the atmosphere. I'm going to Dubai tomorrow, and I'm doing a show for some king's daughter, and I'm coming back with a bag.