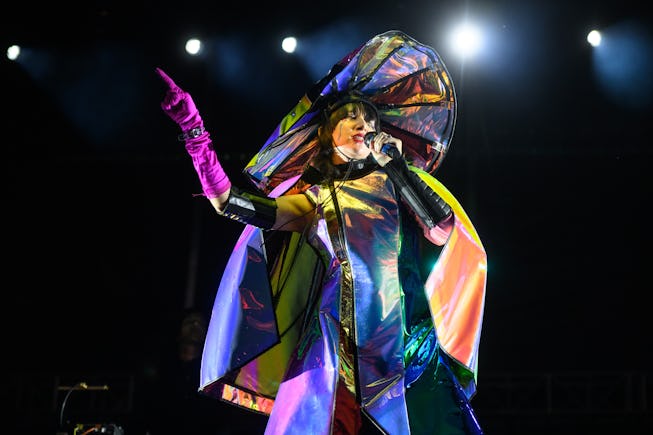 Daniel Boczarski/Getty Images Entertainment/Getty Images
Yeah Yeah Yeahs To Headline Just Like Heaven Fest 2023
With MGMT, Metronomy, M83, and more on the bill.
When I think fondly back to the 2010s, I think about the bands that saturated my Tumblr feed: Metronomy, M83, Empire of the Sun, Cults, STRFKR — a golden age for indie rock and electronic dance acts alike. These bands are all still active, of course, and even thriving. But you'd be hard pressed to find their names on most of the biggest music festival lineups these days which are starting to look more and more like carbon copies of each other. Just Like Heaven Fest, yet another festival put on by Coachella promoter Goldenvoice, however, is giving a space for these biggest names in indie with a 2023 festival lineup that's a refreshing change from the usual, megapop suspects.
Yeah Yeah Yeahs are headlining the festival's 2023 iteration, playing alongside MGMT — who is performing its 2007 record Oracular Specatular in its entirety for the first time ever — Future Islands, Empire Of The Sun, M83, Hot Chip, Caribou, The Walkmen, Fever Ray, Cults, and more, with Azealia Banks thrown in there as a wild card. It's one of the most exciting festival lineups we've seen yet of 2023, featuring band reunions (The Walkmen, The Bravery) and rare performances stateside by some of indie's most beloved acts.
The 2023 festival will be the third iteration of Just Like Heaven Fest which kicked off its inaugural event in 2019 and aimed to showcase the best of the "era-defining indie artists from the 2000s." The one-day event will take place in May at the Rose Bowl in Los Angeles. Below, find everything you need to know about the festival including the complete lineup, location details, and how to buy tickets.
Who's playing Just Like Heaven 2023?
Yeah Yeah Yeahs is headlining the festival alongside a slew of beloved indie rock and electronic dance acts. MGMT holds a major slot at the festival as they'll perform Oracular Spectacular in its entirety for the first time, and The Walkmen and The Bravery are scheduled to play reunion shows at the festival. Azealia Banks is also set to make an appearance, rounding out a truly eclectic lineup. And for the music heads, there will also be a live recording of the acclaimed podcast How Long Gone with hosts Chris Black and Jason Stewart.
See the full list of acts below.
Where is Just Like Heaven 2023?
The festival takes place Saturday, May 13 at Brookside at the Rose Bowl in Pasadena, CA.
How to buy tickets to Just Like Heaven 2023
Passes go on sale Friday, Jan. 20 at 10 a.m. PT at the festival's website. GA starts at $149 + fees, and VIP passes start at $369 + fees. Clubhouse pricing is $649 + Fees.