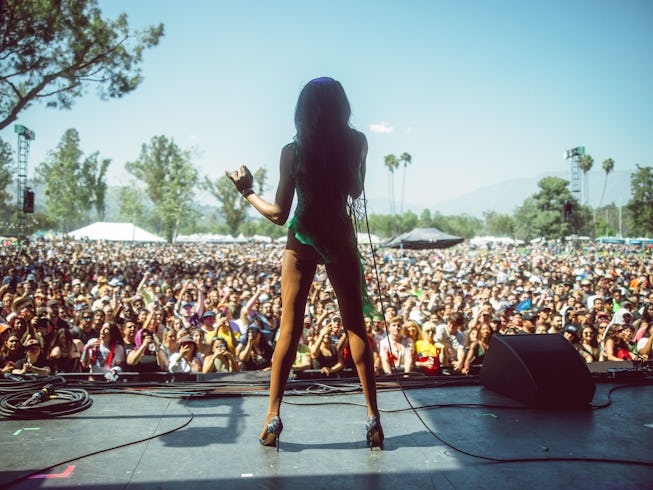 AEG Presents/A. Osborn
The Tender Nostalgia of the Just Like Heaven Music Festival
The Los Angeles event's name is a reference to the euphoric bliss of youth, and is emerging as a prime example of a nostalgia festival done right.
The Just Like Heaven music festival has nothing to do with The Cure, the band behind the 1987 song it's named after. Instead, the Los Angeles event's name is a reference to a feeling — the euphoric bliss of youth, and the warmth felt for the time that many attendees were in the throes of when its headliners released the songs dominating their set lists.
It isn't said outright, but Just Like Heaven, headlined by MGMT (performing "Oracular Spectacular" in full) and the Yeah Yeah Yeahs, is a nostalgia festival. Now in its second year, the one-day event is perfectly timed with the "indie sleaze" revival. The realization that I, at 32, am the target audience for such a thing is a sobering experience. Immediately, my mind went to "Old-Chella," the 2016 festival whose official name I couldn't remember; its headliners included The Rolling Stones, Paul McCartney, Bob Dylan, and Neil Young.
Were these mid-2000s indie rock bands my Stones and Beatles? Era-defining enough to warrant their own festival, just for us? Would people who discovered the music after its time, the TikTokers who just discovered point-and-shoot digital cameras, be in attendance? I wasn't sure if Just Like Heaven was a sort of validation of the music that shaped my youth, or just a reminder that it isn't the best music that resonates most deeply with you, but the music you find at the most formative time of your life. Out of all the phases I've gone through, I'm lucky this one aligned at that critical time. "Oracular Spectacular" came out in 2007 and it holds up. Some of my other former favorites, a little less so.
In 1969, when asked if nostalgia was debilitating or enriching, Vladimir Nabokob, author of Lolita, told BBC it was neither. Rather, he called it "one of a thousand tender emotions." "Tender" is an apt description for the energy at Just Like Heaven. Nearly everyone is over 30 years old. Parents hang in the shade with their children. Some turn a sandy pit into a play place for toddlers. People give each other space to dance, to lay out a blanket and have a picnic. Less drinks are spilled, lines for the bathroom less hostile. It's no one's first rodeo. We've been here before, when this music first came out, when we pushed our way to the front of the barricade and guzzled Sparks in the parking lot; now we are here, dancing a little less, shelling out the $18 for cocktails we never thought we'd pay, let alone wait in line for. But the crowd isn't desperate or delusional, nor are they squeezed into their American Apparel finest — they're just here to hear their favorite songs of the past and sing along to every word. The familiar comfort is human nature. No former haircuts or faded tattoos make us exempt.
Situated across two stages at the Brookside Golf Club within the Pasadena Rose Bowl, Just Like Heaven is a jaunt in the park. The short walk between stages is peppered with natural wine bars and churro stands; a black-and-white checkered dance floor made to look like the club nights of the mid-aughts is almost hidden. While the lineup is full of bands that start with "The" (remember the havoc that wreaked on our iPods?), the main stage focuses on easier to categorize indie rock — The Hives, The Bravery, The Walkmen, MGMT, Yeah Yeah Yeahs. The other stage gets more experimental (Peaches, Fever Ray), and at night, a little dancier (Caribou, M83).
In the mid-aughts, many of these acts played at festivals together, though unlike Just Like Heaven, those lineups were divided between equally popular indie rock acts and electronic dance acts. Think LA Weekly's DeTour Festival, headlined by Justice and Bloc Party (who played Just Like Heaven last year) in 2007, or Neighborhood Festival headlined by The Faint (on Just Like Heaven's 2023 lineup), DJ AM, and Mickey Avalon. In 2009, San Francisco's Treasure Island Music Festival was headlined by MGMT, MSTRKRFT, and Girl Talk. Now, while dance music's popularity has massively eclipsed its 2009 status and indie rock almost feels niche, the decision to keep them separate makes sense. DJs have either rebranded or released new music even more popular than before. There aren't limitless bands that evoke this heavenly nostalgia — if the festival continues, organizers are bound to slot in a few bloghouse-era DJs.
There was an interesting dichotomy between the performers' attitudes, too. The Walkmen, who recently reunited for a string of sold-out reunion dates, play hits like "The Rat" and "Heaven" and wax poetic on stage about how grateful they are that their fans even remember them. Their only new music is a reissue of their 2016 album You & Me.
Meanwhile, The Bravery, whose last album was released in 2009, ask the crowd if they want to hear some new songs and are met with a near believable cheer. "Too bad, we're not playing any," laughs lead singer Sam Endicott from under his leather jacket, promising the crowd that a new album is coming. The audience seems excited, but instead of teasing a new track, the band launches into a series of covers of punk rock songs. Only their third performance since their 2021 reunion, it's hard to tell if Just Like Heaven is a time-killing tactic or just the band having fun. They have no other scheduled shows.
Piper Mcgeehan, 13, was one of the only young people — the audience this music was made by and for — I saw at the festival. Chaperoned by her father, she came for MGMT and the Yeah Yeah Yeahs, both of which she discovered on FM rock radio in her parents' cars. "I really like old music better than new music. I feel like lyrics from these bands are more thoughtful," she said. To her, all of this music is new; a new album from a band with five to discover for the first time isn't a priority to her.
On the other stage, too early in the afternoon for her profile, Azealia Banks ran late to her fifty-minute time slot. When announcing her booking on Instagram, Banks said the festival lineup made her "indie rock heart sing," but onstage, she doesn't treat her performance as a throwback set. In a green leopard print leotard, alongside a DJ and full band, she raps "Anna Wintour" and "212" with as much gusto as newer songs "Blooming Meadow" and "Salchichon." While her crisp voice and signature enunciation would have impressed at any festival, Banks has no other tour dates for the year.
Peaches turns a medley of her multi-decade catalog into a statement tailored to 2023. She and her dancers don vagina masks and prosthetic pregnant bellies filled with demon babies. She strips layers of leotards exposing statements including "Trans Rights Now," "Thank God for Abortion," and "Drag Saves Lives," as she sings "Fuck the Pain Away" and "Dick In the Air." On the first 80-degree day in LA all year, her lyric "at the dawn of the Summer I give birth to a bad girl / Without a motherfuckin' epidural," is especially appropriate.
Haley Hanson, 39, watches Peaches for the first time after discovering her in 2008. "This music came out so long ago, but now it matters even more. I thought I wanted to throw my 'dick in the air' too, but I didn't know terms like gender-fluid. I grew up in a small town, I knew I liked her music then but now I realize I connected to it for a reason," they said.
Even if the festival is a cash grab to capitalize on our nostalgia, moments like Hanson's make it worth it. I didn't leave a changed person, but I had a fun day in the sun hearing songs I still love. The experience lacked the expectations of a mega festival or first time seeing a new artist live. There was a sense that we should be grateful these bands performed in the first place, an understanding that we're dancing along on borrowed time as the next nostalgia trend peeks around the corner.
Jason Stewart, 41, a founder and sometimes doorman of the mid-2000s party Cinespace Tuesdays, has too many new projects going on simultaneously to bask in too much of the tenderness that nostalgia brings us. Even so, he appears on the festival lineup three times: Deejaying both the main stage and dance stage as DJ Them Jeans, as well as recording a live episode of How Long Gone, the podcast he co-hosts. "It feels great to be recognized for my ability to intuit what 38-year-olds want to dance to, but I'm trying to remain humble," he said.
He's joking, but that's the key to Just Like Heaven. Even if MGMT sounds as good as they did when I saw them at Coachella in 2009, it takes humility to sing along to "I'm feelin' rough / I'm feelin' raw / I'm in the prime of my life," sixteen years later. Some of the crowd may be admitting to themselves that it was, in fact, their prime, but I find it humbling that back then I had no idea then how much fun would come later.