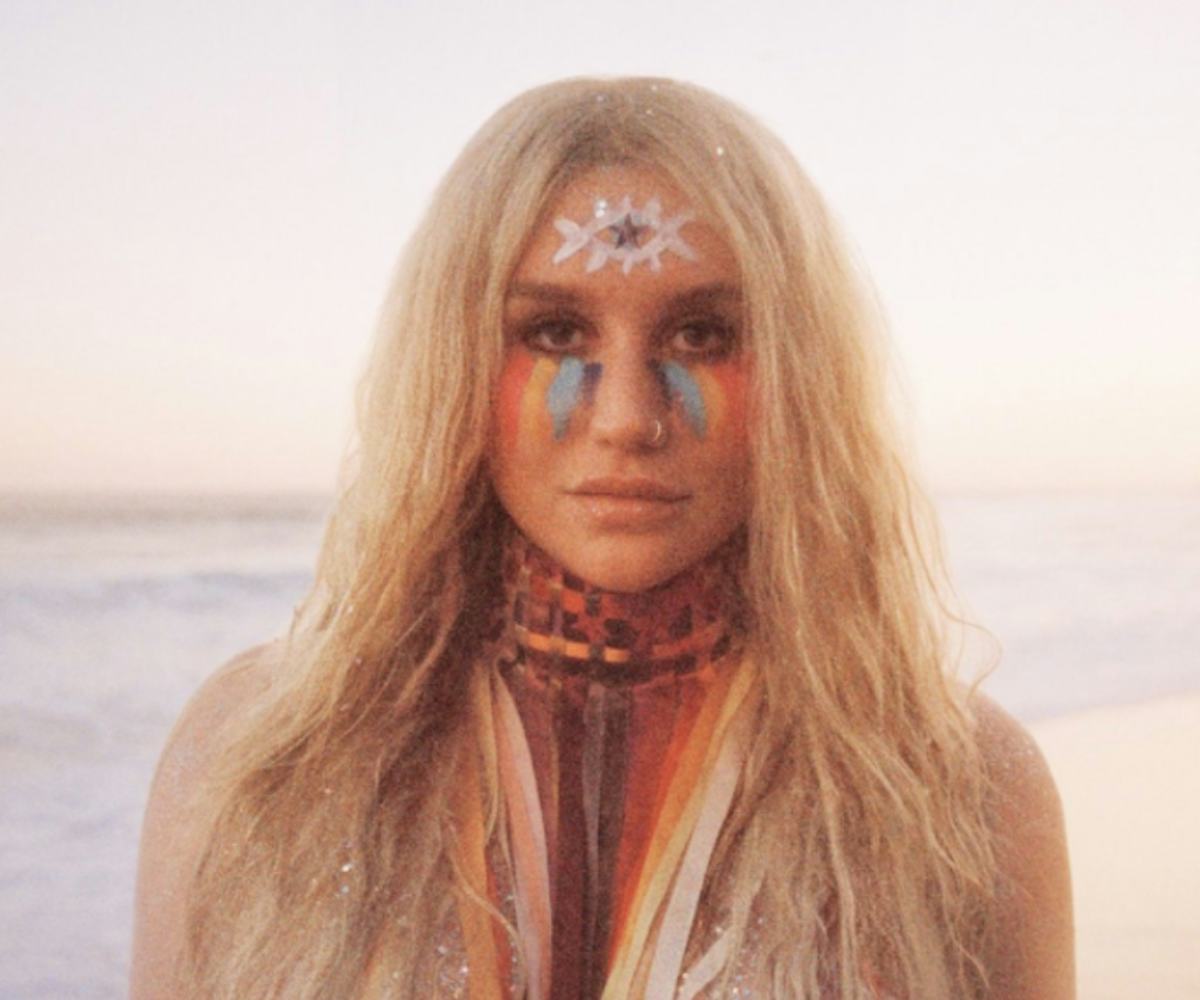 Kesha: Don't Call It A Comeback
'Rainbow' is so much more
This week, Kesha released "Hymn," the follow-up single to "Praying" and one the singer hopes will serve as a song "for people who feel like outcasts." 
"I think that one of the reasons why my music connects with people who don't feel they fit in is because I have never fit in either—this is why the song 'Hymn' is so special to me," Kesha wrote in an essay on Mic. "The longer title was 'Hymn to the Hymnless.' And when I say 'hymnless,' I'm talking about people who feel like they don't fit in."
But like most artists, Kesha's inability to categorize herself is why she stands out. And whether we're talking about "Tik Tok" or last month's "Praying," she's consistently embraced her uniqueness, arguably not needing to declare that she's not like other musicians because it's obvious that she isn't. So Rainbow, her long-awaited follow-up to 2012's Warrior—isn't a comeback, and it's important we don't categorize it as such.
A comeback suggests somebody has something to prove. And in terms of musical ability, Kesha has to prove exactly nothing. We know her absence from the industry is due to her long and terrible legal battle with producer Dr. Luke, and we know that she's a talented songwriter and performer. Kesha isn't Justin Bieber in 2014, hoping to prove all isn't lost after a year-long rebellion—she's a grown-ass woman who's been through hell and has poured herself into the music she was fighting in court to record and release.
So, to declare Rainbow as a "comeback" is not just inaccurate, but it's irresponsible. A break between albums may see an evolved version of Kesha (because who doesn't grow and change over the course of five years), but claiming this record proves her ability to keep creating in the wake of very real trauma, suggests that it would've reflected badly had she chose not to continue. Kesha will always be Kesha, and only she gets to decide what her professional journey will look like.
But that said, Rainbow will be a marker for how much Kesha has evolved and matured artistically, and should be judged accordingly. (You know, like all records should be.) So while both "Praying" and "Hymn" are valuable showcases for her voice, her writing, and her capacity for vulnerability, we also need to treat them—and the record as a whole—as platforms for what the singer is capable of. And we also need to criticize what should be.
Kesha is a smart woman. She is hardworking, capable, and incredibly aware of the realities of the music industry. She knows how the album cycle works, and she knows the way we (as critics and fans) dissect and discuss albums. Kesha may have endured a nightmare at the hands of her former producer, but that doesn't make her weak or in need of padding when we delve in and dissect Rainbow. Quite the opposite: She, like anyone who's undergone abuse and assault, is by no means defined by what she's endured. So this record isn't an avenue any of us need to tread warily down on, cradling it against the way we would receive all other albums. Instead, it's Kesha generously offering a body of work—one, based on her talent, that's simply one in a long line of many more to come.
Especially since she never went anywhere. Kesha may not have released new music, but she has most certainly been alive and present; she kept us posted with updates throughout the trial(s) on Instagram, banded together with Lady Gaga, and showed up to that motherfucking trial wearing a white suit like a goddamn queen. She has put herself out there in every sense of the word, bringing us along through a painful, seemingly endless process. She is not "coming back" from anything.
So Rainbow is not a comeback. It is not Kesha's "return" from anything. It is the next chapter in a narrative that's already extensive and storied. She is releasing an album that marks an exciting new phase in her personal and professional lives, but the only thing she has to prove with it is nothing.