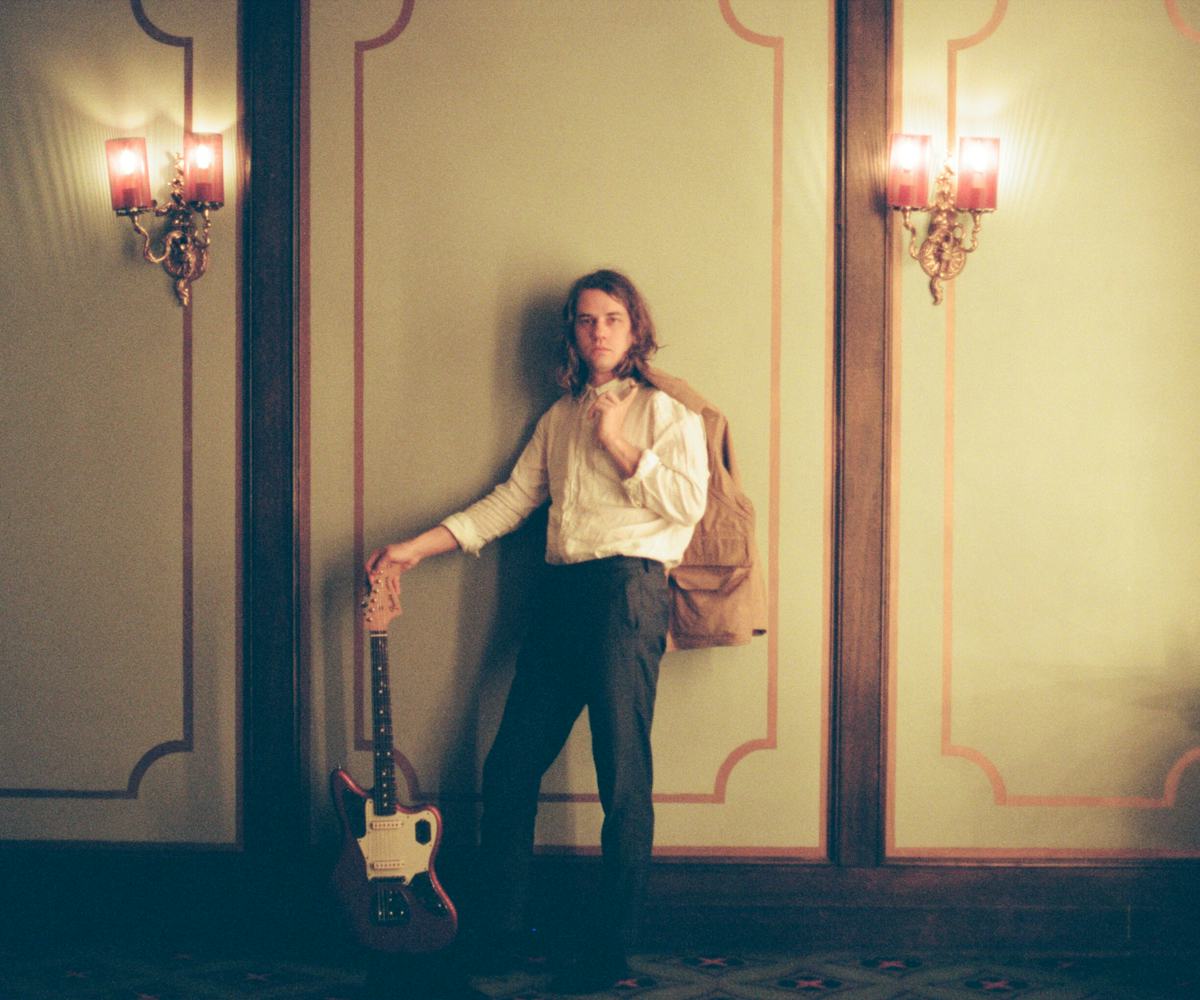 Photographed by Adarsha Benjamin
Kevin Morby Tells Us What Books (And Punks) Inspired His Latest Album
'City Music' is out June 16
Three songs into City Music, Kevin Morby hits us with a ripper that sounds more rock 'n' roll than anything he's written before. In less than two minutes, "1234" captures the spirit of New York City at the height of its artistic heyday (or, one of them, anyway), complete with a chorus that shouts out all of the original Ramones by name. While the song is easily City Music's rowdiest moment, its vibe is one that carries throughout the album's 12 tracks. On this, his fourth solo venture, Morby has merged personal tales and fictional characters into a rollicking love letter to the city that has always held a piece of his heart.
After coming up in the mid-'90s Kansas City punk scene, Morby moved to New York on little more than a hope and whim at the age of 18. There he bounced between odd jobs before joining indie psych folkers Woods on guitar, and later forming the Babies alongside Vivian Girls' Cassie Ramone. In 2013 Morby officially traded the East Coast for the West, but New York remained a persistent muse. It was the driving force behind his debut, 2013's glorious Harlem River, and its follow-up, 2014's Still Life. Fittingly, when it came time to pen last year's lushly swaying, Los Angeles-inspired album Singing Saw, Morby simultaneously turned to NYC for inspiration. Thus, City Music was born, the guitar-heavy companion to Saw's piano-driven tales of beauty and despair. "I wrote them basically side by side," Morby tells me via phone, just hours before hopping a plane to this year's Primavera Sound Festival. "Singing Saw was very much one thing, and the part of me that likes to play devil's advocate decided to write the opposite. One part of my brain was like, 'Well, if you're writing that, then I'm going to write this.'"
Like Singing Saw, City Music finds Morby expertly balancing a sense of real-life reflection with something more romantic. On the album's title track, he bends his weary speak-sing into a shout, which, together with a slowly quickening guitar, line perfectly captures what it might feel like to ride the train to Manhattan for the first time. Leading up to City Music's June 16 release, we spoke to Morby about his Midwest roots, killer new suit, and complicated love affair with New York City.
Thematically speaking, how would you compare the songs on City Music to the songs on Singing Saw?I think they're all meant to be sorta lonely songs. I sonically wanted to make two very different records, but thematically I wanted to touch on the same subjects, just with a different landscape. Where Singing Saw was about feeling reclusive in Los Angeles, I wanted [City Music] to be about being reclusive in New York. 
What was the recording process like for City Music?I went in with my live band at the time, which was Meg Duffy on bass and guitar and Justin Sullivan on drums. We had just gotten back from a long, sort of grueling European tour where everything had gone wrong, and it was very cold and rainy, and we went to this studio a couple hours outside of San Francisco, right on the water. It was kind of like half-vacation, half-work. It was really serene and beautiful. That was where we tracked it. Then I went up to Cottage Grove with Richard Swift, just me and him, and we finished the record there, which was great.
You've toured pretty much nonstop over the last few years. As someone who draws so much inspiration from places, do you ever worry it might make you jaded?I think jaded toward traveling, for sure, but it also makes me really appreciate being in one place. It literally thrills me to be home and go to a grocery store and make my own food, just because my whole life is spent in transit. I actually bought a house in Kansas City a year and a half ago, and I've been spending a lot more time there. I think I'm slowly making that my home base. 
That's where you grew up. What made you want to go back?I love L.A., and I love New York, but when you're touring all the time and your life is entertaining people, you're constantly overstimulated. Going back to a place like L.A. or New York, it's really easy to end up doing the same thing—going to shows, going to bars every night, just socializing. With Kansas City, I don't really have that option. I have this house and all this space to work, and I can just kind of go there. If I have temptation I'll go for it, but if I'm not around it I have no problem spending weeks alone. I like putting myself in a place where there's no distraction and there's just work. I think that's when I'm the happiest.
You've mentioned Patti Smith was an influence on the new record. Are there others that helped inspire it?I think anything that kind of fantasized or romanticized New York. I'm a big fan of James Baldwin's writing for a number of reasons, and one of those reasons is the way he depicts New York—he paints a very vivid picture that I like a lot. I really like Flannery O'Connor's writing. There's even a passage of hers that's on the new record. Patti Smith's writing has been really big and influential to me, as well as the career of Lou Reed. The book Please Kill Me by Gillian McCain is really important to me, too. It covered that whole period of the '70s and the punk scene in New York, CBGBs, and that whole cast of characters.
How does it feel to return to New York now?New York is interesting because, you know, it was the first place that I made my home as an adult, and it felt very much like where I always wanted to be. Now it's different. Most of my friends have moved; the city has changed drastically. It's like having dated somebody for seven years, and, yeah, we still get along, but we're just completely different. Sometimes I feel like I don't even recognize it, and it's crazy we were ever in a relationship, but I still love it. Does that make sense?
Absolutely. You can kind of jump back and forth between reminiscing over the good times and freaking out over how different it is now.That's exactly what it's like. Sometimes, I feel like when I'm loving New York, I'm just loving the feel of what we once had. It's kind of that clichéd thing where as I'm exiting my 20s—I'm 29 now—I'm becoming more interested in smaller towns. I was talking to my friend today, and she was saying, 'You're going to Barcelona. What do you think of Barcelona?' I love Barcelona, and it's very beautiful, but the smaller towns in Spain have become more appealing to me. It's really easy, especially when you're young, to want to go to the biggest, most popular places, and I think as you get older, it becomes more about [the other spots]. Like, Dallas is cool, too! No one ever comes out of Dallas. I don't know. I feel like I've done the big city thing and now I'm more interested by these smaller places.
I know you're heading to Europe. What else are you excited about in the coming months?I'm really confident in the live band right now. I like the suit that I just had made. [Laughs] I'm wearing it every night, so I'm excited about that. And the shows have just popped off in a way that's really exciting. We're selling out clubs for the first time in America. We've done that for a little while in Europe, but now the rooms are getting bigger. It all just feels good right now.