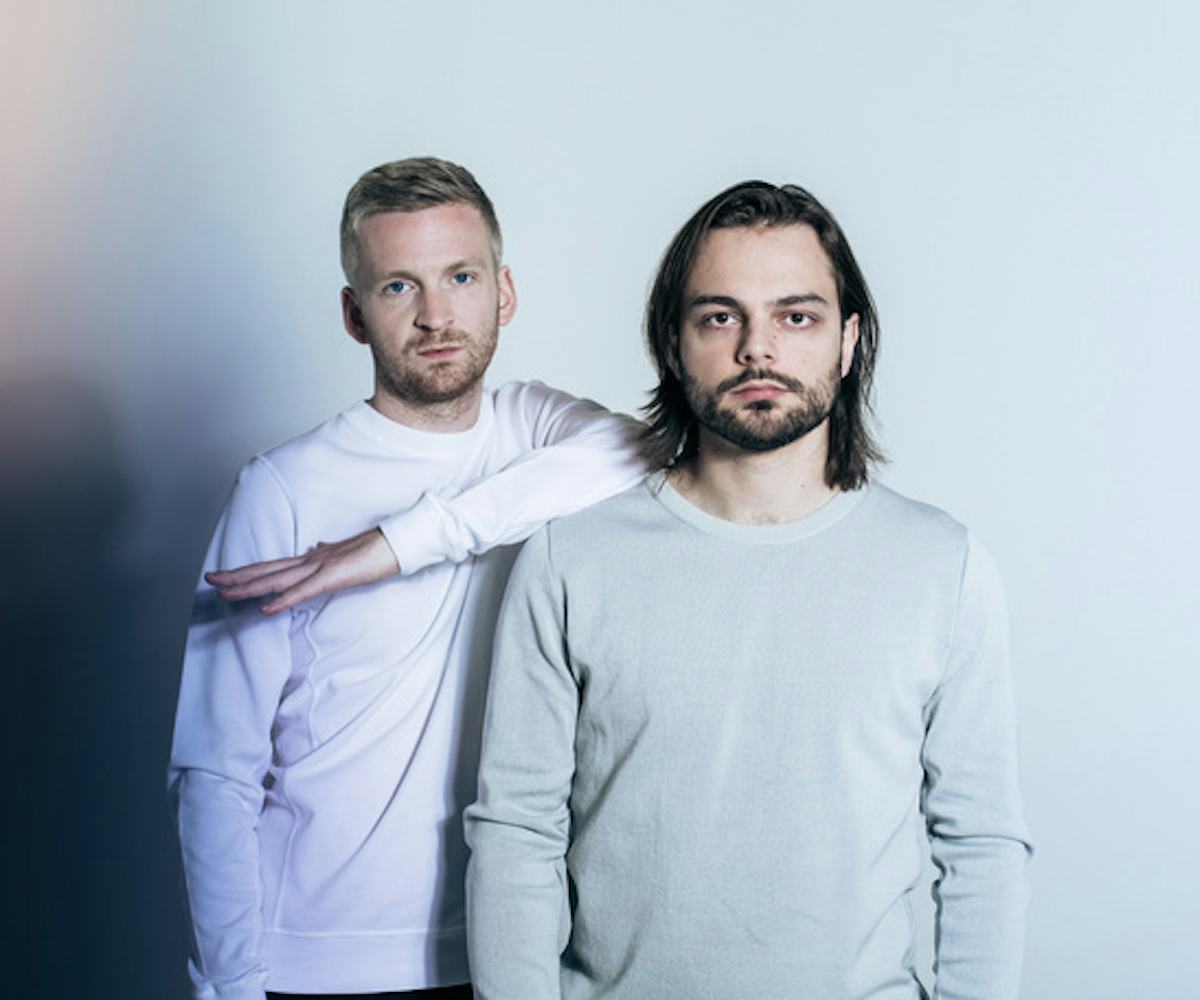 Photograph by Sigga Ella.
Techno Wizards Kiasmos Talk About Closing This Chapter Of Their Career
And premiere the Stimming remix of "Paused"
My interview with Kiasmos has veered toward a discussion of great apes and technicolor unicorns (as it does), when suddenly Siri on Janus Rasmussen's iPhone springs into action, parroting the last minute of the conversation back to us. A ghost in the machine? Supernatural forces who really like techno, perhaps? After all, his phone had just magically created a perfect vocal loop.
"No, it's just freaking out," Rasmussen says. "It's just technology. It breaks. I'm more a believer in bad programming. Bad code. It's probably more likely there's a typo in the code than a ghost." 
Therein lies the magic behind Kiasmos. Sure, their self-titled 2014 album sounded like the very definition of mystical—think: a delicate swirl of disco, ambient synth drones, strings, and techno beats all delivered with the lightest of touches. But its creators are just two dudes who, thanks to a mutual love of early 2000s techno, began making beats together on a tour bus when Arnalds joined Rasmussen's band Bloodgroup as a sound engineer. It wasn't until Erased Tapes released their first single, "Looped," that the Icelandic duo realized they had an official project. 
"If you look around Reykjavík, you'll find countless of those similar scenarios that have yet to become bands," Ólafur Arnalds explains. "I know a lot of friends who are doing music together without the aim of releasing it. It's always fun to look back and say, 'Oh, I remember when those two guys or girls or whatever were just kind of hanging out.' It's not something that's unique to our story, I think. It's just how Icelanders do music." 
Even with an ever-growing audience and several world tours under their belt (by Arnalds' estimate, they've dedicated at least two weekends a month to the project since 2014), Kiasmos are still doing it for the love of the game. Neither man can pinpoint a favorite on-the-road memory. (Blame the vodka sodas, lack of coffee, or the fact that it fell on Rasmussen to unceremoniously nudge Arnalds awake before we began talking.) But a few days after our conversation, they'll end up making new memories when they invite themselves to a Harry Potter convention that just happened to be going on in their hotel. It's the same going-with-the-flow attitude that's evident to anyone that's seen their joyous, hands-aloof performances. Turns out, touring the world with your best friend is every bit as fun as one would imagine.
But it's also good to change things up. Staring down the last stretch of intense touring, the members are planning to take some time apart—Rasmussen working on a brand-new project, while Arnalds plans to dive back into his solo project. (Which netted him a BAFTA for his work on the Broadchurch soundtrack.) Given that, their new EP, Blurred, featuring its piano and strings-driven title track, serves as a sunny "goodbye for now." Not a "goodbye forever," as Arnalds explains. 
"We consciously didn't try to revamp our sound for this one," he says. "We came in there planning to make an EP. Not trying to make a full album or start a new chapter in Kiasmos. We went in there with the aim of closing a chapter." 
What both members will take away from these whirlwind few years is a sense of gratitude. Sure, as Arnalds pragmatically points out, they planned to expand the project. To tour as much as possible. To make as many new fans as they could. But the fact their carefully laid plans worked out? That's worth celebrating.
"I think people need to know that we're really appreciative of everyone liking our music and coming to our shows," Rasmussen says. ("I don't know what you mean by 'appreciative of everyone,'" Siri chirps in the background.) "It is really nice. We've been working hard on making this thing as good as it gets, and we try to work with really great people. We love that people see that and like our shows."