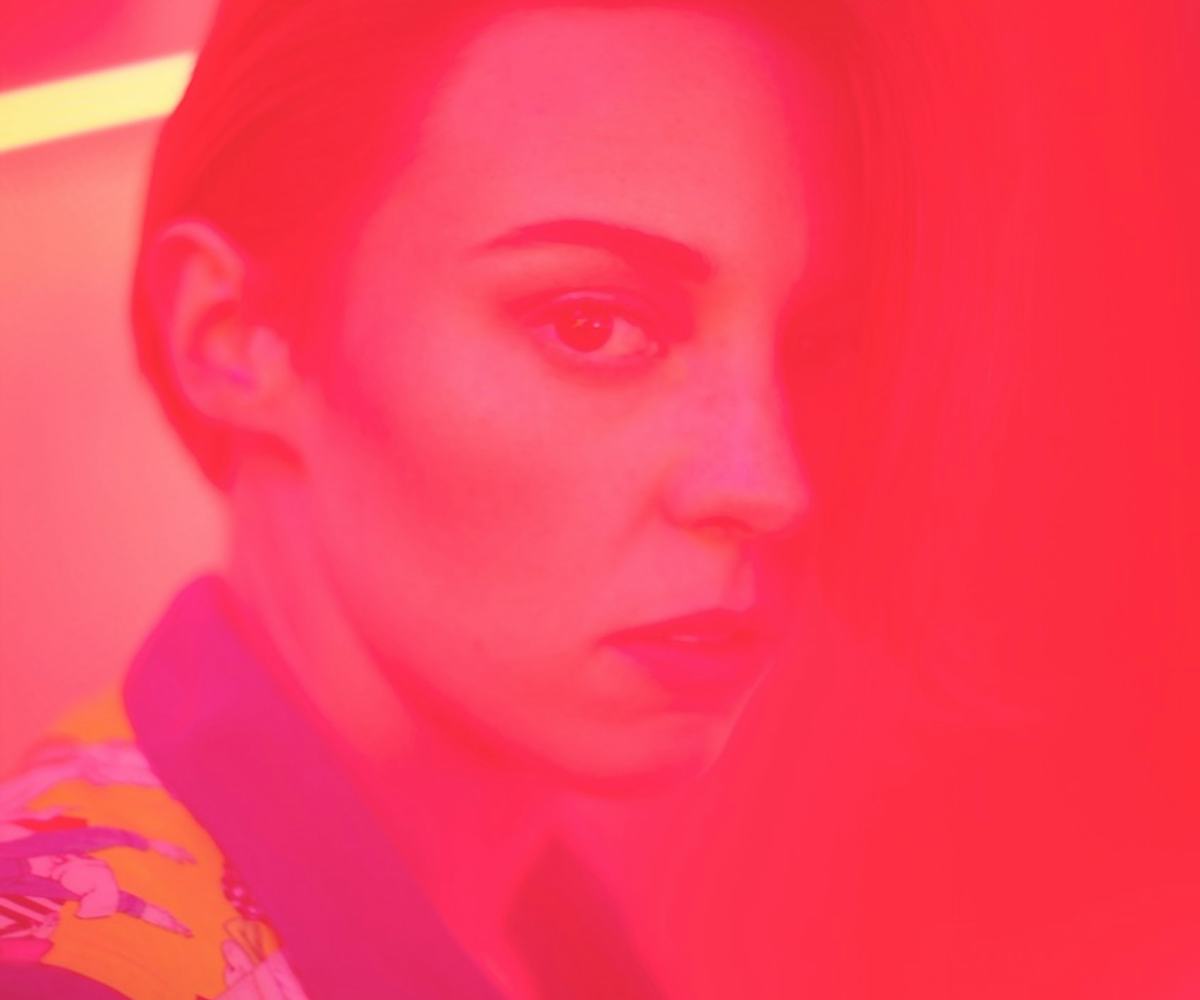 the insider: la roux
read our interview with elly jackson, straight from our august issue, here!
It's easy to spot Elly Jackson accidentally passing the market- café where we've planned to meet, because one doesn't often encounter women with fery- hued Tilda Swinton-meets-David Byrne haircuts in Manhattan's TriBeCa neighborhood on weekday afternoons. But the British synth- pop star, who performs under the name La Roux, doesn't get too far down the block before realizing her error, and soon enough, she's sliding into her seat at one of the café's bistro tables.
Jackson is in town to perform at the Governors Ball Music Festival, where she will test out songs from her sophomore album, Trouble in Paradise—out this month, fve years after her self-titled debut. For both the musician and her fans, it's been a long time coming. "The label basically said they wanted the record to be delivered in May of 2012," says Jackson, pushing up the sleeves on her billowy, kitschy- printed vintage blouse and propping her elbows on the table. "And when we started deleting entire arrangements in May of 2012, we knew that wasn't going to happen." She laughs a bit at this, then grows serious: "We're not quick because we're ambitious."
The "we" that comprises Team La Roux has changed since recording her frst album. At that time, the act included producer Ben Langmaid, who often stayed behind the scenes but had signifcant infuence over the sound. Langmaid and Jackson parted ways after beginning work on Paradise. Since then, she's taken over the name as a solo act, and brought on producer Ian Sherwin to see her sophomore efort through. This change was not without its complications, and became the subject of two NME articles in the lead up to her most recent album's release.
Refreshingly, Jackson is not afraid to talk about it. She pegs the split to creative diferences. "When you're young, you always think you're going to do everything the same as you do it at that present time," she explains. "As time went on, I realized that the way we were doing things was really restricting. And I felt myself leaning toward [becoming] a type of artist that I didn't want to be. I felt slightly pushed in that direction, because we had a song like 'Bulletproof.' I never wanted to have a hit like that."
It's not often that an artist regrets having her work received exceptionally well, both commercially and critically, and Jackson is quick to clarify: "I'm still so proud of 'Bulletproof,'" she says. "But I don't ever want to go anywhere near as close to a type of pop music that I don't like again."
And on Paradise, Jackson seems to have landed, fully and fnally, in the zone. The nine tracks on the album, especially the defant "Silent Partner" (which she claims is in reference to the vocal troubles that sidelined her from singing for at least a year, not Langmaid) and the peppy "Uptight Downtown," still sound like what one has come to expect from La Roux, only a little more pared down and, paradoxically, funkier. Paradise represents a new phase of musical growth for Jackson, which she happily credits to her positive dynamic with Sherwin. La Roux fans will be relieved to know that her signature happy- yet-aching writing style has made the transition to La Roux 2.0, as well. "I usually don't say this in public, but it's like everything has got to be a bit, 'fuck you, fuck of,'" she says with a grin. "It's really the only way I know how to write."