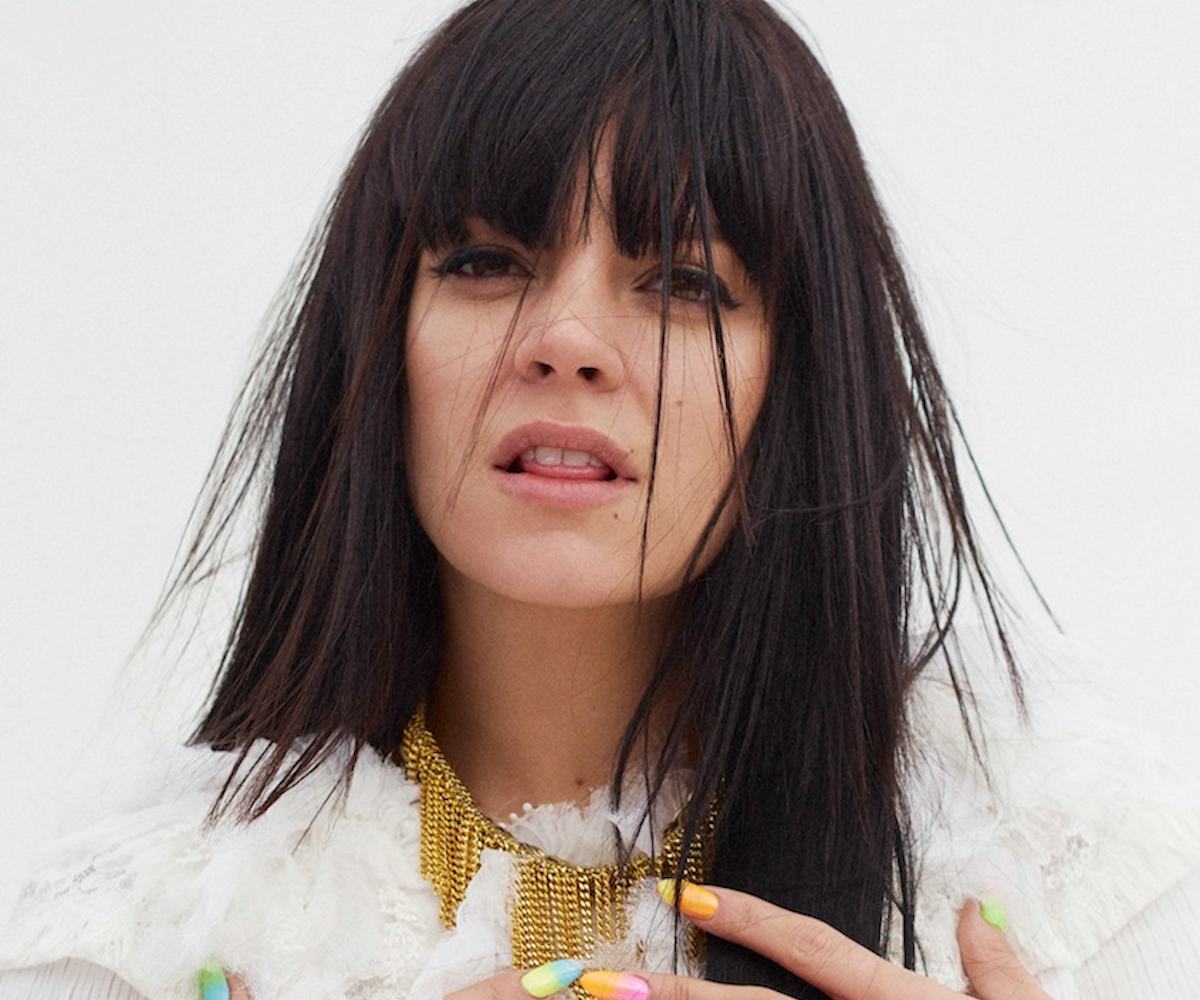 all photos by kristin vicari; styled by richard sloan
we love lily!
read our interview with lily allen here.
Lily Allen arrvied no more than an hour late, and slinks through the side door of this East London photo studio, tiny as an elf, all hazel eyes and nervous giggle.
The makeup artist, she is told, will see her now, and so she quickly removes her top to reveal an orange cotton bra, and then disappears inside an old gray T-shirt that could comfortably sleep four. As she sits, somebody brings her frothy coffee, but this will prove difficult to drink when she has people buzzing around her, one of them gluing hair extensions to the back of her head, the other filing her fingernails into vampiric talons. And then somebody switches on the hair dryer.
But as she sings on the title track of her new album, Sheezus: "Been here before/ So I'm prepared." In other words: Allen is a pop star, and this sort of rigmarole comes with the territory.
She's certainly kept herself busy during her four-year hiatus: marriage (one), children (two), and the purchase of a nice big house in the country. She never did retire back in 2010, despite claims to the contrary, but instead sought out something she'd never had before: a quiet life, and a comparatively normal one. She loved it, she says now, but she also felt "exasperated" by the pressures of motherhood and, reasonably enough, "I found I wanted to do something for myself again."
What she's done is Sheezus, which ably confirms that the 28-year-old arch provocateur has as much to say as she ever has, and still knows just how to say it. "There is an element of, Yay, people are still writing about me," she says in reference to her return to public life (it is difficult to convey just how much of a cultural icon she is within British pop's firmament), "but also of, Oh fuck you—how could you get me so wrong?"
Her comeback has already generated plenty of column inches across the Atlantic. First, shortly before Christmas, she elected to rework Keane's dulcet "Somewhere Only We Know" in a television ad for a department store, an act which sparked speculation that she might have gone soft in the aftermath of motherhood. But then she followed it up with "Hard Out Here," an upfront feminist manifesto that features the word "bitch" 72 times.
And now comes Sheezus, which is both sweet and snarky, full of glistening pop songs that brim with deadpan irony, searing honesty, and withering put-downs. "I don't give a fuck about your Instagram/ About your lovely house or your ugly kids," she sings in "Insincerely Yours," while "L8 CMMR" proclaims her love for her husband Sam Cooper by calling him a "bad motherfucker." The title track, meanwhile, name-checks Lady Gaga, Beyoncé, and Lorde.
"Yes, but I only mention all those people because I see them at the forefront of the music industry, and I'm not at the forefront myself," she says. This might come as a surprise admission from someone whose first two albums, Alright, Still (2005) and It's Not Me, It's You (2009), both sold millions of copies and led to fervent declarations that she was the voice of her generation. But Allen shrugs off such accolades. "If my self-belief was driven by something as simple as my achievements, I suppose I'd be really confident, wouldn't I? But I'm not."
"I try not to censor myself, because I don't think I'm a bad person, and most of what I say is sound, or at least well-intentioned."
She nevertheless exerts a strong grip over her career in an industry where pop stars so often struggle to control their own fates. "It works in the record company's interest to have people who don't really have brains sell products for them because, that way, they can't figure out when they are fucking them over." No wonder she takes a forensic interest in her marketing and the album tracks that are chosen for singles. She also pays precise attention to how she comes across in print.
"I try not to censor myself, because I don't think I'm a bad person, and most of what I say is sound, or at least well-intentioned," she reasons. "When I do an interview, I find I can ascertain quite quickly whether they have good intentions, or whether they are simply coming with an agenda and trying to find the next headline. Even if they think they are being really clever with me, I tend to know [their motives]. And when I spot them, I just shut into lockdown." Not a little warily, then, I ask how I am doing. Her laugh is infectious, and quite possibly mocking. "Good," she says. "So far."
One of eight children of the reliably hell-raising British character actor Keith Allen and film producer Alison Owen, Allen's adolescence can easily be described with the kind of two- word tabloid headline she so loathes: wild child. This was prompted, she suggests, by a troubled relationship with her father, among other things. "At 16, I started to act out," she says. "I had some really horrible things happen to me in relationships, and I didn't have an anchor, a support network. I was lost."
Finding fame at the tender age of 19 was not exactly a road map for stability, and she ended up pursuing a life that, if nothing else, looked great in the tabloids: sex, drugs, endless controversy, stints in rehab. By 2008, she was dating a man twice her age, Ed Simons of The Chemical Brothers, and during their relationship she suffered a well-publicized miscarriage. A year later, she realized that Cooper, a decorator and builder whom she had known for a decade, was in fact the man of her dreams. After another miscarriage, the couple now has two young daughters, Ethel and Marnie.
"Sam was the first person in my life to make me go, 'Stop. Is everything OK? Good, proceed.'" Allen laughs self-consciously, a hand covering her mouth. "Before that, I was always in the fast lane, always consume, consume, consume, and only consider later."
But she didn't adapt to domestic bliss overnight. "No! At first I suppose I tried to destroy it," she recalls. Why, exactly? "Oh, you know, Just my usual self-destructive behavior."
She recalls a pivotal conversation she had with her future husband after returning from a trip to Japan. "I'd had a crazy rock 'n' roll time there, [and there were] pictures of me in the paper flirting with other people, just being an idiot, really. When I got back, he was like, 'Look, this is a really great relationship, and I want to make a go of it, but I can't with someone who behaves like this.' Basically, he was asking me to sort myself out. I told him I would, but only if he was there to look after me."
She giggles again, but more than anything just looks relieved. "And he was; he is. And I'm glad. I'm happy."
jacket by ashish, dress by marc by marc jacobs, earrings by boucheron.
shirt by chanel, skirt by vivienne westwood red label.
jacket by calvin klein collection, sweater by topshop, sunglasses by cutler & gross, earrings by boucheron, shoes by giuseppe zanotti design