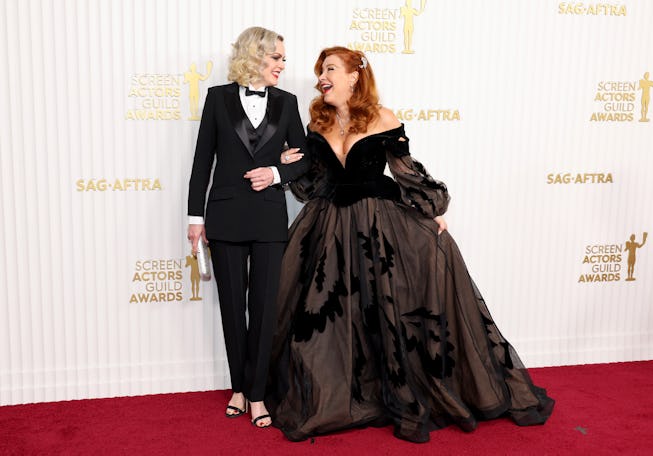 Amy Sussman/WireImage/Getty Images
The Parent Trap's Lisa Ann Walter & Elaine Hendrix Are the Best Red Carpet Dates, Ever
Chessie and Meredith spin-off, WHEN?!
Award shows are incubators for some of a generation's most defining pop culture moments: The Britney-Madonna kiss, or the announcement of Beyonce's pregnancy, to name just a few. But in what is perhaps the most life-affirming pop culture moment to ever take place on a red carpet, it appears that Lisa Ann Walter and Elaine Hendrix are an item, at least on the SAG Awards red carpet.
Let me spell it out for you: Chessy and Meredith from Lindsay Lohan's The Parent Trap went to the SAG Awards together. This is not a drill!
The two were seen in arm in arm at the Screen Actor's Guild Awards, after Hendrix reportedly traversed space and time to make it to the carpet.
"Well, I invited my date, but then my date flew, and it took her nineteen hours to get here because of the weather, and a little diversion to Vegas, three other planes that were made late and she got here," Walter told Entertainment Tonight.
"I got here, and I was determined," Hendrix said. "She asked me to be her date, I showed up as her date."
Hendrix shed Meredith's old monied Cruella-meets-'90s slinky dresses for a dapper tuxedo for the occasion.
"I showed up to be Lisa Ann Walter's date and when she asked me, I was like, 'Oh, I knew exactly what I needed to wear.' So, I got a lady's tuxedo. It's my first one ever, and I'm madly in love with it," she told Entertainment Tonight.
"It's the best-looking date in a tux I think I've ever had," Walter added. Aww! She's not wrong: Hendrix joins the likes of Amanda Seyfried, Quinta Brunson, and Haley Lu Richardson as one of the best dressed of an extremely well-dressed SAG Awards.
It appears that the two actresses attended as friends, but the reunion of two of The Parent Trap's most beloved characters — particularly enjoying a resurgence in popularity recent years for their respective styles, not to mention Walter's status as a bon a fide queer icon — is nothing short of inner child-healing magic, especially for a particular generation.
We have a lot of questions, the most pressing of which is when will we get a Chessy and Meredith spin-off?