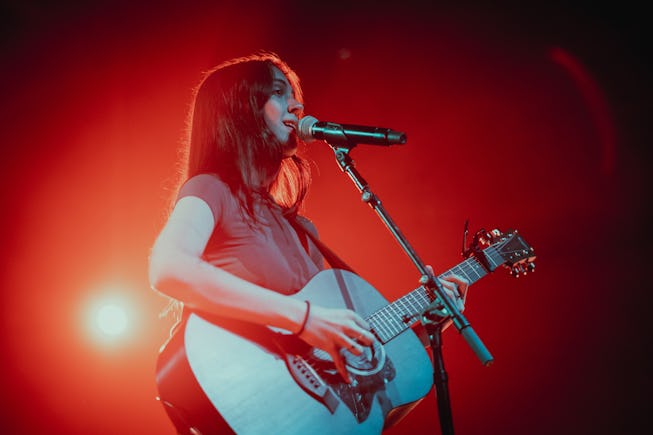 Kris Khunachak
Lizzy McAlpine's Intimate Live Show Is Like A Hang At A Friend's House
The Philly native returned to her hometown for a cozy performance.
The stage at Lizzy McAlpine's Saturday night show is set up like a makeshift living room. Movie posters of Indiana Jones and 007 adorn a wall with two large windows. A floor and table lamp emit warm, buttery glows. A green velvet couch beckons from the corner. In the middle of it all stands McAlpine herself, holding a guitar. If all the other on-stage apparatuses melted away, it would appear as if she'd just invited us into the hearth of her home for an impromptu performance.
This intentionally down-to-earth and intimate setting is the foundation of the 23-year-old's diaristic and cinematic indie rock — and, more recently, the reason for her skyrocketing success. At McAlpine's Spotify Pop Rising On Tour stop on April 29 at The Fillmore in Philadelphia, the ecstatic audience of 2,500 were not only fans, but also friends with whom she chatted casually. "I'm gonna sing some songs for you, it's gonna be great," she exclaimed as a greeting. But the coziness of the night was heightened by one other important fact: this was her first-ever headlining performance in her hometown.
"My mom literally bought 105 tickets for the show, so it's all, like, my family and her work friends, and my family friends … my grandparents are here and my sister," McAlpine told NYLON in the greenroom before the show, a tidbit she also shared with the audience shortly after her set began. If their presence (and the night's significance) added any weight on McAlpine's shoulders, it was imperceptible as she energetically kicked off her setlist with "an ego thing" — a barbed arrow of a track about toxic communication from her 2022 album five seconds flat. The earnest sing-a-long from the audience began immediately.
The lure of McAlpine's music is in its details, a vivid specificity that also touches on the universal: the turmoil of relationships, the things we do or don't say, the feelings we leave hanging in the air. At her shows, these details are flags for her fanbase to bear; a "song about slurpees" received a roar of cheers as the audience knew she was about to launch into "all my ghosts." She prefaced the fan-favorite "doomsday" by simply calling it a song about "ignoring red flags."
Lyrics are held and cradled by her fans, like when the audience chanted back "I'm alone, I'm alone, I'm alone/ All at once/ And I don't know, I don't know/ how to get back what was," as she belted "Nothing / Sad N Stuff." Though McAlpine's star only started to rise spectacularly in late 2022 after she'd already independently released two studio length albums, the night made clear that she has long been a resonating chamber for her biggest fans; no song went delivered without audience participation.
"It's always mindblowing to see how many people show up to these things," McAlpine said of her fans. "I keep my expectations very low and I am just appalled at how many people are in the crowd and singing along to every word. It's crazy to me!"
The most thunderous moment of the night arrived with "ceilings," slotted smartly mid-set and the only song that got the cinematic treatment: a dimming of the lights, a prolonged silence, and a recording of the quiet patter of falling rain. The true power of McAlpine's now-mighty influence perhaps revealed itself here. As the song built up to the final chorus that at this point has been heard by everyone with a TikTok account, the crowd sang and gestured every word. Like a cathartic release, after it was done, there was a communal sense of something healing.
It would be easy to compare McAlpine to other patron saints of diaristic songwriting like Phoebe Bridgers or Angel Olsen, but McAlpine harbors an emotional generosity and sense of peer-to-peer-ness that's rare among artists of the genre. Although a physical barrier separates her from the audience, there's a sense of mutual give and take, or at least of care. (In a more sobering example, after McAlpine paused the concert for the fourth time to get help for an audience member who passed out, she called for a brief "breathing break" and for venue attendees to pass out water.) Sitting at the piano to perform "In What World," she thanked the crowd for holding space for her art. "I started writing songs at 12 [years old] in my basement in the suburbs of Philly," she said. "You are one of the many reasons why I'm here."
At the end of the night, after making sure to pop into the photo booth, her fans left with one more gift. Through a partnership with Spotify's Pop Rising playlist, McAlpine was able to send everyone home with a commemorative tote and a sample of her favorite hometown treat: a Wawa brownie. You'd imagine if you were at her real house for an actual hangout, she'd probably send you on your way with the same thing.