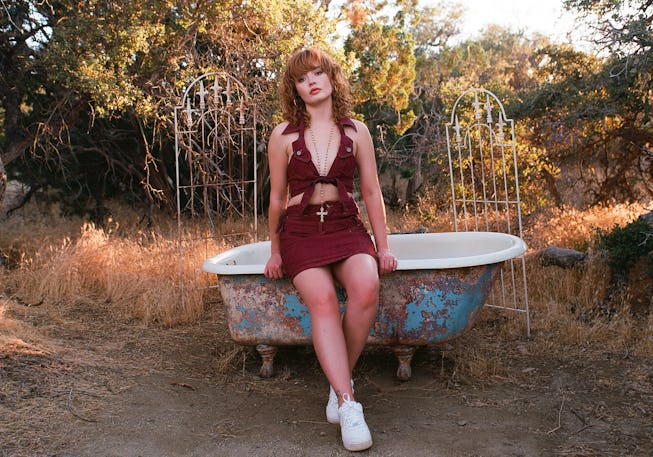 Photo courtesy Mallory Merk
Premiere: Mallory Merk Contemplates Life After Rehab In "Fresh Out" Video
The Rihanna and Pat McGrath muse shares a raw but relatable look at the other side of introspection.
You've likely seen Mallory Merk's face before — she made her Yeezy debut at just 14, has been a muse to Pat McGrath and starred in Rihanna's premiere Fenty Beauty campaign. But the 19-year-old is much more than just a photogenic face. She's an artist, too, most recently releasing the pop ballad "Ghosts" and currently working on a new EP due out this September called Strangers.
Below, NYLON premieres the video for "Fresh Out," a new song Merk wrote about the feeling of stepping out into the world after a period of isolation and introspection. It's fitting for the times — though we're not fresh out of our new quarantine lifestyle yet, it can be nice to imagine what that date indeed will feel like. Merk presciently wrote the song prior to a stint in rehab, which she credits with getting her sober and helping her step inside herself long enough to quiet the noise of the outside world.
She tells NYLON, "When you're attempting to live in a new version of yourself — without doing things to hurt or alter yourself — it can be scary and difficult. Sometimes it feels like you don't have friends around anymore after getting out of a rehabilitation setting, because all your old habits are associated with your old friends. It hurts to lose those people who feed the deep and dark parts of your ego, but it's a new opportunity to find who you really are. One of the better parts of being 'Fresh Out' is that the friends you come out with are ones who love you for the real you, and will be around for life. Most importantly personal health and love becomes a clearer priority."
For "Fresh Out," Merk worked with frequent collaborator Dan Farber to create the dreamy, guitar-based track with candid lyrics couched in lilting harmonies. Merk's voice has a raw quality to it that complements lyrics about fake friends and discovering what's left when you have "no plans for the weekend." Lines like "I just want to make it to the morning/But it could be an endless night" and "Chasing adolescence/Medicate my senses/I just want love/Backed by good intentions" are the sort of coming-of-age sentiments that stay with us long past youth.
Watch the video for "Fresh Out," premiering exclusively on NYLON below, and read on for a conversation with Mallory:
So you wrote "Fresh Out" about leaving rehab.
I didn't even mean really to write about rehab at first. I was writing how I was feeling in society, and how I felt detached and it reminded me of when I came out of rehab. I was very antisocial because I didn't know what to do that wouldn't trigger me and that wouldn't make me want to retreat back into myself or use again. I think people that have been in any type of rehab situation where they're getting themselves back to health or mental health, physical health, whatever the case may be, I think everyone can relate to that time when we don't want to mess up, and you're fresh out.
I actually wrote the song before I went to rehab, which is weird. I tend to do that a lot. Strangely, I write about something that maybe I haven't even really gone through yet. And then, then I'll go through it. I knew, I felt in myself that I needed to go, but I think the only way that I admitted it to myself was writing about it.
It seems like it ended up being a positive experience overall.
Now I'm feeling good. I'm getting used to obviously being sober. It's been a couple months and every day is a little bit...every day is different.
What have been some of the things that have grounded you or provided joy or hope or inspiration for you?
It really was my best friend, and just being around people that are also respectful of your sobriety. Obviously no one can go out right now, but just not even going around places where I used to get fucked up or make bad decisions. I don't really go back to those places, unless I'm really okay with it or I'm ready. Eventually I'll be able to go back and make new memories.
It sounds like you have a pretty strong support system around you.
Yeah, definitely. It really actually helps. Everyone that I work with for music, they put my health first and that's important to me. I feel like in the music industry, it can be kind of rare sometimes before people genuinely care, people that have basically like your boss, really genuinely caring about their mental health is sadly a little bit rare. I'm so blessed to have a job where I can take mental health breaks when I need it, and keep myself in a good mental space. So I don't overwork myself and go down that path.
Was this your first experience going to rehab and getting sober?
It was not. One time I did when I was pretty young, when I was 19. I wasn't living around anyone, it was just me in my apartment, no one really knew what was going on. And when I expressed to my parents and family and friends and stuff that I wanted, I needed to go to rehab, everyone was really confused. And to be honest, my family didn't really believe me and a lot of my friends didn't believe me. And I was having a very near death experience and I was alone for that. It's hard to be like, "Oh, I want to get help." But it's even harder when people are like, "Oh, you don't need it" or "I don't see the signs of this or that, so I don't think you need it," "I can't physically seen you addicted to something or addicted to a general way of thought. I can't see it so I don't believe it." I think that's a big problem that we have in society. Someone might be like, "I need help." And then we're like, "What? You have such a good life," or "What do you mean? How could you do that?" When really, people don't realize that addiction really affects everyone from all walks of life. Everyone has one person in their life that they know that struggles with addiction, whether that be to alcohol, drugs, there are many addictions that we can have in life. And really it's just a mental illness and people don't really treat it that way. They treat it or something you can choose and turn off and on.
They see you doing well on the outside and assume that that's your inside too.
Exactly. It was hard because everyone was in quarantine so nobody could really know what's going on with you or see you in person.I definitely had to just do it myself. I knew what was right for me.
This interview has been edited and condensed for clarity.