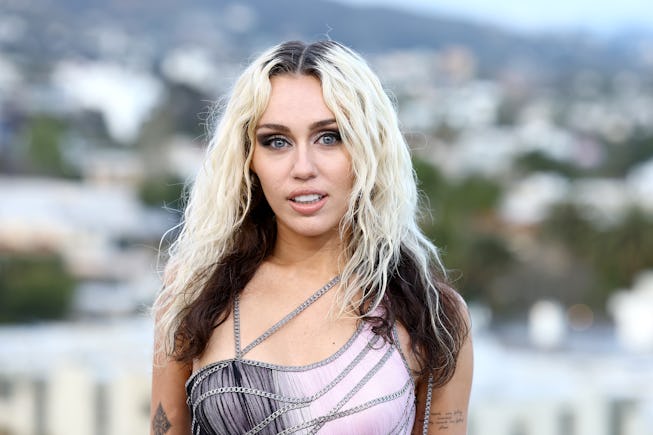 Arturo Holmes/Getty Images Entertainment/Getty Images
Miley Cyrus Says She "Can't" Tour Anymore
"Do I want to live my life for anyone else's pleasure or fulfillment other than my own?"
Miley Cyrus has been famous longer than most of Gen-Z has been alive. The 30-year-old singer has lived lives as a Disney Channel star, child idol, adult pop star, and pretty much every other label in between. That's come with its set of unique joys and challenges, but now it seems she's ready to enter into a different, much more chill and lower-profile phase of her career. In a new interview with British Vogue — her first and only major interview since the release of her eighth album Endless Summer Vacation — she revealed that she's may be ready to put the busy touring lifestyle behind her, at least for the foreseeable future.
Speaking to the magazine's feature editor Giles Hattersly, Cyrus stated that she might be done with the public-facing aspects of the pop star life for the time being — and that includes embarking on months-long, intensive touring. Say it isn't so!
"It's been a minute," she said to British Vogue of her nearly nine-year break away from stadium stages. "After the last [headline arena] show I did [in 2014], I kind of looked at it as more of a question. And I can't. Not only 'can't,' because can't is your capability, but my desire. Do I want to live my life for anyone else's pleasure or fulfillment other than my own?"
Cyrus' last extended headlining tour was in support of her 2013 album Bangerz which saw her playing shows across North, Central, and South America, Europe, and Australia throughout 2014. Since, she's embarked on a few more tours but they were much more selective and smaller scale; She played only eight shows in the U.S. for her 2015 record Miley Cyrus & Her Dead Petz, and has only played music festivals as part of her most recent tour, the Attention tour in 2018. It turns out the singer's stance on playing and singing for huge crowds has changed.
"Like singing for hundreds of thousands of people isn't really the thing that I love," she told Hattersly. "There's no connection. There's no safety." So if you were holding out hope that you might soon get to catch her on tour for Endless Summer Vacation, think again.
It makes sense; these days the singer has largely stepped away from the fan-courting machine that being a pop star requires. She did virtually zero press in the lead up to Endless, choosing to simply announce her singles and album via personal posts on social media. For Plastic Hearts, most of her promotional activity entailed performing on morning and late-night talk shows, covering other peoples' songs while playing her own. These days, she's largely spending her time journaling, hanging with friends ("I only hang out with, like, gay men," she told British Vogue), working out, and spending time with her BF Maxx Morando (who she says they met on a blind date).
Part of this 180 degree turn might be the result of the high levels of public scrutiny she endured as a child star at the hands of invasive paparazzi and blood-thirsty media. Elsewhere in the interview, Cyrus reflected on the immense amount of press and criticism she received when she was younger, specifically during her "Wrecking Ball" and twerking-on-the-VMAs-stage days, calling a lot of the outside judgement "harsh."
"Now that I'm an adult, I realize how harshly I was judged," she said. "I was harshly judged as a child by adults and now, as an adult, I realize that I would never harshly judge a child."
"Like I was clearly a 20-year-old girl," she continued. "Sure, at 20 I was like every 20-year-old. You think you're grown, but now I'm like, 'Oh, no, I was fully a kid.'" It's only a matter of time before the press vs. Miley Cyrus public reckoning is here.
Despite it all, Cyrus is still enjoying a huge year and album rollout. Her single, "Flowers," is No. 3 on the Billboard Hot 100 despite being released in January, and will likely power through to become a — if not the — song of the summer. And we're sure her third single, "Jaded," isn't too far behind. Even if we won't get the chance to watch her perform it live on stage near us anytime soon, at least we still have the radio.
Read Cyrus' full interview on British Vogue.