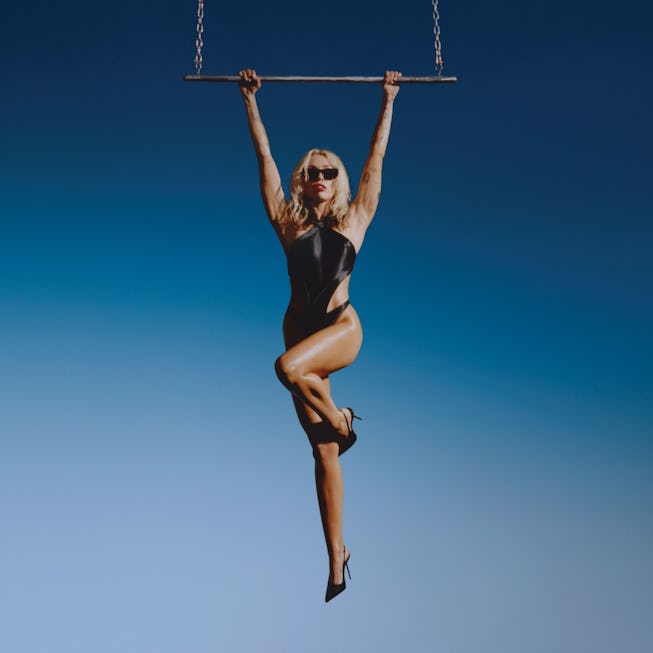 If You Think Miley Cyrus' New Album Is About Divorce, Think Again
Endless Summer Vacation is the star's most sensual album yet, basking in euphoric pop that deserves to last forever.
Miley Cyrus loves a genre shift. But her latest album Endless Summer Vacation is not what we've come to expect with her somewhat campy sonic explorations — glitter glue psychedelia (Miley Cyrus & Her Dead Petz), rhinestone bedazzled country (Younger Now), and torn leather rock 'n' roll (Plastic Hearts). Now, instead of devoting herself to a genre's confines, she's penned a love letter to a common thread in all her wildly different sonic deep dives: Los Angeles. For the most part, her eighth studio album—out today—is her least gimmicky and sensually liberating.
Even though we've come to know Miley as an untamable, twerking party animal, not much of her music explores sex. That might seem kind of weird considering that she's become one of the most sexualized superstars, feeling the pressure to even lie about when she lost her virginity. Cyrus does not hold back on Endless Summer Vacation. Sometimes the descriptions are realistic with dirty bed sheets "like sticky sweet lemonade" on "Rose Colored Lenses." Or, they're romantic, her imagining "wild, wild sex under the moon" on "You." And, sometimes Miley gets a bit cringe: "You could be the one/ Have the honor of my babies," she sultrily raps on "River." "Was a desert before I met you/ I was in a drought," she continues. Zapping synths and new wave percussion create a suspenseful Flashdance-like tone that's fun, but falls a bit short compared to the album's ballad-leaning counterparts.
"Handstand," however, is Miley's most exhilarating snapshot of the bedroom. She wows her partner with her ingenuity so much so that they're "questioning the science." Scandal! "You don't understand/ How I'm doing what I'm doing in a f*cking handstand," she whispers during the chorus. So much is left to the imagination until she bluntly adds, "You found it so impressive that I do it again/ My other one is busy so I use my left hand." She's sing-speaking so softly, so quickly, that it's easy to get lost in the ambient synths, missing the action in the foreground. "We took it kinda fast but you put it in slow." It combines all the elements we've been waiting for Cyrus to deliver — surprise, playfulness, cheekiness, bluntness, and thrill. Surprisingly, the NSFW lyrics aren't even the most unexpected bits of the song.
This, and not whatever may or may not be about a dead marriage, is the most riveting part of Miley's new chapter.
Prior to its release, Cyrus revealed that ESV was divided between two halves that represent the AM and PM. The former captures "the morning time, where there's a buzz and an energy and there's a potential of new possibilities," while the latter channels the twilight's "slinky, seediness and kind of a grime but a glamour at the same time." Once we've reached the mid-album checkpoint on the licentious "Handstand," we've also joined Cyrus on a brainwave-altering acid trip.
The sun starts to set and Miley Cyrus breaks out into a tripped out poem. "We met each other on the neon dinghy," she recits calmly. "Past the manta rays and palm trees/ Glowing creatures beam down from great heights/ Electric eels and red venom." It's the kind of mind-altering acid trip that hedonistic romantic Moondog — the main character, played by Matthew McConaughey, of Harmony Korine's 2019 oeuvre Beach Bum — might conjure up. As it turns out, we're not that far off from getting that chaos-loving cunnilingus lover. Korine scores a writing and producing credit on the synth-heavy sexcapade. This, and not whatever may or may not be about a dead marriage, is the most riveting part of Miley's new chapter. The personality she's shown us is as funny, bizarre, explicit, and charming as Korine's captain hat-wearing, pink feathered robe-donning protagonist. I wouldn't be surprised if she inspired him.
Endless Summer Vacation captures the neverending party that exists in scenic, tropical places like Korine's neon-lit, beer-stained boardwalks in Beach Bum and Spring Breakers. But Korine's Florida is Cyrus' California. Endless Summer Vacation trades Plastic Hearts' hot pink steel-toed guitar riffs for synths that match the glint off the pacific ocean's waves or the electric buzz of the neon signs that line Sunset Blvd. She worked with heavy hitter pop songwriters Bibi Bourelly, Tobias Jesso Jr., Kid Harpoon, Mike WiLL Made-It, and Greg Kurstin. She also collaborated with Brandi Carlisle on "Thousand Miles" and Sia on "Muddy Feet." But rather than dueting with two of the industry's well-known singer-songwriters, both are resigned to backing vocals. It's an odd choice of use for features, but it places Cyrus as the only focal point of her album as opposed to Plastic Hearts' iconic duets with Billy Idol, Joan Jett, and Stevie Nicks.
Good things always come to an end, which is why Endless Summer Vacation isn't as blissful as the title might suggest. Cyrus' most captivating moments are when she's getting lost in the fantasy and then trying to figure out if she wants to find her way back. "Rose Colored Lenses" shows Cyrus tightening her grip on a euphoric romance with every anxious thought that the end is near. There's a desire to stay in this moment forever, "fallin' stupid like we're kids." Cyrus is Peter Pan, clinging to fantasy devoid of adult responsibilities. "Never wanna leave this room," she pouts. "Daydream, déjà vu/ If I had control over you," she sings dreamily before sliding into the chorus: "We could stay like this forever/ Lost in wonderland." Although she reminds us she's the queen of gritty powerhouse howls on "Jaded" and "Muddy Feet," this is one of the album's finest moments: Cyrus wrestling with desire while unlocking a new vocal tone. Her voice is tuned into cerulean shades of dream pop that recalls Beach House's Victoria Legrand.
It's easy for Endless Summer Vacation to become headline fodder following Cyrus' public divorce from actor Liam Hemsworth, but using this album to decipher how their relationship dissolved would be a great disservice. Cyrus is at her sexiest and her darkest, showcasing sometimes an obsessive desire for control, which feels like truer vulnerability than she's ever shared before. The album is threaded with subtle reminders that Cyrus wants love, in whatever form, to last forever no matter what the cost. This album sort of encapsulates what Moondog once said, "I just wanna have a good time, until this shit's over, man. This life gig's a f*cking rodeo and I'm gonna suck the nectar and f*cking rawdog it till the wheels come off." But Cyrus puts it into much more concise poetry: "Endless summer vacation/ Make it last 'til we die."