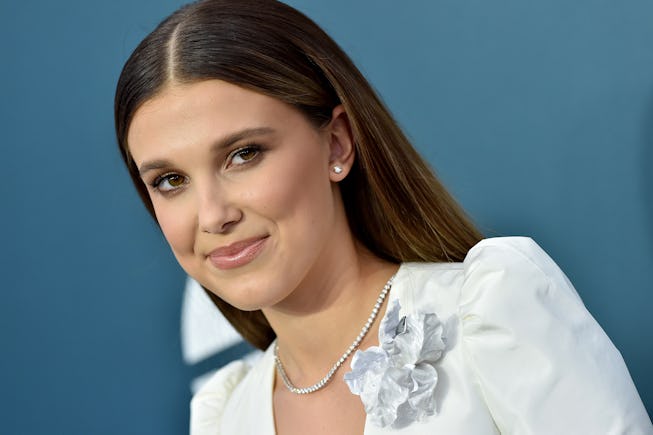 Photo by Axelle/Bauer-Griffin/FilmMagic
Millie Bobby Brown Spoke On Being "Humiliated" By Hunter Echo
Brown opened up about her "blip" of a relationship with the TikTokker for the first time.
Seventeen-year-old Stranger Things star Millie Bobby Brown has broken the internet many times due to her excellent acting skills, burgeoning makeup brand, and British charm. However, as she's skyrocketed in popularity, the young actress — like many before her — has also been victim to hypersexualization in the media and by the public. During the summer of 2021, 21-year-old TikToker Hunter Echo (whose real name is Hunter Ecimovic), took to social media to detail his alleged personal relationship with her, including his claim that he "groomed" her.
During a livestream, Ecimovic claimed to have had a sexual relationship with Brown, and disclosed alleged details of their time together. Ecimovic, who has a following of 1.6 million followers on TikTok, is facing well-deserved scrutiny for the event. Though this case currently lies in the court of public opinion, it has also illuminated the issue of celebrity couples with age gaps.
Brown previously hadn't commented on the situation, only saying through her reps that none of Ecimovic's statements were true. "Mr. Ecimovic's remarks on social media are not only dishonest, but are also irresponsible, offensive and hateful," they told TMZ at the time.
In an interview with Allure released Friday, August 12, 2022, she spoke about what happened with Ecimovic and how it affected her for the first time, calling it an "unhealthy situation" that she felt "empowered" to walk away from. She also referred to her time with Ecimovic as a "blip."
Keep reading for answers to your questions about the incident:
What did Ecimovic say about Millie Bobby Brown?
The disturbing video includes many explicit details of their alleged relationship, however the most concerning was Ecimovic's bold claim that he "groomed" the young actress. During the video he seems to read a comment aloud that says, "Imagine being a grown adult and dating a kid," to which he callously replies, "I know, I groomed her." Grooming occurs when a sexual predator uses manipulative tactics to get closer to a victim, who is usually underaged.
Why did Ecimovic make the livestream?
Though the reason for doing the livestream is unclear, Ecimovic seems to first defend the relationship — or perhaps the controversial age gap — before exploiting the details of it. Donning a cross necklace, he said, "I will never apologize. I hope you know that. I have nothing to apologize for," addressing the commentators directly.
The video reportedly went on for hours, getting progressively worse by the minute, until he finally cut the cameras. Yesterday, Ecimovic posted a TikTok claiming to be inebriated during the video.
Was Ecimovic Millie Bobby Brown's boyfriend?
Brown is currently reportedly dating Jon Bon Jovi's son, 19-year-old Jake Bongiovi, and no sources have confirmed that Ecimovic was ever Brown's boyfriend. A photo of Brown kissing Ecimovic's cheek has resurfaced, leading many to believe that they were friendly at some point.
In attempts to defend himself, Ecimovic also claimed to live with Brown for eight months, and said that her parents were aware of it. He also hinted at a lawsuit. However, he did not disclose why or when that event took place.
Has Ecimovic apologized?
In the TikTok posted yesterday, Ecimovic apologized for embarrassing his family, but not for the claims made about Brown or any emotional distress he may have caused. "The livestream, I am sorry for," he said. "I'm not proud of how I spoke. It sounded very immature, looked horrible on my family, it looked horrible on me, it looked horrible on my friends." He then went on to say that he should've ended it sooner, specifically, "the moment it started getting bad."
Is anyone pressing charges?
Though Brown's team did tell TMZ, they were "taking action," a formal lawsuit has not been made public. During the livestream Ecimovic said, "How the f**k is there a lawsuit," seemingly responding to a viewer. According to Page Six, he also said, "Everything that I did was completely legal and it was approved by everybody that I was with."
Has Brown responded publicly?
In an interview with Allure, Brown defined her relationship with Ecimovic as a "blip," and said their time together was an "unhealthy situation." After the livestream, Browns representatives told TMZ that none of Ecimovic's statements were true. "Mr. Ecimovic's remarks on social media are not only dishonest, but are also irresponsible, offensive and hateful," they said. They also noted that Brown will not be engaging in any public discourse about the matter, and instead her team is "taking action to ensure that he stops this behavior once and for all."
Brown was filming Stranger Things when the incident took place.
The livestream happened while Brown was working on the latest season of Stranger Things. "I felt very vulnerable," she said. "Also, no one on the set knew I was going through this. So it was kind of nice to be able to just deal with that myself and no one else knew. Then it was harder when the whole world knew."
Brown felt empowered after leaving Ecimovic.
Brown explained that leaving Ecimovic was a difficult but necessary decision for her well-being. "It was a year of healing," she told Allure. "When you get publicly humiliated this way, I felt so out of control and powerless. Walking away and knowing that I'm worth everything and this person didn't take anything from me, it felt very empowering."
"It felt like my life had finally turned a page and that I actually ended a a chapter that felt so f*cking long," she continued. "Ultimately, all I wanted to do within my career is help young girls and young people out there know that I, too, go through things. I'm not this perfect person that is selling skin-care products and [who is] in Stranger Things. I absolutely have made wrong decisions."