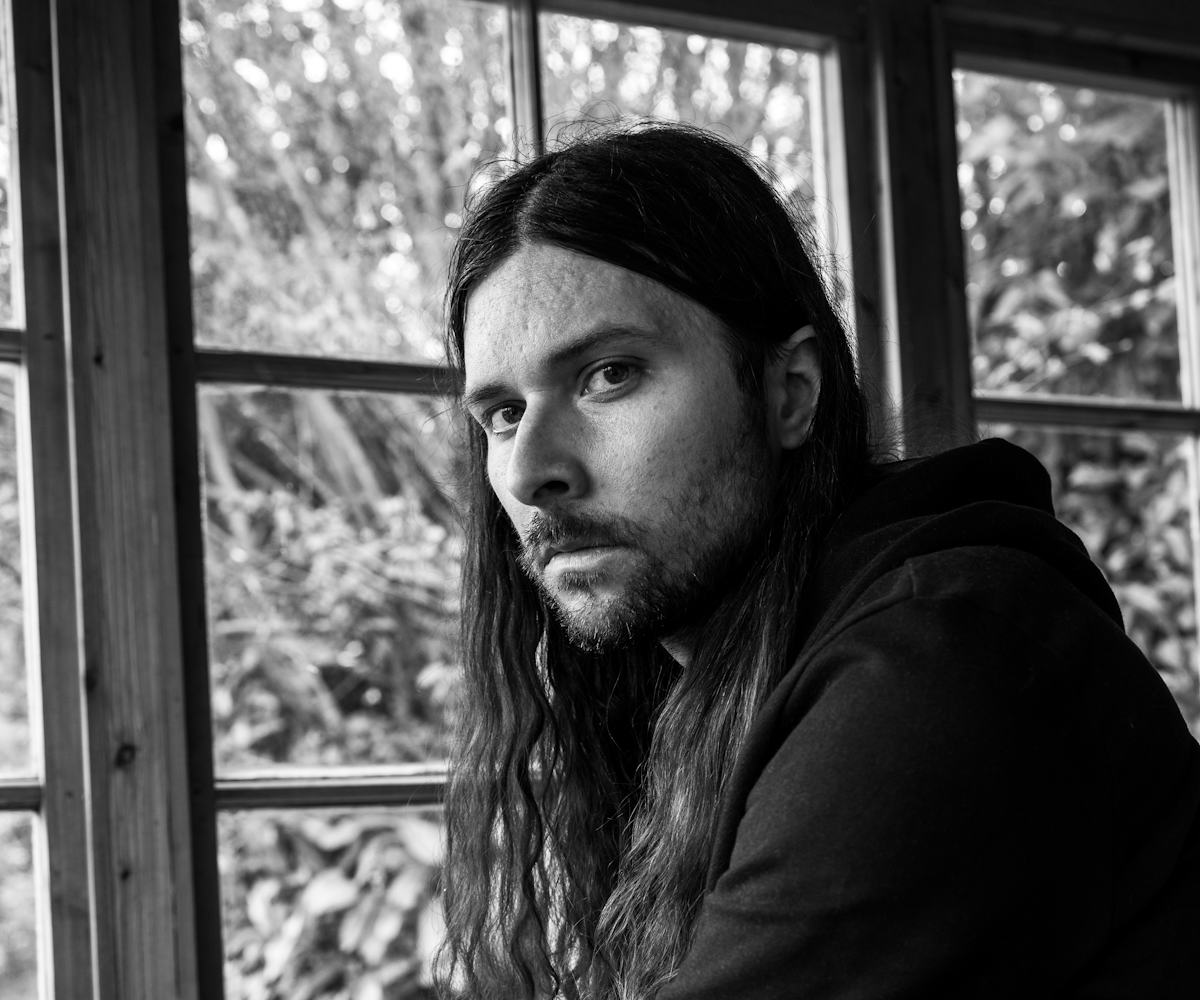 The Talent & Timing Of Mitch Rowland
The LA songwriter — and Harry Styles' guitarist — finds a lane of his own with Come June.
Over breakfast at a downtown Brooklyn cafe, Mitch Rowland muses about some of the kismet of his life. The 35-year-old musician, who might be best known for being Harry Styles' trusted collaborator, has been thinking about it in the afterglow of releasing his first solo album, Come June, in early October. As he picks at a fruit bowl and downs black coffee, it's hard to not think about the timing of it all. "That's kind of scary how life comes down to these tiny little timings," he says.
Timing and talent are two things that have greatly impacted Rowland's life in spades. Even if you are a fair-weather Styles fan, it's guaranteed you've heard Rowland in some capacity. Aside from playing guitar on Styles' three albums and tour, Rowland has co-written on some of Styles' biggest hits including "Watermelon Sugar" and "Fine Line." Both were songs that were an exercise in patience for Rowland and Styles. "Some songs happen in a day, some happen in a year. Same for 'Watermelon Sugar.' We carried it around. By the end, it had all this lint and sh*t from living in our pockets."
Despite all the accomplishments he's now put under his belt, Rowland is an introspective dude from Ohio. He grew up outside Columbus in Dublin, Ohio. He vividly remembers when music changed his life, as he gesticulates with his hands, wedding ring on his left hand, about the experience. "My dad's co-worker, who was his best friend when I was growing up, had just bought a house. He was living alone and he turned part of his downstairs into, it wasn't a man cave, it was just, man," he laughs. "He had a vintage jukebox loaded with current hits. What I kept selecting was early Black Crowes songs. At the time they only had two records out. All this talking about where this and that came from. It's made me realize, oh, that's got a bigger effect on me than I thought."
He taught himself drums first because his brother would "kick my ass if I was on the drums." Guitar came next. Rowland's way of teaching himself may have been primitive, but clearly it was effective. "Maybe at the time I saw it as 'I don't know if this is what I should be doing.' I would have my Discman and those sh*tty plastic headphones. And I'd have construction headphones that went over it so I could play drums along to it." His instincts paid off — Rowland later went to the University of Cincinnati for two years and that's where he met mixer and engineer Ryan Nasci on their second day of college.
For Rowland, meeting Nasci on that day kicked off a series of whirlwind events in his life — and retelling it leads him to order more black coffee in his soft-spoken voice at the Brooklyn cafe. "I was his first friend too, but if he had not been there in that moment, I'd probably still be scooping ice cream at Jeni's [Splendid Ice Cream] in the North Market [in Columbus, Ohio]."
Nasci was the first to move to LA and Rowland, who initially wanted to go to Nashville — which he now acknowledges would have been a "huge mistake" — followed shortly after. As fate would have it, Nasci was the one who got Rowland into that pivotal writing session with Styles when another guy couldn't make it.
During our meal, Rowland jokes about being late to artists (Nick Drake is one of his main examples), which explains why he didn't know a lot about Styles or One Direction or his general pop-culture magnitude when he walked into that session. He approached it in the same way he would collaborate with anyone. "It was four or five guys drinking beer, recording," Rowland recalls. "It was just hanging out. And I think he wasn't used to that. For him to sit back and have some fun doing it with people he didn't know was maybe something he hadn't done in a while."
"Some songs happen in a day, some happen in a year. Same for 'Watermelon Sugar.' We carried it around. By the end, it had all this lint and sh*t from living in our pockets."
Since that day, their creative collaboration has obviously become incredibly fruitful. Styles has become a close friend, even if Rowland lightly broke some band rules when he and drummer Sarah Jones got together. "For doing such a no-no, he's kind of supported anything and everything."
Ironically, Rowland says, they see each other more when they aren't on tour (their latest, Love On Tour, wrapped in July). "Over the years, we'll go places. We'll go on vacation or when we used to live in London, he'd swing by all the time." One thing that's clear when Rowland talks about their friendship and their work relationship is that Styles is loyal to a fault. "I never would've imagined him putting out [Come June], but it's been the most natural thing," he says. "To have a friend support me on the level that he does, he doesn't have to. It's not about money. He doesn't need that. He could have anyone in his band. It wouldn't make a difference in the big picture. Once again, he's amazing."
Come June is the first non-Styles album to be released on the pop star's Erskine Records label. He contributes vocals on "Here Comes the Comeback," a song that he loved and initially wanted but Rowland asked for it back and is now one of the focal points of the record.
Rowland jokes that the album is already a success because it didn't get leaked by his nanny. But jokes aside, Come June is a delicate, pared-down record and that's exactly what Rowland wanted. His fuel was "anti-production," a sort of antithesis to the hit-making of "Watermelon Sugar" because, as he notes, "How can you do it again?" In lockdown, he wanted to make a song a week and then it slowly unfurled. His inspirations were Jose Gonzalez, a Swedish singer-songwriter, and the album Rosemary Lane by Bert Jansch, both of which are just "voice and guitar."
Rowland collated a group of superstar insiders to work on the album including Ben Harper, who worked on Harry's House, for "Boyfriends," a bleakly beautiful ballad about bad boyfriends. He also brought on Rob Schnapf, who produced songwriter Elliott Smith's most infamous albums including his final, From a Basement on the Hill, in 2004. It helps explain why after my first listen of the album, I felt Rowland's vocals were eerily reminiscent of Smith.
But despite everyone Rowland worked with, Jones might've been his greatest collaborator. She was the one who told him to stick with the idea that ended up becoming Come June. They wrote "Here Comes the Comeback" together, and he describes the drummer as someone who "knows me better than most people."
When they initially met in 2017, it wasn't ideal. "I think she felt bad for me," he laughs. When he first started touring with Styles, Rowland hadn't been to many places in the world. In between songs and rehearsal, he and Jones would talk about how he'd never been to Spain and half-committedly book trips together. "Am I going to book a one bed or two beds? You're coming, right? I was like, 'I guess so,'" he remembers. "We were kind of seeing each other, but only half admitting it to ourselves. I just kept putting the kettle on, making cups of tea. What are you doing after this? Do you wanna get shitfaced?" As for that Spain trip: "We went to Spain and it was a one-bedroom," he chuckles. "It was kind of done and gone from there. We got married and had a baby."
They had their son in March 2021. Fatherhood has changed a lot of aspects of Rowland's life. Having to deal with the logistics of starting a family with two tour-musician parents may seem daunting but their close relationship with Styles helped alleviate a lot of that. "When it got tricky logistically, [Harry] always said, 'Don't let me be the reason you don't have a kid if you want to have a kid.' He would talk about it more than we would talk about it," Rowland says. "When we did, he gave us our own tour bus without us asking so we could just have our own space. He's made life as good as it can be for traveling around and doing huge shows and being away for months at a time."
Rowland has to get uptown for a session and as we wind down, fatherhood is still on his mind. While it's changed a lot of things for him, it hasn't changed his relationship to music — the thing that remains his constant. "It has an effect on everything, but I feel like music is still like a room you walk into where no matter what's going on, this stays the same," he muses. He thinks long about this, parsing the words out quietly. He doesn't see fatherhood as affecting Come June, but something more introspective did.
"What I realized in making this, because it was right before and after I became a dad, whatever songs surfaced felt like I was capturing the most important time in my life to date," he says. "So [Come June] feels like an invisible photo album."
Mitch Rowland's Come June is out now.