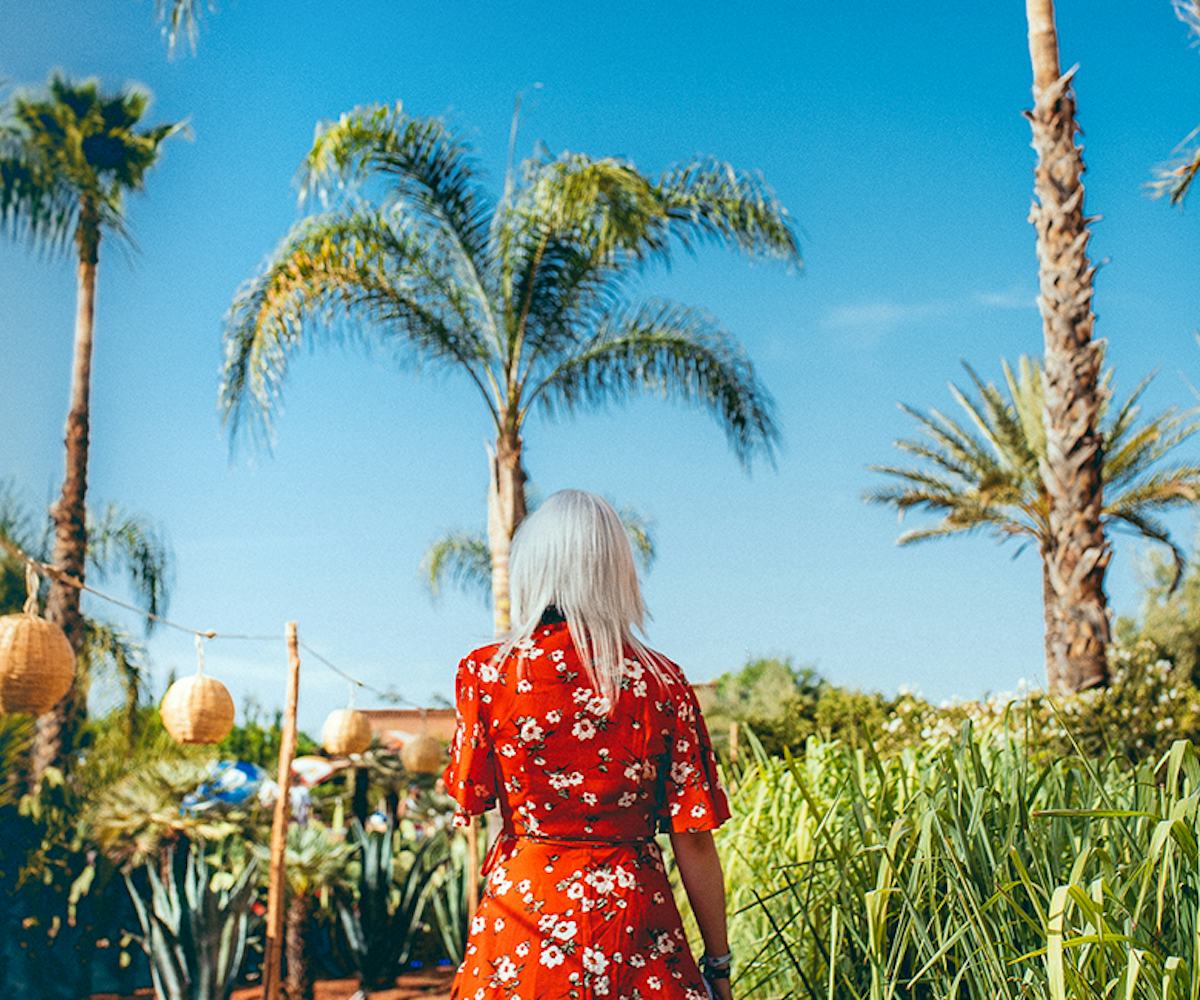 Photograph by SOLOVOV.be.
5 Moroccan Musicians You Need To Know
These were some of the standouts from this year's Oasis Festival
Marrakech's Oasis Festival started its third year on a high note—it sold out. Held at luxury hotel The Source last month, Oasis drew an estimated 3,000 to 4,000 people to the foothills of the Atlas Mountains for three days (and nights) of thumping house and techno. It's an intimate event that, at its core, celebrates every iota of Morocco down to the lineup, where a hefty portion is devoted to local acts. The fact Oasis even exists is daring, planting a flag as the country's first destination festival of its kind. But, as an excited crowd pushes through the compound's large, wooden gateway, chattering in German, Italian, French, Arabic, and English, it's clear people are ready to revel, imbibing in Morocco's rich, vibrant culture… with a thumping soundtrack.
Oasis' popularity means it might have to change locations next year, and that's a little heartbreaking. Its current location is pure perfection for hosting a boutique festival. Fruited trees that offer olives and lemons flank the compound's tiny winding walkways. Rosemary, which thrives in drier climates, grows here in hedges, scenting the air as you walk by. There's an area with hookahs, a rooftop with cacti on the cusp of flowering, and a tucked-away Champagne bar where drinks are to be enjoyed on jewel-toned pillows strewn across the grass. Stout palm trees are everywhere, and during the daytime, the towering crest of the Atlas Mountains can be seen in the distance.
Rather than truckloads of LED panels and stage effects, a few simple directional lights and dramatic bursts of fog are all that's needed for the festival's no-fuss main stage. DJ Solomun plays an eight-hour set. Nicolas Jaar plays for two nights (the result of Maceo Plex having to cancel unexpectedly). And, there is a bevy of Moroccan DJs: Jaza, Driss Skali, Polyswitch, and more. Nearby, the densely sweet smells of food beckon, with booths that offer couscous, tajines, and briouat (pastry covered with a flaky, phyllo-like dough). Yes, it's a partygoer's paradise, but Oasis also represents something much more.
"It's something we always dreamt of," says Amine K, a Moroccan artist who performed at Oasis this year, touching on how rare the opportunity to play for such a large, international crowd is. "With a Moroccan passport, you can't go anywhere. You need a visa to leave the country," he explains. "And they don't always give out visas."
Though it's exponentially harder for Moroccan DJs to tour, music, as Amine and other Morocco-born and -bred artists tell us, is simply a part of their heritage. House and techno have an especially emotional pull, drawing parallels to local spiritual genres like gnawa, which uses hypnotic drum patterns with unusual swing. "People go into a trance listening to it," Amine says. "Traditional Moroccan music has some of the same vibes as electronic music because it's fast, it's repetitive." Driss Skali, another Moroccan artist, says, "Give a Moroccan anything, and they will find a way to make music with it." Below, get to know five of our favorite acts from Oasis festival, the ones that put us in a trance until dawn and defined the identity of Morocco's new wave of electronic music.
Amine K
If there were a ringleader, for pushing the sound of Moroccan DJs to a global audience, it would be Amine K. The co-founder of party Moroko Loko along with UNES and MAR1, Amine has sought to use his platform to encourage and foster the country's burgeoning desire for electronic music. The events have been work, but they now garner a minimum of 1,000 attendees at each one and happen once or twice a month. The plan, Amine says, is to regularly export Moroko Loko around the world (they've already hit Canada and Japan), bringing his resident DJs with him to show the world what Morocco has to offer. As far as his music when DJing, expect house-centric tunes that dominate with slow, coursing sounds and large doses of shaking percussion. It often toes the line between feeling electronic and live, leading listeners into a body bliss best experienced on the dance floor. I can attest.
Driss Skali
Though originally from Casablanca, Driss Skali spent his formative years in Montreal, Canada. He's played alongside the likes of Carl Cox, Tale of Us, and Art Department, and started his own record label, Casbour Records, in 2011. He's blended minimal sounds alongside tech house and hints of electro to create long, pulled-out DJ sets that are meant to take listeners away for an evening. Driss' sets are normally on the longer side, hours if he can have it. He says a more "typical" set of an hour is unthinkable. "That's not long enough for me to express what I have to say." Seeing him live is the obvious best-case scenario, but a close second is indulging in one of the many live-recorded mixes he puts on SoundCloud.
Fassi
Another Montreal resident by way of Casablanca, Fassi discovered electronic music through the Canadian city's eclectic and booming underground scene. Though he calls Montreal home, he says his heritage is "interesting," and he tries to take bits where he can to incorporate into his own music. When DJing, the sets are buttery and pulsing, with thick, punchy drums to punctuate. His personal productions follow suit. "Half Closed Eyes" on Click Records is a sidewinder of a song, with spiraling layers that indistinctly ebb and flow over each other. "3ain" on Sweet Musique pays particular attention to shuffled percussion, with the melody pulsing at its own pace, at times in uncomfortable, almost dissonant tones.
MAR1
Marouane Khiyat, aka MAR1, is a poster child for being a music industry multihyphenate. Getting his start on radio, he developed several shows that reached millions, both within and beyond the borders of Morocco. He's also a DJ and has played part in near every banner event the country has hosted that curries favor toward electronic beats. This has seen him alongside industry titans like Erick Morillo and Mark Knight, where he strives to play ambassador for local talent. On top of all this, he is part of Moroko Loko and a collective meant to promote and produce Moroccan DJs in conjunction with the country's Ministry of Culture. Given his in-depth involvement, his sets show a tendency toward balancing a global house sound with nods to his roots, creating upbeat, 4/4 jaunts that are easy to bop to.
Polyswitch
Casablanca-based Polyswitch is considered one of the most exciting rising acts out of Morocco at the moment. His tastes span beyond the traditional boxy norms, embracing everything from Afro tinges to deep, rounded bass lines, and even spaced-out ethereal jams. To even label it here is disingenuous to the way he works, preferring there be no genre attached at all. For him, labeling is an "irreverent and pointless" exercise. It's better to just go with the flow and see where it takes you. And the sets are a bit of everything—expect the unexpected—jazzy breakdowns next to retro and warm synth loops next to house-inspired tunes that incorporate live-sounding improvisational lyrics. Somehow, it all fits together. Don't ask why, just buckle in.