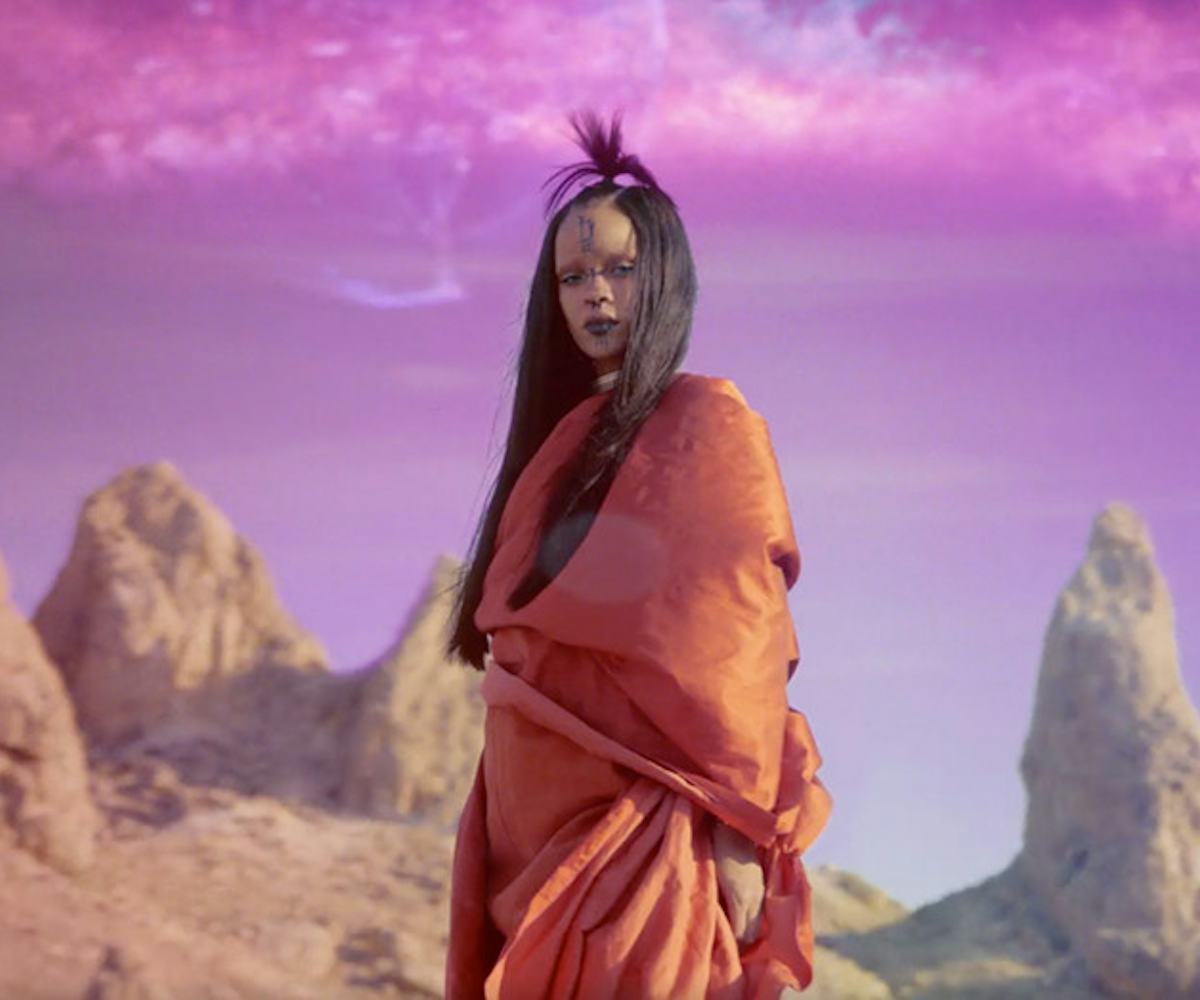 Photo courtesy of Rihanna
13 Of This Year's Best Music Video Looks As Halloween Costumes
Transform into a video star
There were so many amazing music videos that became a part of our world this year. However, not all of them can be repurposed for the sake of a Halloween costume.
We spent several weeks debating which looks we would want to personify on Halloween. For the record, this doesn't necessarily mean that all of us are committing to the costumes, but they are killer ideas. We narrowed our list down to 13 of the best music videos that dropped in 2016 that are perfect for this weekend's festivities.
Channel your inner pop star and have the best Halloween ever.
Rihanna in "Sledgehammer"
Feeling extraterrestrial this season? Opt for the tribal-inspired alien look Rihanna dons in the video for her track "Sledgehammer." Drape your body in layers of autumnally inspired fabric and throw on legions of accessories. For the ultimate Rihanna/alien/space vibe, draw some designs on your face with eyeliner and hit the town.
Beachcombers Bazaar, Henna Party Pack, $32.99, available at Beachcombers Bazaar; Zara, Choker and Long Necklace Pack, $22.90, available at Zara; Zara, Strappy Jumpsuit, $25.90, available at Zara.
Teyana Taylor in "Fade"
Teyana Taylor's sexy gym rat look in Kanye's "Fade" took the VMAs by storm, so why not draw some inspiration from this iconic moment in pop culture for Halloween? With this look, less is better. Throw on your sports bra, wrap your fists, and cover up those knees with kneepads (this look calls for tons of sexy floor sliding).
Ivy Park, Seamless Racer Back Sports Bra, $36.00, available at Topshop; Victoria's Secret, Cotton Lingerie Thong, $8.50, available at Victoria's Secret; Nike, Streak Volleyball Knee Pads, $25, available at Nike.
Arianna Grande in "Side to Side"
The embodiment of 2016 pop, in this video the seasoned singer flaunted both her vocals and her friendship with rap queen Nicki Minaj in a hot pink bodysuit. Take cue.
Love Culture, Fuschia Scoop Back Monokini, $37.95, available at Love Culture.
Grimes in "World Princess Part II"
Parading around the countryside with teased hair, a floor-length blush tulle skirt, and a Barbie pink cami, Grimes created the "'80s fairy" look in this video. Requiring just two pieces, you can totally recreate this ensemble and get in on the dated fairy fun.
ASOS, Billie Lace High Leg Bodysuit, $36.00, available at ASOS; ASOS, Glamorous Tulle maxi Skirt, $59.00, available at ASOS.
David Bowie in "Lazarus"
Can't be bothered to suffer in the name of Halloween looks? Trying to stay super comfortable? Pay homage to the cultural icon this Monday by recreating the creepy normcore institutionalized look featured in "Lazarus." This costume requires no zippers, straps, or Spandex, just pure comfort.
Missguided, White Low Pocket Half Placket Shirt Dress, $37.40, available at Missguided; Dynarex, Stretch Gauze Bandages, $2.99, available at the EMS Store
PARRI$ in "Fiyah"
Hop on the athleisure-glam wave with this PARRI$-inspired look. Taking streetwear above and beyond, the singer and choreographer glamorizes sportswear, mixing staple pieces with fishnets, chokers, and chunky accessories. Say goodbye to basic with this curated costume.
Adidas, Originals Trefoil T-shirt Dress, $39.99, available at Lady Foot Locker; Alpha Industries, MA-1 Flight Jacket, $140, available at Alpha Industries; Topshop, Micro Fishnet Tights, $12, available at Topshop; Dolls Kill, Lunar Collar Necklace, $18, available at Dolls Kill; Jeffrey Campbell, Kilkunis Shoes, $160, available at Jeffrey Campbell.
The Weeknd in "Starboy"
Bad boy minimalism rules The Weeknd's look in the video for "Starboy." Reach for your nearest leather jacket and peruse your jewelry drawer for the oversized cross you remember buying in '05 to finish this modern-day greaser look.
Topshop Faux Fur Biker Jacket, $130, available at Topshop ; WalMart, Solid Cross Stainless Steel Pendant, $18, available at Walmart.
Solange in "Cranes in the Sky"
Make an ethereal statement this Halloween by channeling the demi-god herself. To get this look, simply wrap your body up in the plushest blush-toned faux fur jacket you have, but only after dressing in a '70s disco-inspired bodysuit. 
Urban Outfitters, Kimchi Blue Shaggy Faux Fur Coat, $159, available at Urban Outfitters; American Apparel, Lame Halter Cat Suit, $45, available at American Apparel.
Maddie Ziegler in "Cheap Thrills"
It's everyone's dream as a kid to be a ballerina when they grow up. Well, Maddie Ziegler (still sort of a kid herself) made this dream come true, routinely dancing and starring in Sia's videos.
American Apparel, Cotton Spandex Tank Bodysuit, $26, available at American Apparel.
Lady Gaga in "Perfect Illusion"
Gaga delivers us rock infused with Americana vibes on Joanne. Tap into your inner patriot (you might have to dig a bit), and take your mind back to the festivals of the '60s to recreate the minimalist rocker ensemble featured in "Perfect Illusion."
Abercrombie and Fitch, High Rise Festival Shorts, $18, available at Abercrombie and Fitch ; H&M, Basic T-Shirt, $6.99, available at H&M. 
Chloe x Halle in "Drop"
You'll want to recruit your closest BFF for this one because you'll be connected at the hip, literally. Get some matching box braids and then braid them together.
ASOS, French Connection Albie Shirt Dress, $57, available at ASOS; Missguided, Sleeveless Button Detailed Tailored Blue Jacket, $25.50,available at Missguided; Lulus, Jean Dream Light Wash Chambray Shift Dress, $27, available at Lulus.
Naomi Campbell in "Drone Bomb Me"
Modern vampire looks turned high fashion when Naomi Campbell starred in the video for ANONHI's emotional "Drone Bomb Me." Dressed in all black, the certified supermodel served underworld realness with just a bodysuit, headpiece, and choker on.
ASOS, Club L Halter Neck Body Suit With Cutouts, $25, available at ASOS; Zara, Velvet Choker, $19.90, available at Zara; Forever21, Twisted Head Wrap, $3.90, available at Forever21.
Jade Thirlwall in "Shout Out to My Ex"
Jade Thirwall's seafoam green glam look in Little Mix's "Shout Out to My Ex" is perfect for almost any occasion (especially making exes jealous and attending Halloween parties). Taking Hollywood glam by way of faux fur coats, and infusing it with metallic materials and girl group sass, worked for Little Mix, so why wouldn't it work for you? Donning this look to a Halloween party will have everyone (seafoam) green with envy.
ASOS, New Look Collarless Faux Fur Coat, $81, available at ASOS; Forever21, Circle Chain Layered Choker, $4.90, available at Forever 21; ASOS, Vila Metallic Satin Cami Dress, $42, available at ASOS.