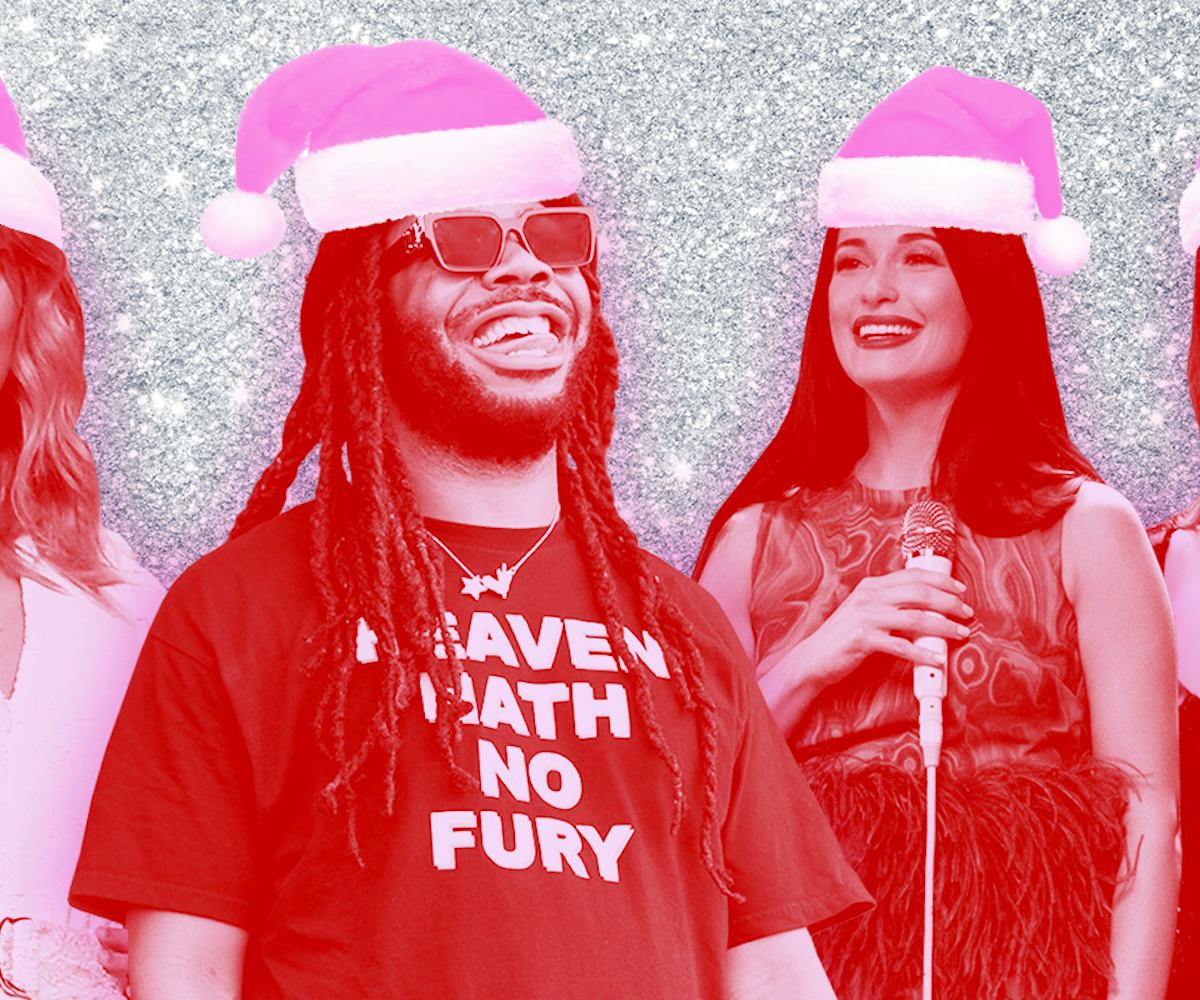 Photos by Isabel Infantes - PA Images/Getty Images, Craig Barritt/Getty Images & Amazon
12 New Christmas Songs To Reinvigorate Your 2019 Holiday Playlist
Time to dust off your December playlist
When it comes to Christmas music, it can feel like there's either an absolute dearth of options, or, as is more often the case, an overwhelming, near-constant stream of new songs. It's like the second the clock turns midnight on November 25 or the temperature dips below 60 degrees, the flood doors holding back the sleigh bell-inflected tracks artists have been waiting to drop since last holiday season suddenly bursts open and your newsfeed is flooded with dozens of new holiday compilations, corporate-backed Christmas singles and wistful, updated covers of the classics.
Yet every time you turn on the radio, it's seems like you can't escape the dulcet croons of A Charlie Brown Christmas, or Bing Crosby singing "White Christmas," or, if particularly unlucky, that one painful song about the kid buying the Christmas shoes. Where's the new Ariana Grande, Kacey Musgraves, or even Hillary Duff, whose seminal Santa Claus Lane should've been considered a classic by now?
Even though you can't change what the radio stations play, everyone can take a hard look at their Christmas playlists and maybe give it a little dusting? Ahead, 11 still-sparkling new Christmas songs that would sound great next to whatever rendition of "Little Drummer Boy" and "Silent Night" you've listened to on repeat for the past decade. A mix of updated covers and lonely originals (for those that have a harder time feeling the joy), it'll help everyone stay a little more sane this holiday season.
Taylor Swift, "Christmas Tree Farm"
Taylor Swift's first Christmas song in 12 years waxes poetic about conifer tree shopping. This one's full of endearing jingle bells in the background, and it should become an easy holiday staple.
Kacey Musgraves and Lana Del Rey, "I'll Be Home For Christmas"
Two vocal powerhouses share a moody but sweet rendition of a classic.
DRAM, "Litmas"
Full of winking double entendres —"When the tree gets lit up/ I get happy," for example — "Litmas" by "Broccoli" rapper DRAM is perfect for holiday gatherings with friends.
Sharon Van Etten, "Silent Night"
Imagine "Silent Night" sung by a choir of ghosts in an empty gothic cathedral bathed in moonlight. Sharon Van Etten's cover of this classic is what you're imagining.
Blink-182, "Not Another Christmas Song"
Blink-182's Mark Hoppus just wants to get divorced this holiday season. If you, too, desire that, you'll probably vibe with "Not Another Christmas Song."
Ellie Goulding, "River"
Ellie Goulding's "River" is a faithful rendition of the Blue Joni Mitchell original, polished-up with fresh new vocals.
SASAMI, "It's You"
In the dead of night when you're lighting your single candle for your Christmas seance, SASAMI's "It's You" deserves to be playing in the background.
Now, Now, "Lonely Christmas"
Who's to say heart-wrenching electro-pop isn't a year-round genre? Now, Now's "Lonely Christmas" sounds fresh no matter the season.
Bleached, "Jingle Bells"
Bleached's garage-rock version of "Jingle Bells" is less dainty and cheery and more punch-your-neighbor-in-the-face.
Nina Nesbitt, "Last December"
Scottish-Swedish pop vocalist Nina Nesbitt makes a case for the vocoder to be included in all future winter-themed songs.
Mabel, "Loneliest Time of Year"
UK pop singer Mabel serves up the honest and original "Loneliest Time Of Year," which strips away the sometimes suffocating, over-the-top joy of the season.
beccs, "Before This Christmas Ends"
Brooklyn-based singer-songwriter beccs comes through with a refreshingly straightforward Christmas-pining anthem. "I just wanna kiss my friend/ Before this Christmas Ends," she wails.