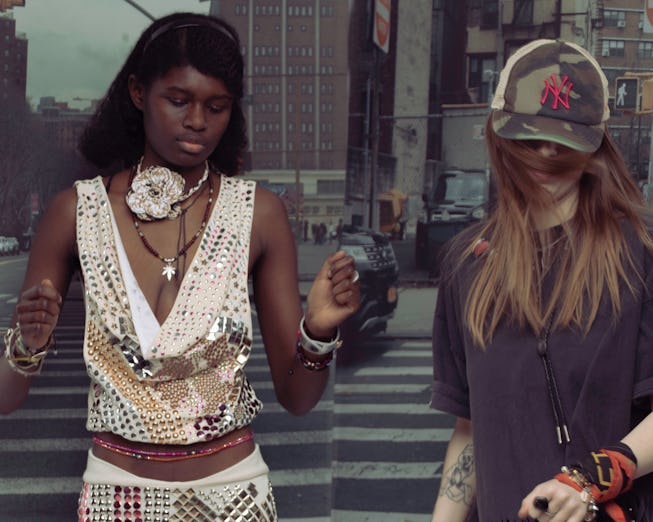 Alex Arauz @alxzv / styling - Lulu Bullock @lulubullock
NEW YORK's "Night N Day" Is A Hypnotic Descent Into a Night Out
NYLON premieres the London duo's glitchy new single.
The first thing you should know about NEW YORK is that they are from London. The second thing you should know is that wherever they're from or whatever they're called, you should be listening to them. The girl-pop duo's newest single "night n day," premiering on NYLON below, is a hypnotic descent into a daydream fueled by computer coolant, an anthem "made perfectly for making the city your b*tch," as they say.
Listening to anything by NEW YORK, the music and performance project of artists Gretchen Lawrence and Coumba Samba, feels like strolling the blocks of a city built inside a computer: a place more tangible than a metaverse, more palpable than the real world. The duo self-released their debut album No Sleep Till NY last year, signaling a return to the IDM era of the '90s with megabite-sized songs that sound like tiny lucid dreams: "ginger candy <3," "skinny jeans," "ffff...," and "lol."
Since then, they've been performing everywhere from The Lewben Art Foundation in Vilnius, Lithuania, to Baby's All Right in New York City — both with Pretty Sick and for a party hosted by Forever Magazine and Perfectly Imperfect — to the Gina Beavers MoMA Bra exhibiton in Stockholm, where Lawrence and Samba both wore I Heart New York pajama sets.
"night n day" is a dazey, hypnotic glitch of a song that unfurls like a glorious line of code. It's like waking up from a dream only to realize you're still in one, accompanied by the soundtrack of your brain on clicks, cuts, vocal chops, and royalty-free loops.
"They only want you when you're 17/ When you're 21 you're no fun," a ghostly voice sings over subterranean bass and video game chimes. "They take a Polaroid and let you go/ Say they'll let you know."
The accompanying video is a series of flash-on snapshots with the quality of Cobrasnake-era digital cameras showing the rise and fall of a night out: shot glasses and vodka sodas; mesh tights and dusty floors; studded miniskirts, and ultimately falling asleep on a bed with your shoes still on. All in a day's work of making a city yours — wherever it is.