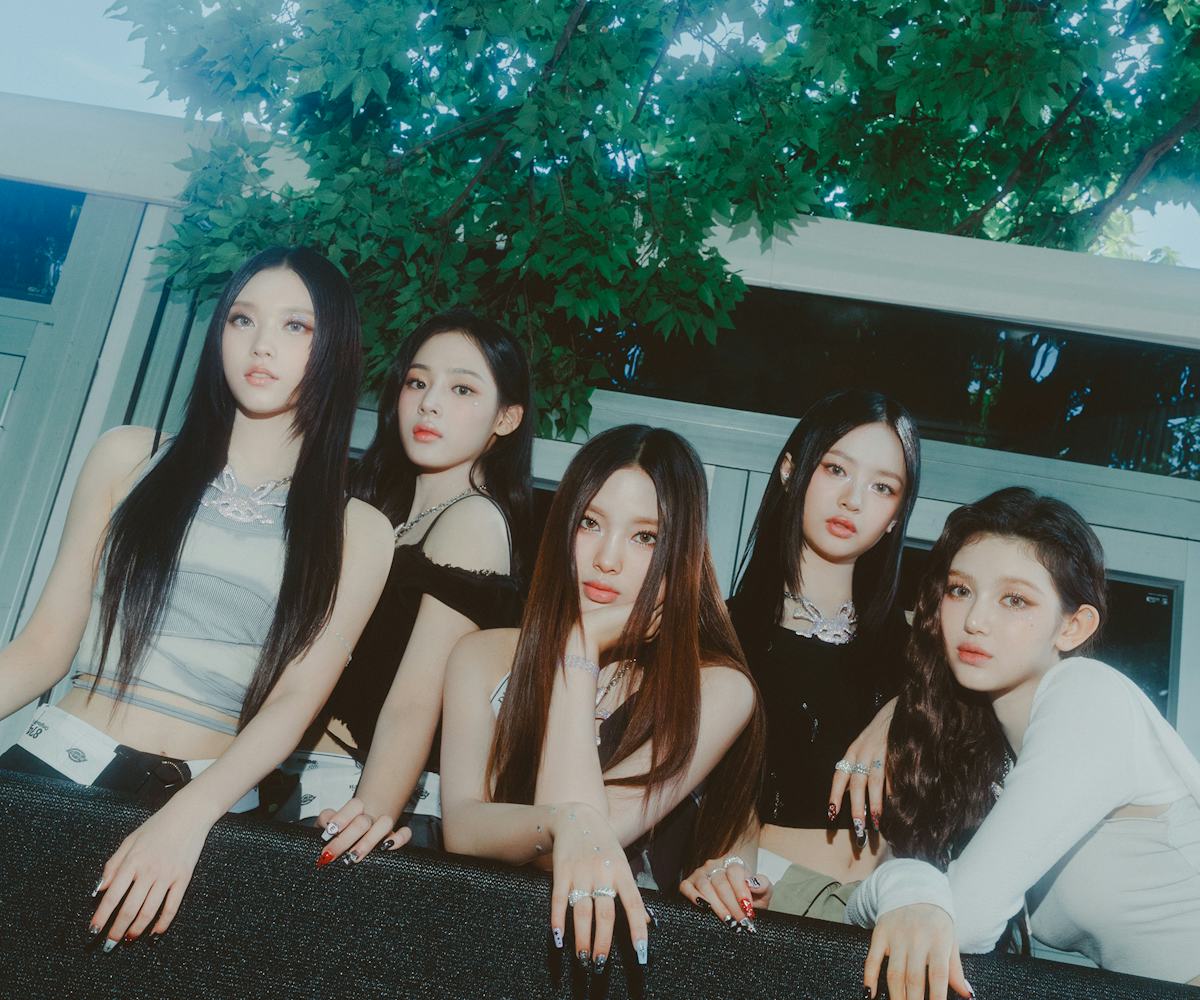 ADOR
NewJeans Share Their Lollapalooza Photo Diary
Backstage and personal with the K-pop wonder girls.
All eyes were on NewJeans this past weekend as they became the first-ever K-pop girl group to perform at Lollapalooza. Despite only making their debut a year ago, Minji, Hanni, Danielle, Haerin, and Hyein commanded an overflowing audience — and deafening screams — on the festival's T-Mobile stage, everyone there to witness K-pop's current wonder girls give their first live performance in the U.S.
By now, the videos of their set have gone viral. The members wore coordinating khaki, black, and jean ensembles, pleated mini skirts, glittery eye makeup, and matching boots as they marched through every song from their catalog — from their self-titled debut EP to their latest mini album, Get Up — with a live band.
Below, NewJeans took NYLON backstage with exclusive photos, as well as chat their pre-show routines, their must-dos while in Chicago, and how they prepared for their history-making performance.
NewJeans is the first K-pop girl group to perform at Lollapalooza, congrats! How does it feel to have this achievement?
Minji: This is our first time performing at a festival overseas and it's so exciting that we can have our festival debut at Chicago's Lollapalooza! Since it's our first time altogether in the United States, I want to make great memories with our members!
Hanni: Honestly, it's still so surreal and crazy. The fact that we get to participate at such an international festival is an absolute honor! And to be given the opportunity to be at a place that's overflowing with people from all over the world who have gathered just to enjoy music makes it an even more special experience for the five of us.
Danielle: It's extremely surreal! I'm so honored and proud of ourselves for this whole experience. Being able to perform at Lollapalooza has made me even more grateful for all the love and support we've been receiving globally.
Haerin: Performing at Lollapalooza is such an amazing opportunity, one we're very grateful for. We are looking forward to really enjoying ourselves onstage.
Hyein: We are both nervous and very excited to perform at Lollapalooza!
Haerin of NewJeans.
Minji of NewJeans.ADOR
Danielle and Minji of NewJeans.ADOR
What was the best and hardest part of preparing for your Lollapalooza set?
Minji: The best parts were that we could perform all of NewJeans' songs and also the amazing band rearrangement of each song. I don't think there was anything particularly difficult, but we did put a lot of thought into how we could make everyone enjoy our performance even more.
Hanni: I would have to say the biggest challenge was trying to improve my stamina because I want to be able to fly across the stage and give loads of positive vibes and energy to everyone at the festival. So I'm currently charging it up! But just imagining being able to perform at Lollapalooza already has me feeling very excited and restless.
Danielle: It's our first time performing at such a huge festival, so we are not sure exactly what to expect in terms of the setting and the energy! The idea of moving and interacting more freely on stage was actually quite challenging at first. But I believe once we're onstage, things will come much more naturally! We really want the crowd to just be able to feel and enjoy the moment.
Haerin: The best part was simply being able to prepare for such a big festival. I can't think of the hardest part, we just tried hard to put together the best performance possible.
Hyein: What made this performance even more special was the fact that we could practice with a band for the first time!
What's the biggest difference between performing for a U.S. crowd and a crowd in South Korea?
Minji: I don't think there is much difference to the audience wherever they are, as long as they've come to see us! Because their love and support are unconditional, we always hope to put on our best performance.
Hanni: This will be our first time performing in front of a U.S. crowd, but I'm sure it will be overflowing with energy! All the crowds we've been with before are always outbursting with energy so I'm assuming it will be very similar in most ways, but also slightly different at the same time.
Danielle: There is a slight difference in the vibe of the crowd each time that is difficult to explain. But no matter where we are or what we are performing, our fans always have such great energy.
Haerin: I think the U.S. crowd will enjoy the performance in their own various ways. But then again, this applies to crowds everywhere, so I just hope they enjoy our stage.
Hyein: There's a difference in our languages, so we prepared what we would say in between our performances in English! I think that would be the biggest difference.
Hyein and Minji of NewJeans.
Hanni of NewJeans.
You all recently released your Get Up mini album. What has been the most surprising part of seeing how the album has been received?
MINJI: With Get Up I could once again really feel that there was so much interest in NewJeans. I am always grateful for everyone who supports us and likes our music.
HANNI: I feel like I might be repeating myself a lot, but we are really extremely grateful to everyone who had an input into this amazing EP! It's absolutely out of this world and getting to see so many people enjoy it makes us even happier and grateful!
DANIELLE: Seeing how much attention and love Get Up has been receiving globally is unbelievable. We really enjoy watching all the covers and reactions!
HAERIN: We were both surprised and grateful that so many people have shown love for our new music, choreographies, and music videos. I also personally love this EP!
HYEIN: So many people have listened to the songs on this EP and liked them, so we're very thankful for that!
Who are you most excited to meet/see at Lollapalooza?
Minji: We'll be sharing the stage with so many great artists, but I would personally love to watch the performances from Rina Sawayama and Billie Eilish.
Hanni: We are mostly excited for just the vibe of the festival itself! Actually it's my first time attending one, let alone performing at it, so I'm just excited to see what Lollapalooza has to bring. I hope everyone really enjoys our stage and music!
Danielle: Bunnies for sure! I can't wait to meet all the Bunnies!
Haerin: I really want to meet the Lollapalooza crowd and the Bunnies. I'm so excited!
Hyein: I think simply being able to watch any one of the amazing performances at Lollapalooza would be an unforgettable experience for all of us!
What are your must-dos in Chicago?
Minji: I want to go grocery shopping with all the members!
Hanni: Our fans actually recommended eating pizza and having a look at one of the amazing museums Chicago has. Also, we definitely want to meet as many Bunnies in Chicago as possible. We're looking forward to greeting them and giving them a hug!
Danielle: This is my first time in Chicago, so I'm very excited! I would love to visit the beach and all the different gardens here! I heard about how beautiful they are and think they're definitely worth going to.
Haerin: I would love to take some time to take a stroll around the streets!
Hyein: I would be so happy if I ran into one of the Bunnies on the streets!
Do you all have a pre-performance ritual, and what is it?
MINJI: We always do something called "Sandwich," a sort of an energy boost routine. It rounds up all our minds and energy.
HANNI: We just gather our hands in the middle with them all facing inwards from the top and bottom like a sandwich! And then we just squeeze it all together whilst exchanging eye-contact. Pretty unique!
DANIELLE: I like to imagine myself on stage and picture what the audience might look like. It gets me ready and energized, and for some reason calms my nerves a little.
What's the biggest memory from Lollapalooza that you will take with you?
MINJI: Probably the moment onstage as all the members interact with the audience. I think that moment will be engraved in my mind for a very long time!
HANNI: Just every single moment of everything! It will be a memory that I will hold dearly in my heart for a very long time as I continue this career. Just being able to be in the presence of so many wonderful people will stay with me for a very long time.
DANIELLE: Dancing and singing together with the audience and just enjoying each others' company! I'm looking forward to really connecting with the crowd!
HAERIN: I think being on the stage, feeling the joy of connecting with the members and the audience, will be unforgettable. I really hope to have that feeling through this performance.
HYEIN: Our performance, of course!
Photos by ADOR.