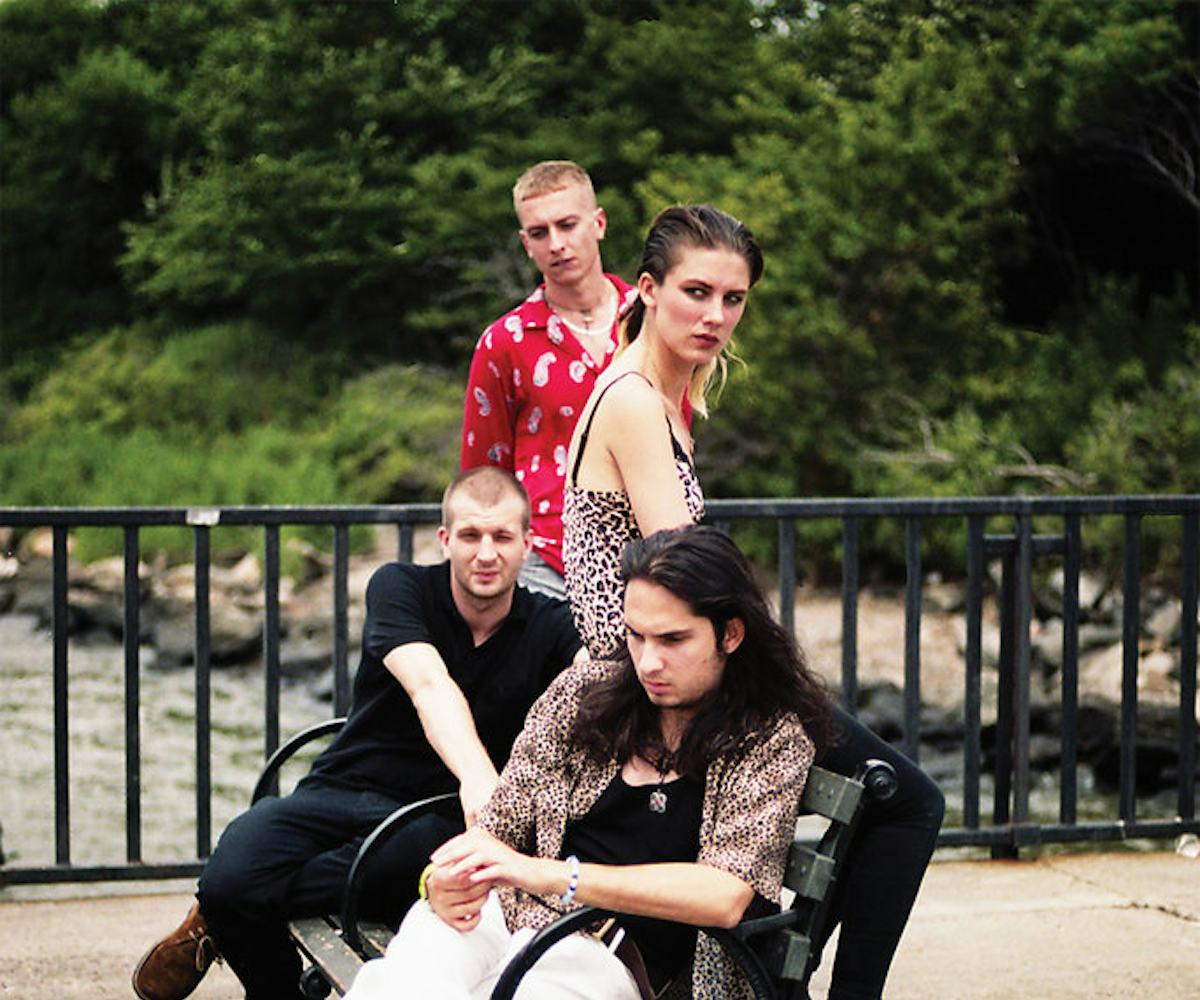 Photograph by Carla Tramullas
How Wolf Alice's Genre-Defying Sound Keeps Them Ahead Of The Pack
With a new album, 'Visions Of A Life,' on the way, the London four-piece has come roaring back
The following feature appears in the September 2017 issue of NYLON.
On a blisteringly hot July day, the band Wolf Alice find themselves on the northwest tip of Manhattan, near the Cloisters. The refurbished monastery-turned-museum, which lies just alongside the Hudson River, is a daytime respite for city dwellers who zip up the A line to take in riverside views and whimsical medieval art. It seems like an apt place to encounter the North London four-piece. For one thing, their name conjures up images of fairy tales, like Alice in Wonderland and Peter and the Wolf. And there's also the fact that they write dazzlingly imaginative songs such as "Giant Peach," and that their vocalist and guitarist, Ellie Rowsell, at one point tells me that she "spent a lot of [her] childhood playing make-believe."
But they're not here to poke around the museum. Instead they're parked outside the nearby marina, sprawled in the (blissfully air-conditioned) back room of their tour van, cracking wise and snacking on cashews. They're catching their breath before performing at a private event here tonight, one of many Stateside shows ahead of their upcoming album, Visions of a Life. Last night, the four-piece—composed of Rowsell, bass player Theo Ellis, drummer Joel Amey, and guitarist Joff Oddie—performed songs from both their new record and their Mercury Prize-nominated debut, My Love Is Cool, to a rapturous, sold-out audience at Brooklyn's Rough Trade. 
Wolf Alice's discography is genre-defying, flitting from stirring pop ballads to rollicking, near-metal bangers. This translates to a live show that's exciting from the moment they step onstage. The spotlight is often on Rowsell, who has mastered the art of the performative dramatic pause. One moment she'll be shimmying her shoulders, cocking her head while screaming with maximum attitude. And then she'll be in a trance as the rhythm section and Amey's vocals swirl around hers. Ellis will swing his bass guitar in circles while Oddie, in between riffing and inciting the audience to clap, playfully flashes the bird to a friend in the crowd, then breaks out into an enormous grin. 
Naturally, the band is much more subdued off stage. During our conversation, they lounge on a crescent-shaped seat in their van. Rowsell sits in a corner, contorting herself into a ball. Oddie sits pensively in another corner, while Amey rests comfortably along one side and Ellis fingers a playing card, peering through it like a telescope. The four often finish one another's sentences, interjecting jokes, objections, and asides. When they're mum in response to my question about the time they didn't get a single question right at a '90s-music-themed pub quiz, Oddie deadpans: "We came in second in a Family Guy quiz there once. There were two teams, and we were cheating." Everyone howls with laughter.
Apart from pub quizzes, Wolf Alice spend their time marathon touring, having racked up 147 dates on the My Love Is Cool run. Oddie and Rowsell started the band seven years ago, but before they'd even released their first full-length in 2015, Wolf Alice had spent years releasing a slew of singles and EPs and amassing a sizable cult audience for their live-wire performances and A-plus internet game (the meta video for "Fluffy" opens with them making the video). Lately they've been spending even more time together than usual: Earlier this year, they decamped to Los Angeles for several months to record Visions of a Life, an endeavor that found them not only working in the studio six days a week, but also living together.
The broader, more emboldened songs on the new album wrote themselves, in a way. "Over the two years that everything happened—after My Love Is Cool we toured for so long—all of our lives changed, quite drastically," Ellis says. "You go through a lot of experiences, so [we were] slowly outputting stuff while we were on tour. Then we realized those songs in the studio when we got back and pieced our brains back together again." "It's almost like we came off tour and were like, 'Oh shit, we gotta write another album,'" Rowsell adds. "Actually we've got quite a lot of material already without [thinking] about it too much." 
Visions of a Life finds Wolf Alice refining what they do so well—expanding on moments of intimacy and abrasion—and pushing past their outermost limits, such as on the irresistibly uptempo anthem "Beautifully Unconventional" and the sizzling, rock-driven tune "Formidable Cool." It's also achingly personal—the girl on the album cover who is ballet dancing around a skull is actually Rowsell's aunt in her youth. "I'm not trying to step into anyone else's shoes and imagine what life is like for them," Rowsell explains. "It's what life is like for me. My Love Is Cool was kind of a coming-of-age and Visions of a Life is—" Ellis chimes in: "A coming-of-adulthood?" "Figuring out adulthood rather than turning into an adult," Rowsell clarifies. There's some small comfort in the fact that no one's quite figured it out, I offer. "No," he concedes, a smile spreading across his face. "The next album will be called Regression."