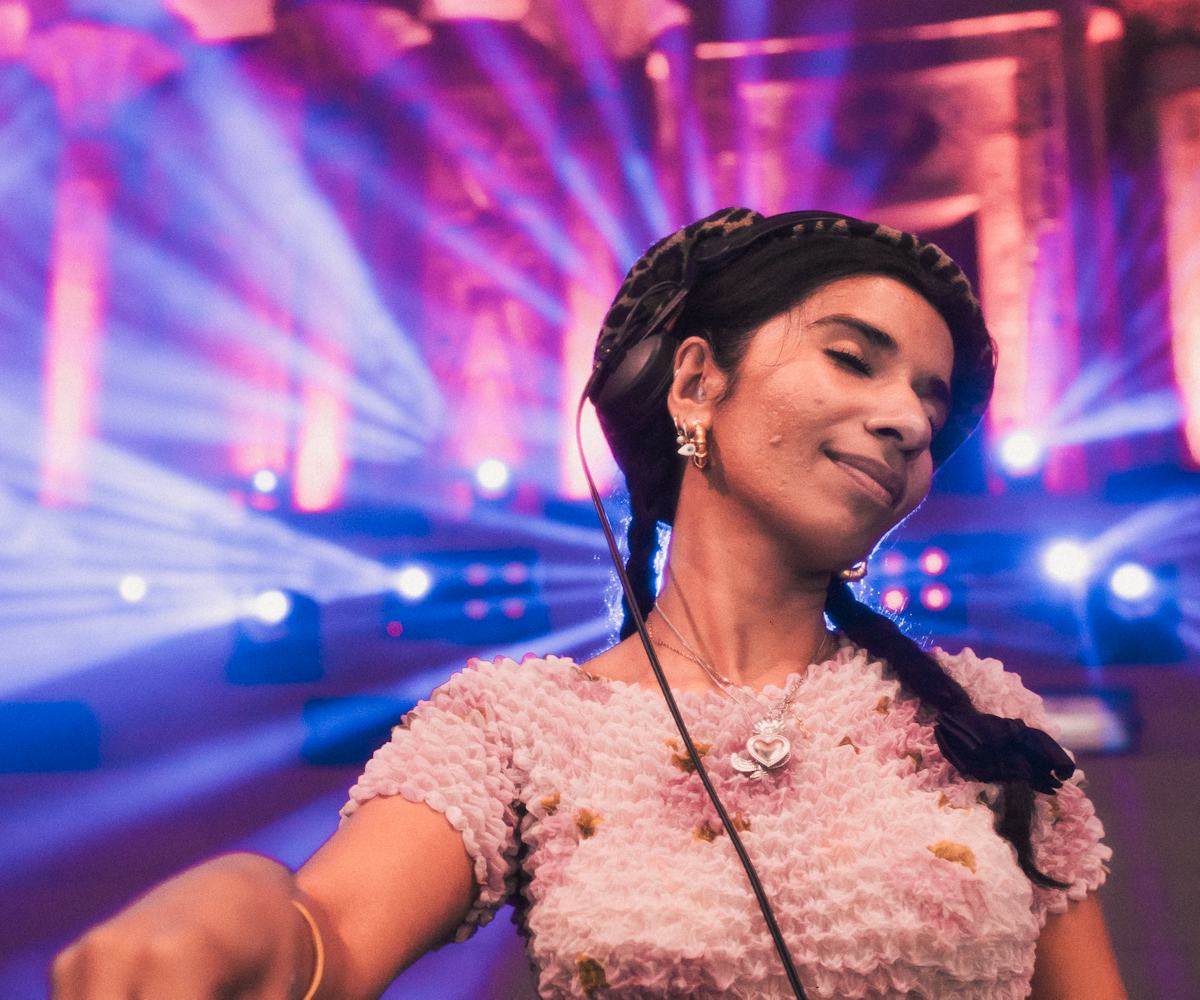 Khris Cowley
In Morocco's Hollywood, A Music Festival Of Fantasy And Release
Music festivals are a dime a dozen. Oasis: Into The Wild offers something completely different.
The outside of Atlas Studios in Ouarzazate, Morocco, looks like an off-brand Universal Studios. To the sides of its towering double-arched entrance perch two royal-looking stone statues of Chinese guardian lions. Next to those sit massive 30-foot painted replicas of Egyptian Ushabtis, looming over the parking lot with crossed arms. A long poster of Jake Gyllenhaal from the 2010 film Prince of Persia stretches across the top of the entrance to let you know that this isn't a theme park but rather an illustrious film studio — the world's largest by acreage. But on this Saturday night, just steps away from the Sahara desert, the crowd that has amassed is not here to film or attend a premiere. They're here to dance.
It's the opening night of Oasis: Into The Wild, one of Morocco's largest international electronic music festivals. After spending the past eight years scattered across the rural outskirts of Marrakech, the festival has now moved here, to this movie wonderland once responsible for films like The Mummy and Gladiator. What awaits is two nights of extensive dance music from across the world — Honey Dijon, DJ Koze, Jyoty — in a uniquely transportive environment to match.
Inside, local Moroccan vendors selling poke bowls, authentic "New York" hot dogs, and burgers and fries share space with flashy replicas of some of cinema's most famous vehicles — a James Bond cherry red Ferrari and a sage-colored bus from the Brad Pitt and Cate Blanchett-starring 2006 film Babel — in the festival's grand plaza. Off to the side, a large wooden ship that's only half constructed from I don't know what movie has become makeshift seating for dozens of young people in rave gear. But the real adventure awaits at the festival's three stages, which are accessible after winding your way through a maze of hallways and side rooms.
Tonight, strobe lights illuminate the four giant sphinx statues flanking the DJ booth. At 10 p.m., a crowd of 50 fills the dance floor, shuffling to an energetic set by London-based DJ Nabihah Iqbal who's hammering through a mix of throwback pop and Middle East-influenced selections. Behind me, a woman side-steps precariously with a full Native American headdress perched on her head (it is three days from Halloween, but I'll learn this is just rave gear). People are buzzing, leaving, coming and going, grabbing libations from the no less than 10 bars dotted around the grounds.
Over the last decade or so, the electronic music scene in Morocco has exploded. Once a sparse community with little local talent has transformed into a bubbling and rich dance music hub with several electronic festivals held around the country a year. Oasis: Into The Wild, which put on its inaugural edition in Marrakech in 2015 and has seen acts like Chromeo, Jayda G, Derrick Carter, Four Tet, and the late Virgil Abloh play, was a leading pioneer in that field, establishing Morocco as a premiere electronic music destination.
"A lot of people in Morocco didn't believe that we would actually bring that lineup because that kind of lineup had never come to Morocco before," says Marjana Jaidi, the co-founder of Oasis and founder of Cultivora, the production company behind the festival, of the festival's earliest years. But the 30-something Moroccan-Filipino former festival photographer always believed the country could play the perfect host with its generous and rich cultural heritage. Seven successful festivals later, Jaidi's mission with Oasis now is making it the biggest and best it can be: starting with this venue.
"It's like, everybody's playing in Morocco."
"It's just like Disney World," she says of Atlas Studios. Jaidi was first brought here on a scouting trip a few years ago and kept it at the back of her mind. When she began rebuilding the festival post-pandemic — both its 2020 and 2021 iterations were canceled — she put her bets on Atlas. "It's really such a maze and getting lost, it's nice. Even if you didn't put any decor in there, it would be so cool. I'm very, very influenced by Disney and this is the Disniest thing I've ever done."
Indeed, getting around the festival does feel like visiting a theme park of some sort. A left or right turn here might take you to a cozy, circus-themed bar room, or a spacious, airy tea parlor quiet enough to chat, or a Greek palace serving champagne and cheese, or a rug-carpeted alleyway straight out of a Moroccan souk complete with palm readers and vendors serving traditional mint tea. On the first night, I and the rest of the visiting journalists here cycle through comparisons to Las Vegas and Universal Studios "but grittier," but none really encapsulate the strange fantasy and whimsy being conjured here.
It's not just the location that's gotten a boost this year — it's also the music. At Kasbah, an extensive roster of local Moroccan talent takes over its own stage for the first time in the history of the festival, a testament to the country's flourishing crop of local talent. On night one, backlit by projections of dancing hands and trippy designs, there's a standout B2B from Moroccan DJs Nathabes and Abel Rey dishing out punchy, melodic house with playful spurts of hip hop and heavier techno.
The biggest local performer of night one is Amine K, a veteran act of the festival and widely considered Morocco's ambassador of electronic music. He appears at the Agrabah stage under the full moon, kicking off a set spanning percussive afrobeats to mainstream EDM and soulful house classics. Midway through, he brings out special guest WAHM, a Moroccan DJ duo set to play later in the evening, who tear through a frenzied guitar set.
The next day, maybe hungover but definitely speaking through clearly worn vocal chords, the 38-year-old DJ takes stock of just how much the electronic community has taken over Morocco since he began his career in the late '90s. "You had very few DJs, almost no producers, nobody was playing abroad. Now there's an insane scene where you have hundreds of DJs, hundreds of producers, and many of them actually play all around the world," he says. "One weekend you'll have a Solomun and Peggy Gou in two different parties. It's like, everybody's playing in Morocco."
At Oasis, the festival's own international heavy hitters include Germany's prolific and heady DJ Koze, who closes night one with a three-hour entrancing techno set that ebbs and shifts with near mathematical precision. At his Cleopatra stage, the energetic crowd is a mix of largely Euro EDM tourists and locals, from Gen Z young to middle-aged, and a walk from the pit to the exit takes you through several zones of languages, snippets of French, German, British English, Arabic, and more I can't recognize. It's this globality that grants a sort of legitimacy to events like Oasis — and in turn, Morocco — as it establishes itself among the international EDM festival circuit.
On day two, I'm introduced to cult London DJ OK Williams, whose percussive, rhythmic set explodes into sassy edged pop. At the end of the night, U.S. — and more specifically, NYC — darling Honey Dijon caps everything off with a raucous, for-the-girls fete. (And I realize retroactively just how easefully we've breezed through a two-day lineup comprising 50% BIPOC women DJs.)
"[Some organizers] book a venue, they book a huge DJ, and they call it the festival, but it's not a festival. It's just a stage with a big name," Amine K says. "This is a festival. This is a unique experience."
"In tough times like this, music plays a role in people being in community with each other and trying to make sense of the world."
In 2023, international EDM festivals offering "unique" experiences are a dime a dozen. There are the beachside festivals, volcano festivals, and then there are the more outlandish ones. Like Boomtown in England, a five-day festival that's more immersive theater and takes place in a "city" built completely from the ground up complete with its own storyline, lore, and cast of hundreds of paid actors. Or Meadows In The Mountains in Bulgaria, which indeed takes place in the mountains, and has you "dancing your way up the mountain" and Maslow's Pyramid. All of these events tout utopian buzzwords like "full immersion," "transcendence," "communal" connections, and a "global" community. Some actually do achieve these things — after constructing an elaborate fantasy.
What Oasis offers is simultaneously the same, but feels more real. The sets, convincing as they are, don't deny the existence of reality when you turn the corner and see a mass of boards propping up the walls or tap the "stone" columns and feel they're discernibly hollow (an actually delightful experience). Heavier matters of the world aren't ignored or covered up by layers of conjured backstory.
The weekend of Oct. 27 is when news agencies report the heaviest wave of airstrikes in the Gaza Strip thus far, a crisis that looms over the festival and ripples through artists and attendees alike, so many of them hailing from Arab countries, so many of them just feeling for one another. On the ground, it's not a topic of discussion or debate but an urgent release: a sustained "Free Palestine" chant that erupts after DJ Nabihah Iqbal ends her set with a rousingly received cut of Mohammed Assaf's "Dammi Falastini"; keffiyehs being waved from the crowd when DJ Nooriyah waves her own on stage.
Early in the evening on night two, while it's still dusk, I ask Kampire, who brings up her own feelings about the crisis, just how much "global" connection, communal understanding, and transcendence can actually be fostered at something like Oasis.
"I think people really have these very utopic ideas of dance music and peace and love, what do they call it? PLUR: peace, love, [unity and respect]. I think a lot of that can be very bogus and really cover up for racism and sexism, which all takes place in industries and events like this one," she says. "At the same time, I really believe there's a possibility of genuine connection and people really being good to each other and leaving places like this with a better understanding of Morocco or Africa or whatever."
Those were the moments where it felt like we as attendees got the closest to achieving whatever a real "global community" is: when we as strangers plopped in a different country were able to rally around a central cause even if for a brief moment, prompted by music.
"In tough times like this, music plays a role in people being in community with each other and trying to make sense of the world," Kampire says. "I've been thinking DJs are supposed to be an emotional choirmaster when you're playing. If it's just about partying, then what is it for?"