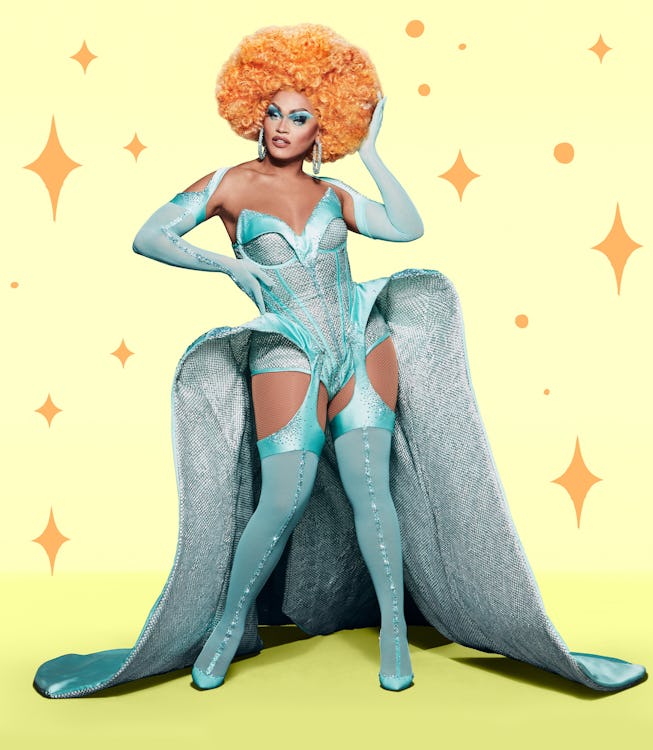 Exit Interview: Olivia Lux On Getting Cut From 'RuPaul's Drag Race'
The season 13 queen on the ups and downs of her time on the show.
Every week, NYLON writer Michael Cuby will conduct an exit interview with the queen eliminated from RuPaul's Drag Race Season 13. This week, Olivia Lux was asked to sashay away.
Amongst the contestants on season 13 of RuPaul's Drag Race, Olivia Lux was undeniably the newest to the artform, having only been doing drag for a year and a half — though you'd never know it given how fully-formed she arrived. After beating drag veteran Rosé in the very first lip-sync challenge, the New Jersey-born queen went on to continuously impress the judges with her glowing positivity, gag-worthy runways, and of course, her pearly-white smile.
Unfortunately, as the competition went on, Olivia's relentless positivity started to work to her detriment. Wanting to see another side of her, the judges routinely requested that she tone down her cheerful demeanor, and after winning back-to-back challenges in the middle of the season, Olivia began to fall. By the second half of the season, Olivia started placing at or near the bottom every week. Throughout it all, however, Olivia never stopped smiling.
For last week's "Henny, I Shrunk The Drag Queens!" acting challenge, Olivia opted to stick to her guns and choose a character that comfortably matched her innocent, glass-half-full personality. Her decision backfired, though, as the judges found this character simply too familiar and she was placed in the bottom two. Up against Kandy Muse, Olivia held her own in her lip-sync to Cher's "Strong Enough." But in the end, the peppy queen was sent packing.
Ahead of her elimination, NYLON hopped on the phone with Olivia Lux to talk about making it to the top 5, why she didn't mind being underestimated by her competitors, the double-edged sword of her positivity, how she handled the hate she got after sending home Denali, the "therapeutic" power of Drag Race bringing families together, and how her obsession with tiny purses came to be.
What do you think went wrong leading up to your elimination this week?
Oddly, I'm going to have to say that I don't think anything went awry. I am really happy about my journey. What I will say is that what may have been seen as a disadvantage was my positive outlook in how I approached a lot of things during the season. That definitely was seen as a disadvantage because I'm portraying a character that very much so was that.
However, I do want to combat that and say that I weirdly think it was an advantage instead of a disadvantage, because I wouldn't have gotten as far as I made it in the competition if I didn't think the best in every situation and through every obstacle. It really helped me get through a lot of difficult times in the show. I definitely think I would have had more emotional moments or breakdowns if I didn't have that sense of personal journey and not taking things too seriously and learning.
How did it feel for you to hear the judges referring to your positive demeanor as a negative thing? Obviously, positivity and happiness are usually considered good things.
You know, I'm there to learn. I look up to the judges. But there definitely comes a point in RuPaul's Drag Race where you're learning and growing, but also finding out the aspects that are 150% you and standing by that and owning it. That was one factor for me that was like, There is no changing this. I can't change my smile, I can't change the way that I look at life and people and things. Yes, I could probably maybe tackle the challenge differently. But in terms of the smile and positivity, there's no real way to change that — therefore, I was okay with challenging that. I was okay playing with the fact that that is who I am as a person, so how can that relate to me in a challenge setting? How can I use that and push the limit to say, What is too positive? What is too smiley? Even in the roast, you know? That's who I am as a person so I wanted to bring that and amplify that, so that's what I did and I'm proud of that.
This was the second time RuPaul asked the queens who should go home and almost everyone said you (again) — with some even going as far as to suggest that you weren't ready for this competition yet because you still don't know who you are as a drag artist. How did it feel to hear your competitors speaking about your drag in this way?
I look at that as a positive critique because, when looking at the grand scheme of things, the question is: Who should go home to not continue on in becoming America's Next Drag Superstar? And a lot of my sisters on that stage said, "Olivia is not America's Next Drag Superstar right now. Later on, I think she has the potential. She's absolutely fierce and I think she can do that. But I just don't think she's ready for it." That, to me, isn't a negative critique. Finding one's self, I think one can argue, I was definitely able to show a lot of my personality both on and off stage, and I think that shows with how people are resonating with me and the stories that I'm telling. I'd just want to bring up that growth never stops. For whoever does get the crown and becomes America's Next Drag Superstar, people grow continually, and you should want to continue to push yourself to grow. So I don't think that was a negative at all. If that was the most negative critique I got from the show, I feel like I did a really good job.
There were several instances this season where you were struggling with how much you felt like your competitors were underestimating you — especially right after you won those back-to-back challenges. Do you think your competitors were ignoring the threat you pose because you've done drag for less time than others?
I think it was a point in the competition where people were starting to look more inwardly and stop comparing. Therefore, nobody was really thinking to themself, "Okay, I think of Olivia as competition." That's why it's so crazy later on in the competition to hear people's insights on who they think should go home, because it's been a minute since any of us have looked around the room and said, "Okay, let's assess everything."
I think my wins came at a time when people were trying to focus on themselves getting wins rather than looking at everyone else. In the beginning, people want wins, yeah, but they're also scoping out the competition. They're getting to know everyone, they're seeing who is a formidable opponent, so to speak. So I think it was just the placement of the wins and the structure [of the competition]. I'm totally okay with people underestimating me because, at the end of the day, I know what I'm capable of and that's all that matters. At the time, I think I was a little frustrated because of the two wins, but that was just because it was there in our faces — like, if you can't see that, then that's on you. I'll continue to slay and take it all the way to the top 5. So clearly it did what it needed to do!
How does it feel to have made it to top 5?
Top 5 of RuPaul's Drag Race?! What?! I still pinch myself. It's so surreal. I'm outrageously proud of myself. It's one thing getting the call. It's another thing going out and doing it and being authentically you and making it so far and coming back and sharing it with everyone. I'm on cloud-nine.
Speaking of being authentically you, one of your most emotional moments came when you opened up about your struggle with weight as a child. Did that feel freeing?
When that aired, I was at an establishment for a socially-distanced moment. I remember looking up and just feeling the room and feeling everyone connecting with the story and looking at me and sharing their supportive words and just kind of being physically there for me. Then, I logged into social media and I was getting a lot of messages by people who really felt inspired by the story and were sharing with me their stories. That felt so amazing because, at the end of the day, we're not alone. We're all in this together. I think people really found a space where they could share that and I'm really happy that they reached out to me to share their personal stories.
It was surreal — I remember telling the story [on the show] but I was definitely not prepared for it. I mean, who's prepared to see on television a picture of yourself from high school being double the weight you are? It's kind of wild. These are the types of photos that people bury — you know, that they delete on Facebook to never be seen ever again. So to have them blown up on TV makes me feel really transparent about who I am, where I came from, and it really helped me push forward in the competition. The minute you acknowledge your past and take ownership of the identities you had, that you currently have, and connect with people about those things, you can push forward and use that [momentum] to help propel you forward.
Similarly, in this week's Untucked, you got a call from your mother and your grandmother. You got really emotional because, as you explained, at one point, your grandmother was completely unwilling to accept your drag, and that was hard for you because you and her were usually so close. Was it validating to see her coming around?
It felt so therapeutic to get that message from her because it was something that I knew was on the outside world. I knew it was something that was an obstacle that I would have to face at a later date, and I had come to terms with that. It was therapeutic. It felt really good — it was the cliche saying of RuPaul's Drag Race, you know: "It's bringing families together." It really was that for me. Now, the messages come in every single Friday after the show. My grandmother says all her critiques about the show; she watches every episode, every single second of season 13. It's wild. I feel like I'm living a dream. Not only am I able to say that I was on RuPaul's Drag Race, but now I get to share it with the people that I love, who have supported me my entire life. I never thought that I would have that opportunity.
For this season's makeover challenge, you were paired with Denali, another contestant. The two of you landed in the bottom, and eventually, you sent her home in the lip-sync. From what I've heard, you received a lot of hate from some members of the fanbase for sending her home. How was that experience? Particularly since, as we know, the Drag Race fandom has a tendency to paint Black queens out to be the villain.
I chatted with Denali right before the episode aired and we were strategically trying to get through it. I wanted to make sure that she felt supported because, obviously, it was going to be a big day for her. But inversely, she was doing the same. I think she called me first that morning and was like, "Let me know if there's literally anything I can do, anything that I can post to make sure that the fandom is appropriately talking about this particular situation." Here I am thinking, "I feel really bad because it's your big day. You're getting eliminated and I want to make sure that I'm there for you!" So it was a really great moment for us and we got really close because of it.
It was small things, like making sure we were COVID-tested, quarantining, and could then meet up to do a photoshoot together in honor of the twin episode. But it was just me living in it and allowing people to realize that we are people too. That night, I posted a selfie of Denali and I because we're good friends and it's my Instagram. Yeah, I'm on RuPaul's Drag Race, but my Instagram is also just a hodgepodge of pictures that are my life and Denali is a big part of my life now as a sister. So I think that allowed people to understand, "Oh wait. We're giving Olivia hate, but she's an actual human being. Let's maybe not do that." I also think people understood that because I got really emotional on the show. That was probably the hardest I ever cried. I think I cried harder for that elimination than I did for my own. All of that was transparent. I did get a lot of hate, but light is triumphant over hate and I think we were able to overcome that together.
I'd love to hear the backstory behind your obsession with tiny purses.
So, it is probably the most random thing about Olivia Lux. I started collecting little small purses during quarantine. I was seeing them online and I thought they were so cute so I just started collecting them. There was an online retailer that sold little purses and every few weeks they'd have a new color. I noticed that and so I would grab each color that would come. Then I got the call for Drag Race, got all the outfits done, and at the last minute, I was like, "You know what? I'm gonna throw all these bags in my luggage. I don't know if I'm gonna use them or if it's gonna be a thing but I've been collecting them and I think they're very cute." So that's how they came to be. I truly and honestly did not expect it to be the big thing that it was — or, the little thing that it was. [Laughs] It was just a weird quarantine obsession that turned into a part of my brand. Now, I have all these bags and designers reaching out to send me more. It's wild.
This interview has been edited and condensed for clarity.