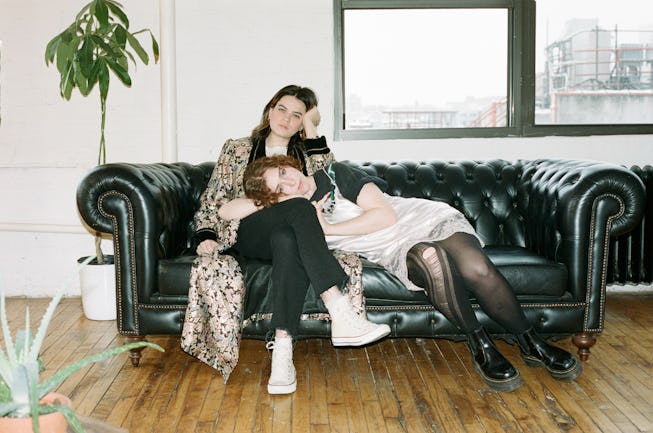 Overcoats & Tennis Join Forces For Moving On-Anthem "The Hardest Part"
The track is off Overcoats' upcoming EP, Used To Be Scared of the Dark.
The Brooklyn band Overcoats is made up of friends Hana Elion and JJ Mitchell who sound great singing alone, but even better singing together. On their debut album, Young, from 2017, the two crafted gorgeous, minimalist electronic-pop that breached the mysticism of folk when their voices would collide on intimate songs like "Mother," a hymn-like tune that reaches spiritual heights. Their last record, The Fight, traded the electronics for roiling guitar and perkier melodies for what they called a "ten-song battle cry," their most politically driven project yet.
Now, the duo are turning inward again for their newest song "The Hardest Part," exclusively premiering on NYLON below. The twangy and grungy acoustic tune is off a new EP, Used To Be Scared of the Dark, and the duo's recruited the retro-leaning pop group Tennis to join them for the ride. Over shuffling guitar, Elion and Mitchell come to terms with a relationship being over, singing in clean, blissful harmony on the hook: "Life goes on, we'll never know/ That's the hardest part about letting you go." Sonically, it feels like a return to form for the duo, recalling their 2016 hit cover of Hozier's "Cherry Wine."
"We brought this song to Tennis because it needed their nostalgic retro pop sound to help tell this story. And it needed to be cooler," write Overcoats in an email. "Alaina's sultry vocals tickle the ears throughout the track and the signature Tennis guitar sounds soothe along the lyrically heavy journey."
In the accompanying video, which they also share on Tuesday, two strangers are shown getting ready for a date, setting their baby hairs, swiping on black lipstick, smudging on black eyeliner, and strapping on a spiky choker. Directed by Asha Maura, it's the first of a three-part video series that will eventually tell the full story of the mysterious couple — though, from the song, we already know the ending. "This is a story about young love meeting for the first time and connecting at a party," Maura wrote in an email. "We wanted to emulate a feeling that most have had and so many are missing right now, even the idea of meeting a stranger and getting close to them immediately feels so distant right now."
Watch "The Hardest Part" below, and look out for Overcoats' Used To Be Scared of the Dark EP on June 4.