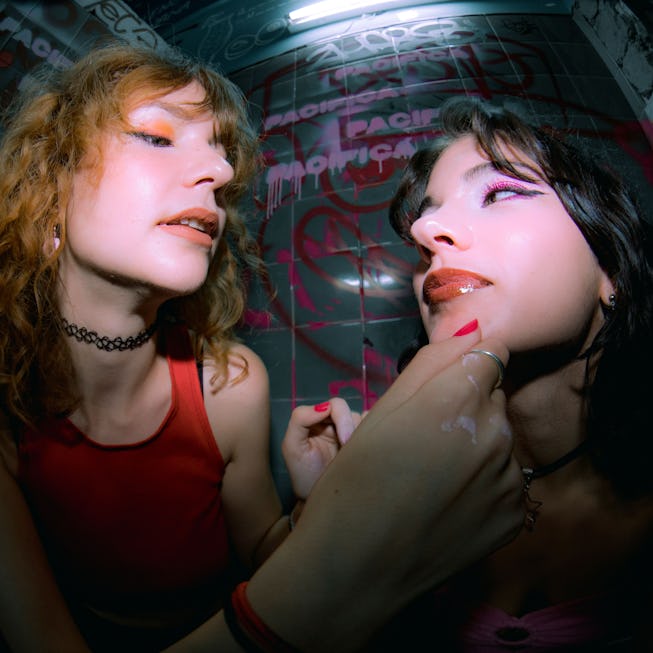 Pacifica
Let Pacifica's "Anita" Soundtrack Your Anti-Simp Summer
The band, whose indie rock covers make you rethink the originals, premieres their new, compulsively fun music video on NYLON.
If I'm certain about one thing this summer, it's that I want to meet Anita.
From the first 10 seconds of "Anita," the single from Pacifica, the Argentine indie sleaze rock girl band, out last week on TAG Music, I already knew I'd want to listen again. Now, in their new music video for the song, Anita comes to life, and she's deserving of every frame.
"Anita is the type of girl you just can't get over," Pacifica tells NYLON. "You will love her, you will hate her, but most of all: you will need her."
Pacifica is the project of Ines Adams and Martina Nintzel, two Buenos Aires-based musicians who recorded and posted covers of their favorite indie sleaze rock bands in 2021, eventually attracting the attention of a label. Since then, they've released their debut album Not a Cover Band featuring covers of songs like Wet Leg's "Wet Dream," and Arctic Monkeys' "Why'd You Only Call Me When You're High?" and The Strokes "Barely Legal" that make you rethink the originals.
Pacifica is generating a lot of rightful buzz, and now, even Flea of the Red Hot Chili Peppers reportedly counts himself among their fans; their musical references sound straight out of the golden age of indie sleaze with a distinctly 2023 Latin music twist. The combination is stop-in-your-tracks good, remaking the songs as if they were their own all along.
The video for "Anita" begins with a Pacifica concert; they're rocking out at the club, until suddenly, we're backstage. Anita, in all her confidence, flirts with a man by drinking his beer in a sip. She takes him home, watches him fiddle around, embarrassingly on an '80s piano guitar, and then she leaves in the pouring rain, only to have him follow her with an umbrella. He continues his hopeless devotion, showing up at her band practice in a Weezer shirt to play her a song. He makes her a mixtape; he even sells his guitar.
"I let you in/ You're trying way too hard/ Don't f*ck around/ Stop playing my guitaaaar," they sing triumphantly, bright vocals growling over peppy power-chord rock in the anti-simp anthem about living life on your own terms. "Don't ya understand/ I don't wanna hold your hand/Or listen to your band/ I just wanna hear you say it: I need Anita ah I need I need Anita I need Anita ah I need I need Anita."
You can watch Pacifica's "Anita" below, but warning: You might not stop.