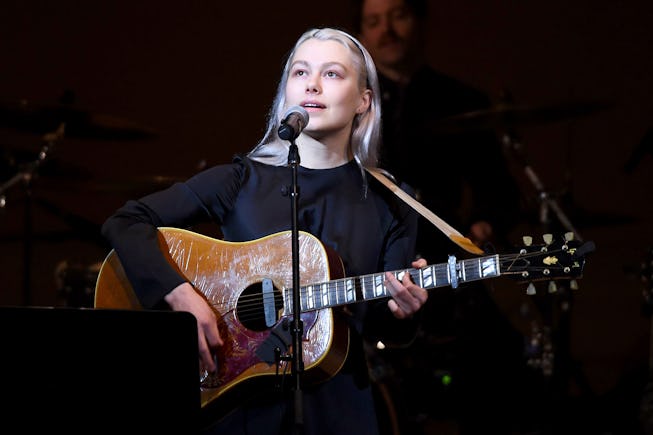 Ilya S. Savenok/Getty Images Entertainment/Getty Images
Phoebe Bridgers Announces Fall US 'Reunion Tour'
The singer-songwriter is hitting the road for the first time since 2019.
Phoebe Bridgers is hitting the road again — for real this time.
The indie singer-songwriter and musician has announced her first real tour back since the pandemic, and since the release of her lauded sophomore album, Punisher. Cheekily titled Reunion Tour — though this time it will be a reunion between fan and artist — the tour will kick off this fall in St. Louis, Missouri and will snake Bridgers through 25 cities across the U.S. from the September 2021 through October.
Indie musician Bartees Strange and electronic pop group MUNA, whom Bridgers recently signed to her label, Saddest Factory, will join Bridgers on a select run of dates in September. Additionally, one dollar from each ticket purchased will go towards RAINN, the Rape, Abuse & Incest National Network and the country's largest anti-sexual violence organization.
Bridgers released her critically acclaimed album Punisher in June 2020. Shortly after, she embarked on Phoebe Bridgers' World, Tour, which was really just four virtual performances live-streamed from her kitchen, bathroom, and bedroom. The record netted the young artist four Grammy nominations including Best New Artist, Best Alternative Music Album for Punisher, and Best Rock Performance and Best Rock Song for "Kyoto."
See everything you need to know about attending Bridgers' Reunion Tour, including the full list of tour dates and locations, below.
Phoebe Bridgers' Reunion Tour Dates
The singer's fall U.S. tour is slated to kick off on September 3 in St. Louis, Missouri and wrap in Atlanta on October 24.
On August 23, in light of growing Covid-19 concerns, Bridgers announced that all shows for the Reunion tour will be moved to outdoor venues. Besides the change to the venue, most dates remain largely otherwise unaffected, except for her scheduled show in Washington D.C. on October 26, which has been postponed.
Additionally, by Bridgers' own request, all shows will require attendees to be fully vaccinated against Covid-19 except in states where such mandates are outlawed in which case proof of a negative Covid-19 test within 48 hours prior to the show will be accepted.
See the updated list of cities and dates below.
Phoebe Bridgers Tour Dates
Sep 3 - St Louis, MO - Chesterfield Amphitheater &
Sep 4 - Manchester, TN - Bonnaroo Music & Arts Festival
Sep 5 - Louisville, KY - Iroquois Amphitheater &
Sep 8 - Indianapolis, IN - TCU Amphitheater at White River State Park *
Sep 10 - Chicago, IL - Pitchfork Music Festival
Sep 11 - Minneapolis, MN - Surly Brewing Festival Field *
Sep 12 - Madison, WI - Breese Stevens Field *
Sep 14 - Detroit, MI - The Aretha Franklin Amphitheatre *
Sep 15 - Lewiston, NY - Artpark Amphitheater *
Sep 17 - Pittsburgh, PA - Stage AE Outdoors *
Sep 18 - Columbus, OH - Express Live *
Sep 19 - Charlotte, NC - Charlotte Metro Credit Union Amphitheatre *
Sep 21 - Raleigh, NC - Red Hat Amphitheater *
Sep 22 - Philadelphia, PA - Skyline Stage at the Mann
Sep 23 - Dover, DE - Firefly Music Festival
Sep 25 - New York, NY - The Governors Ball
Sep 26 - Boston, MA - Leader Bank Pavilion *
Sep 27 - Boston, MA - Leader Bank Pavilion *
Sep 29 - Cleveland, OH - Jacobs Pavilion at Nautica *
Oct 2 - Austin, TX - Austin City Limits
Oct 4 - Birmingham, AL - Avondale Brewing Company
Oct 9 - Austin, TX - Austin City Limits
Oct 16 - Berkeley, CA - Greek Theatre
Oct 21 - Los Angeles, CA - Greek Theatre
Oct 22 - Los Angeles, CA - Greek Theatre
Oct 24 - Atlanta, GA - Shaky Knees
with Muna *
with Bartees Strange &
How To Buy Phoebe Bridgers' Reunion Tour Tickets
Tickets go on sale July 16, 2021 at 12 p.m. local time via Ticketmaster's Verified Fan program. Register now with Ticketmaster to be notified on when tickets drop before it closes on Wednesday, July 14 at 12 p.m. ET.
Editors note: This article was updated on August 23, 2021 with new tour dates and vaccine information.
This article was originally published on