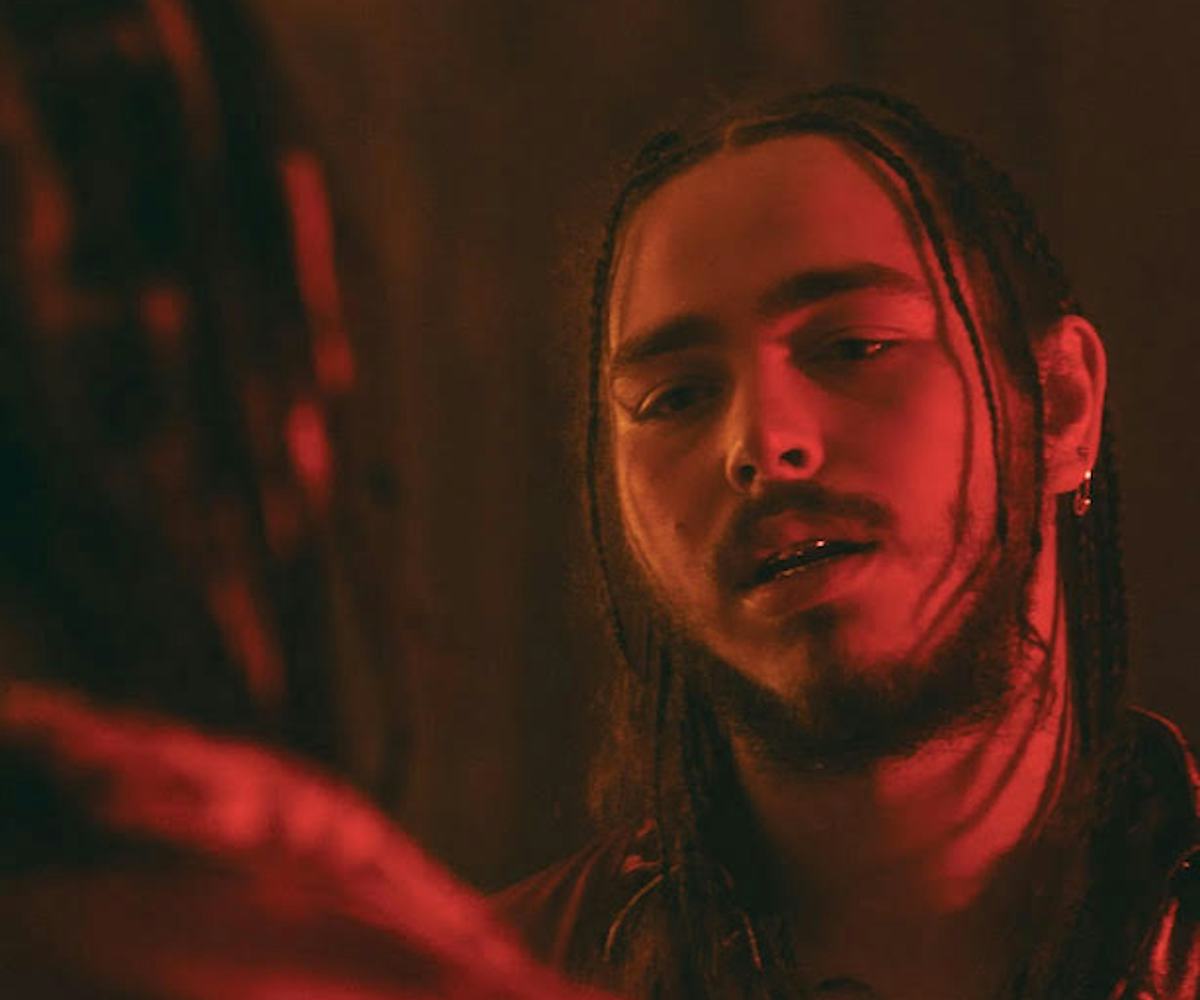 Courtesy of Republic Records
Post Malone Has A Message For His Haters: He's Making It Big Now
Feel free to say "Congratulations"
The true test of a great song nowadays is how many millennials quote it in their Instagram caption. When "White Iverson" by Post Malone came out, I too surrendered to the trend for a college tailgate pic, in part because I had the track on repeat.
It took Malone two days to write, record, and produce "White Iverson" himself, something not even all veteran rappers can say they've done for a hit. He never imagined it would be the song that would put him on the music map. "At that time, I really didn't have nothing to do, so I was just making music. I wasn't even putting anything out, just making a different type of stuff that made me feel good," Malone tells us.
Malone started seriously making music after moving from Texas to L.A. at 18 years old, and "White Iverson," released again today on his highly-anticipated first album Stoney, followed shortly after. Growing up with parents who loved music, he always had an affinity for classic country and rock and roll. To this day, the old-time rockers serve as some of his biggest role models and the basis for his sound. "From my mom putting me on Johnny Cash and Hank Senior, and from my dad putting me on Biggie and Metallica, they all inspired me to make music," says Malone. "Kurt [Cobain] and John [Lennon], too, just really inspired me to go for it. Don't be scared of what people think and just get weird with it." Malone has tattooed detailed portraits of each role model—Elvis Presley, Kurt Cobain, John Lennon, George Harrison, Dimebag Darrell, and Bob Dylan—onto his knuckles, so they're with him every time he performs.
Rap wasn't even the beginning of Malone 's career. He taught himself guitar through watching YouTube videos of Metallica and AC/DC when he was 12, learning the most basic chords until he could fully play. From there, he jumped in and out of 15 different bands before moving to L.A. His most memorable band began and ended when he was 15 and was called Ashley's Arrival, inspired by the notable metalcore group Asking Alexandria.
Malone knew he would make music, regardless of the genre, and so did his parents, who have long been his biggest support; but before moving out to L.A., Malone experienced a lot of doubt regarding whether or not other people truly believed he would make it as an artist. "I guess there's just people that didn't get it. You just got to keep them updated, though, like all the kids that laughed at me in school. They said, 'Austin, you're always gonna be nothing.' But now they say congratulations. It's really true." Malone used this experience as the inspiration for his rising single, "Congratulations," featuring rapper Quavo.
Overcoming challenges is at the core of many of Malone's Stoney songs, like "Patient," in which he raps about why he had to delay releasing his album until the end of this year.
Malone definitely has people he "doesn't like," those who have taken advantage of him, but he surrounds himself now with people like manager Andre "Dre London" Jackson and Dre's assistant Bobby Greenleaf, who believe he's more than just a one-hit wonder. In fact, Malone has an obvious bromance with his crew, teasing them the whole interview and ultimately proving the importance of surrounding yourself with good people who believe in you so that you can believe in yourself.
"If I wasn't talented, Bobby wouldn't hang out with me," Malone jokes. "No, but if anybody really says I'm a one-hit wonder, they haven't really given the other music a chance."
His talent has brought him into the recording booth with Kanye in "Fade" and with Justin Bieber for Malone's own track "Deja Vu." Working with such legends, Malone says, felt intimidating at first, but after drinking a couple Bud Lights—his drink of choice—and throwing back some Fireball, he bonded with them and was ready to make a track. "They're good people. It's hard not to get along with them; and I think if I weren't talented and meant to be there, I wouldn't have recorded nothing with them," says Malone.
Malone attributes this confidence to some advice he received from his mentor FKi 1st (and maybe a few beers), back when he was first starting out. It was 1st who helped produce Malone's first mixtape, August 26, and it was 1st who really helped him believe that everything will fall into place, as long as Malone stays focused. Of that he says:
1st came into this before me, and he went through a lot of shit. Learning through his mistakes and everything that happened is what got me saying, "Hey, I can do this. I have a good team with me. I've got a good teacher." If you say it's going to happen, it will. If you say you'll go platinum, then you will go platinum. I guess the moral of that advice is to be positive. No matter what happens just keep on rocking on and just keep on making music. If you keep on believing in yourself, something good is going to come of it. I'd say I live by that now.
Malone has interests in expanding past rap and hip-hop one day, confidently saying that, down the road, he wants to create a country, folk, or punk album. Already, though, Malone meshes those interests into his current sound, creating melodies like no other. He's dabbled before in creating covers for classics like Bob Dylan's "Don't Think Twice, It's Alright," showing off his natural talent and rustic voice. Stoney—named after an earlier nickname, Stoney Maloney—includes a solid mix of pump-up tunes like "Big Lie" and relaxed folk-like songs like "Feeling Whitney." Malone doesn't have just one genre he can master; he does and loves it all.
Breaking into the industry as a white rapper, especially as one with a country and punk background, can be challenging because of the automatic comparison to Eminem or RiFF RAFF, Malone says. That assumption throws upcoming artists into a box that can be hard to break out of.
"It's different, it's tough, but music is music. It shouldn't matter what color you are at the end of the day, and that's how I look at it. It probably affects people. I don't care, though. I just got to be me, little white me, and keep on making music."
Malone very much sticks to who he is, especially with style. He made it into GQ earlier this fall with his bubblegum pink bomber jacket from Yves Saint Laurent. Right now, he claims, he's rocking the "half Motörhead, half '60s swinger" look with comfy tees, cowboy boots, and French braids, but it's always going to be the music that's more important than the style.
"I'm just here to make music that I enjoy myself and that I would listen to," says Malone. "The genuinity, if that's a word, is there." It's still up for debate whether or not "genuinity" is actually a word, but somehow it suits him: honest with a quirky twist.
Because of his unique sound, it's tough to say where Malone will be as an artist in the next few years, but, as he says, "As long as people keep quoting me in their Instagrams, I'll be fine."