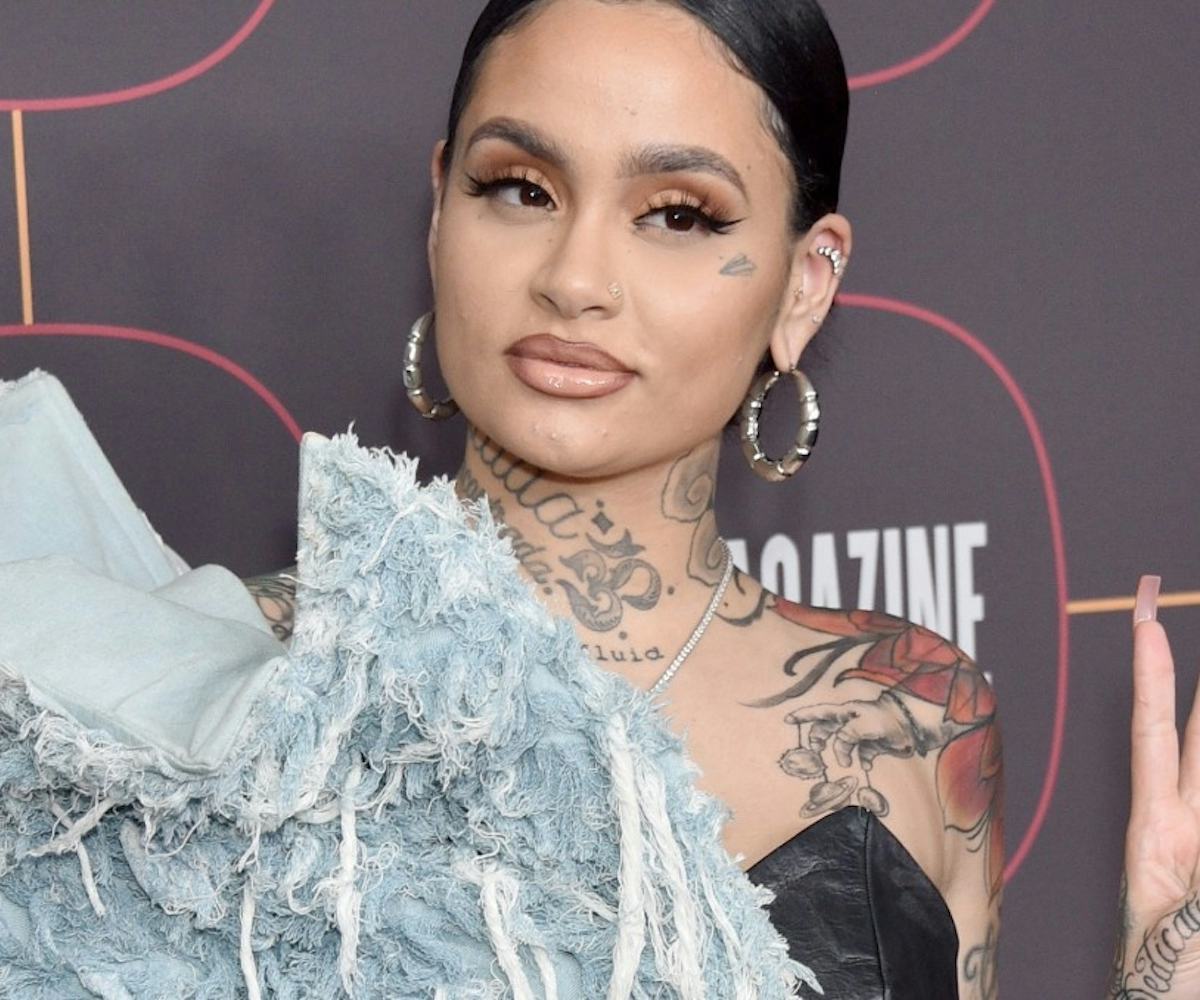 Photo by Gregg DeGuire / FilmMagic / Getty Images
See All The Quirky Accessories & Fits That Hit The 2020 Pre-Grammys Red Carpet
They sure were...interesting
With the 62nd Grammy Awards on the horizon, Hollywood is a frenzy of parties. Labels and streaming platforms alike are rolling out the red carpet for musicians and celebrities while nominated artists play mini-shows for the lucky elite in attendance. Last night, Warner Music Group themselves got into the mix, throwing a pre-award show party attended by the likes of Lizzo, Kehlani, Big Freedia, Naomi Campbell, Ty Dolla $ign, and more.
The red carpet looks stayed on the casual side of the style spectrum — the big event is Sunday, after all, so sweeping gowns and polished suits were at a minimum. The pre-Grammy party was more about stand-out details than full-on glitz and glamour: tchotchke-level accessories, sculptural nail art, and bold prints reigned supreme instead. Playfulness was the name of the game, and singers TeaMarr and Lizzo battled it out in that arena. TeaMarr stepped up her accessory game with a golden tea cup while the eight-time nominated Lizzo merged business and party by opting for a sequined black leotard that also somehow doubled as a blazer.
Scroll down to see some of the most memorable looks of the evening. The 2020 Grammys will air on January 26 on CBS, and Alicia Keys returns to host the ceremony. See the full list of Grammy nominations, and the year's biggest snubs and surprises.
Best Mystery Material: Kehlani
Please don't ask me what is on Kehlani's shoulder because I have no idea. At first I thought it was a shearling stole, but upon closer inspection it looks like shredded denim. Moving on beyond the mass of mystery fabric, the singer's look hits all the classic club girl points: leather mini dress, flawless nails, big hoops, and an immaculate nude lip.
Best Impression of a Tangerine: JoJo
JoJo turned up the color for the Grammy pre-party, devoting herself to varying juicy shades of orange. The tangerine dream stops at the singer's ankles, moderating the look with a pair of nude heels with acrylic detailing.
Best Business In The Front, Party Also In The Front: Lizzo
There's a "When you have a board meeting at six and a dance recital at seven" joke somewhere in this outfit. Lizzo elevates her sequined leotard-blazer with a classic red lip. The singer is nominated for eight awards, including Best new Artist and Album of the Year.
Best Accessory: TeaMarrr's Golden Tea Cup
R&B singer TeaMarr puts her pinky up out of respect for her golden tea cup accessory. The sapphire lace gloves and square-cut ring flesh out the "high tea" fantasy.
Best Sinéad O'Connor Tribute: Ty Dolla $ign
Ty Dolla $ign may have kept it his style low-key with a bomber jacket, jeans, and a beanie, but his love of Irish singer Sinéad O'Connor is as high-key as it gets. The taste!
Best Nails: Big Freedia
The queen of New Orleans bounce, Big Freedia, knows an outfit is not complete with a fresh set of nails. Hers have all the trimmings: theatrical length, crystals, and hand-painted designs.
Best Billowing Cloud of Smoke: Wiz Khalifa
If anyone's going to hit the red carpet shrouded in smoke, it's going to be Wiz Khalifa. The rapper and his smoke cloud went casual, opting for a bright orange tee, matching sunglasses, and a floral-embossed leather jacket.
Best Gown: Shaun Ross
Just because this isn't the official Grammy's red carpet doesn't mean model Shaun Ross is going to skimp on a look. A red carpet is a red carpet, after all. Ross pulled up in a modest and elegant gown, complete with long sleeves, a mock turtleneck, and rose motifs.
Best Ed Hardy Couture: Gwen Stefani
There are a relatively small amount of true constants in this world, and Gwen Stefani rocking platinum locks and a red lip rank among them. Stefani's red carpet look is Americana-meets-trucker: a semi-sheer dress adorned with tattoo-like embroideries of roses and eagle wings, with thigh-high black patent boots for good measure.
Best "I'm a Celebrity, Get Me Out of Here!" Look: Naomi Campbell
When I look at this photo of Naomi Campbell wearing sunglasses inside the Grammy Pre-Party, all I hear is her now-iconic speech: "Don't. Compare. Yourself. To me. Ever! You are not on my level, [Nicole], you will never be on my level. Do not compare yourself to me." The world-famous supermodel refusing to make direct eye contact with anyone by wearing sunglasses indoors? Iconic.