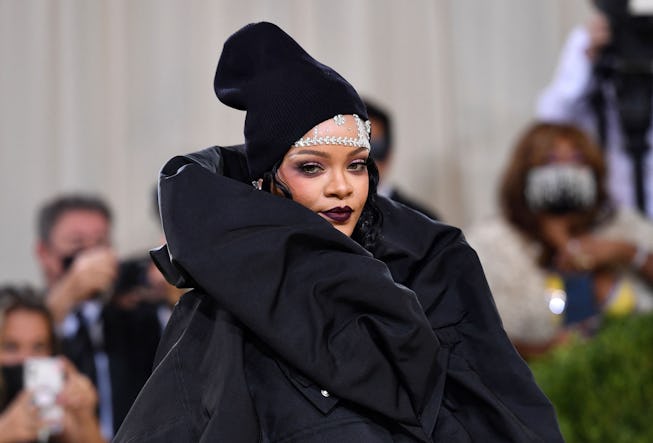 ANGELA WEISS/AFP/Getty Images
Rihanna's Second Song For Black Panther: Wakanda Forever Has Arrived
Yes, you read that correctly.
Rihanna's second comeback single — and second contribution to the official Black Panther: Wakanda Forever original soundtrack — has arrived. "Born Again," another contemplative ballad that showcases the veteran superstar's much-missed vocals landed on streaming services on Friday, Nov. 11.
On the new track, the singer can be heard expressing her devotion and loyalty to a special place — presumably Wakanda — over piano and stormy, building synths. Compared to previous release "Lift Me Up," the new track is a bit more dynamic as it converges to a sonic climax. The track was co-written by Rih with James Fauntleroy, Ludwig Göransson, and frequent Beyoncé collaborator, The Dream, and produced by Göransson, and The Dream. The jury's still out on whether "Born Again" will also have a music video.
It was previously confirmed that the superstar was likely to have more than one contribution to the highly-anticipated superhero soundtrack, though there was little word on when the second song would arrive, or what it would be called. As such, "Born Again" landed as a bit of a surprise for fans on Friday.
Rihanna previously released "Lift Me Up," her comeback single after five years and first contribution from Black Panther: Wakanda Forever.
The spare piano ballad and official lead single for the soundtrack — which was released on November 4 —was "written as a tribute to the extraordinary life and legacy of Chadwick Boseman," per a press release. She co-wrote the song alongside the film's director Ryan Coogler, Göransson (who was also behind the first film's Oscar-winning score), and Tems (who has her own song on the soundtrack); it was apparently recorded across five different countries.
Speaking about the track, songwriter Tems said, "After speaking with Ryan and hearing his direction for the film and the song, I wanted to write something that portrays a warm embrace from all the people that I've lost in my life." Continuing, she added, "I tried to imagine what it would feel like if I could sing to them now and express how much I miss them. Rihanna has been an inspiration to me, so hearing her convey this song is a great honor."
Both "Born Again" and "Lift Me Up" are being released through Rihanna's personal record label Westbury Road, in partnership with Roc Nation, Def Jam Recordings, and Hollywood Records.
Hear both songs now ahead of the film's arrival to theaters on Nov. 11.
This article was originally published on