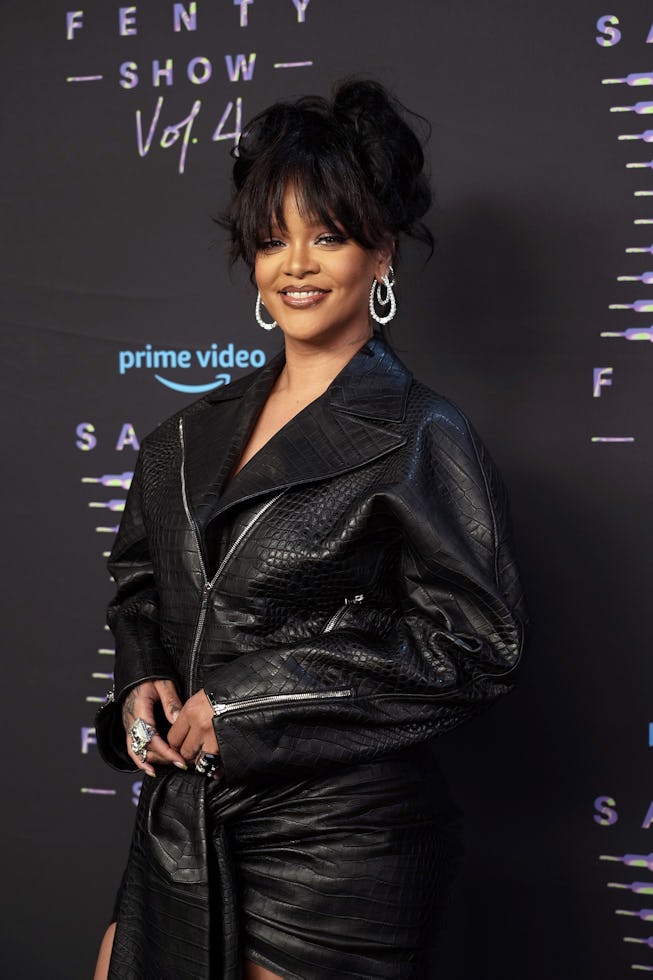 Kevin Mazur/Getty Images Entertainment/Getty Images
Rihanna's Long-Awaited Documentary Is Done
It's just waiting on the singer's approval.
Because celebrities are expected not only to make art, but to reveal personal information about themselves in the process, tell-all documentaries are basically a rite of passage— especially for musicians. In recent years, documentaries following artists like Taylor Swift, Selena Gomez, and Billie Eilish have tried to pull back the curtain on what it's like to be them, while also acting conveniently as tiny PR machines. But there's still one artist shrouded in mystery, despite how much work she puts out, and that is Rihanna.
Thankfully, a Rihanna documentary has been in the works for the last six years. The documentary, which will follow Rihanna's ascent into fame was first reported in 2015. In 2018, director Peter Berg said In 2018, the doc could be released in "about a month and half."
Now, in an interview with The Hollywood Reporter, Berg is revealing the documentary is done. There's just one more thing to check off the to-do list: It must be Rihanna's seal of approval.
When asked about the documentary, "Waiting for [Rihanna] to approve it," Berg replied.
"It's done and sold, and Amazon's ready," he said in the interview. "She's a perfectionist, so we keep adding. It's been six and a half years of filming, so, yeah, it's ready to come out. We're just waiting on her to say, 'Yeah, let's do it.' I don't know. Maybe it'll be a 10-year project."
When asked if he was nervous about if Rihanna would like the doc, Berg was confident she will like it — but it's still not clear when it will be released.
"Not really," he said. "When Rihanna asked me to make a doc, I thought she was joking. My work tends to be a bit more masculine, at least on the surface. But this has allowed me to dip in and out of her life while I'm doing other things. I've loved it — watching her in the studio, seeing her turn Fenty into this billion-dollar entity and, now, being a mom. It's such an enriching experience, I don't really care how long it takes."
Rihanna is nothing if not a perfectionist — that's why whatever she puts out after 2016's Anti is guaranteed to be good; she'd rather release less and have it all be good than succumb to the vice grip of the music industry cycle. If we have to wait five more years for a Rihanna doc, then so be it.
In the meantime, Rihanna will be performing at the Super Bowl halftime show next month in Arizona — though she has refuted that this means she's releasing new music soon.