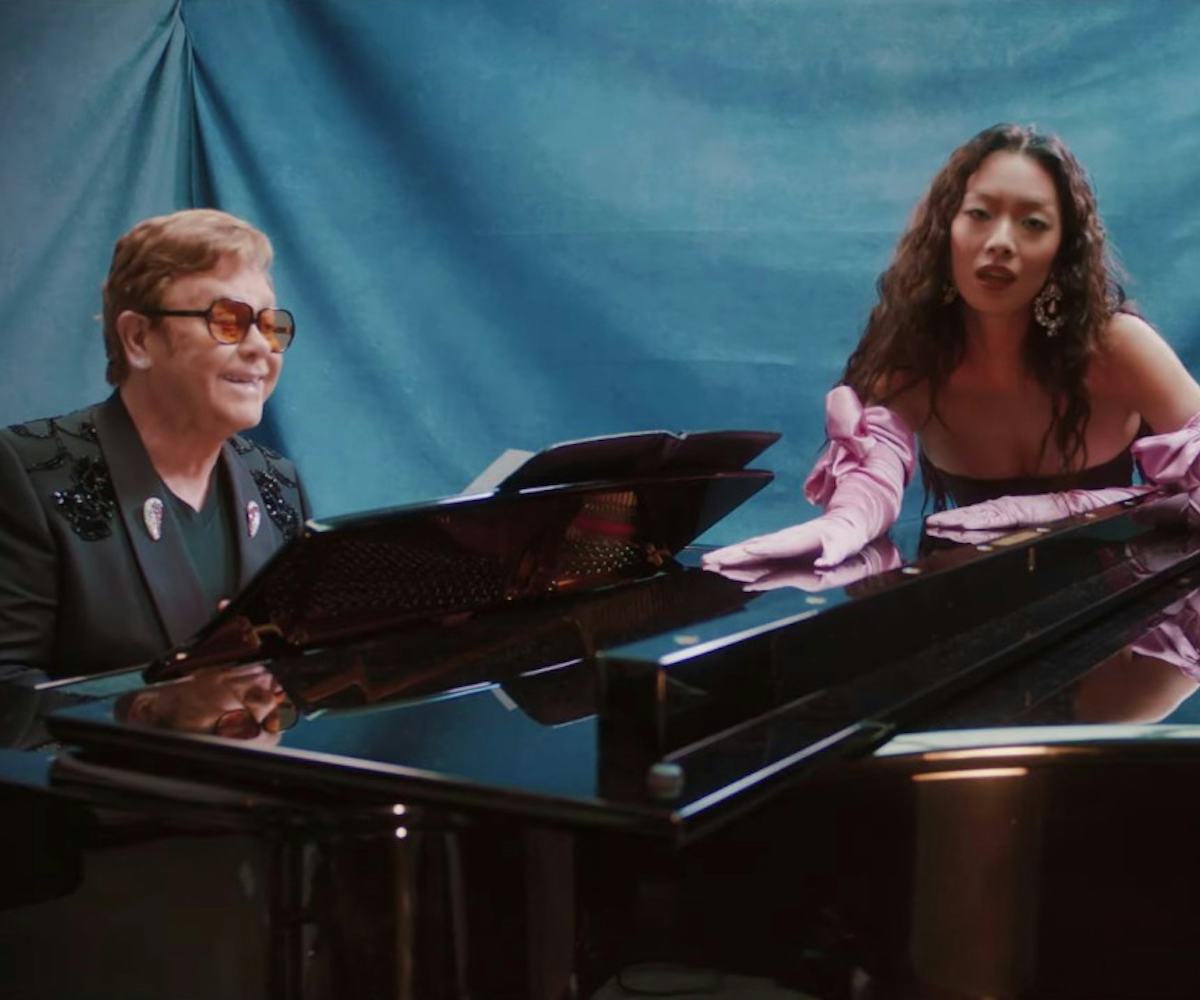 YouTube
Rina Sawayama & Elton John Duet On A New Rendition Of "Chosen Family"
Watch the two perform the heartfelt track now.
Elton John's and Rina Sawayama's duet together, "Chosen Family," has finally arrived. After announcing the track on Monday, the song and video for the heartfelt tune was shared on Wednesday as a new rendition of the SAWAYAMA track originally released in 2020.
John and Sawayama's duet, all about the people we choose to be our family, swaps out the airy poppiness of the original for a more traditional piano ballad. In the video, the two perform the song in classical fashion, with Sawayama standing in a gown and gloves singing, while John accompanies her, seated at the piano.
"It was such a joy and honor to rework 'Chosen Family' with the legendary Elton John," the British pop star wrote in a press release. "The song means so much to both of us, and recording it together was such a special experience I will never forget. I got shivers when I heard his voice through the monitor and became emotional when he added the piano parts. Elton has been such a huge supporter from before the album, and when we finally met to record this song we clicked from the get go. I hope people can hear the magic!"
John was one of the biggest names to put his support behind Sawayama after the release of her debut album. He named it his "favorite album of the year" on his Apple Music radio show, "Rocket Hour," last June, beating Perfume Genius' Set My Heart On Fire Immediately and The Weeknd's After Hours.
"She is just an extraordinary talent," John said of Sawayama in a press release, while also calling her "a brilliant, confidence-oozing, endlessly fascinating songwriter and performer."
Earlier this year, Sawayama was on the shortlist for the BRIT Awards' prestigious Rising Star award, a nomination she was only able to receive after she pioneered a change to the institution's eligibility requirements regarding immigration status for artists. Now, both Brit Award and Mercury Award nominations are eligible to any artist residing in the U.K. for over five years.