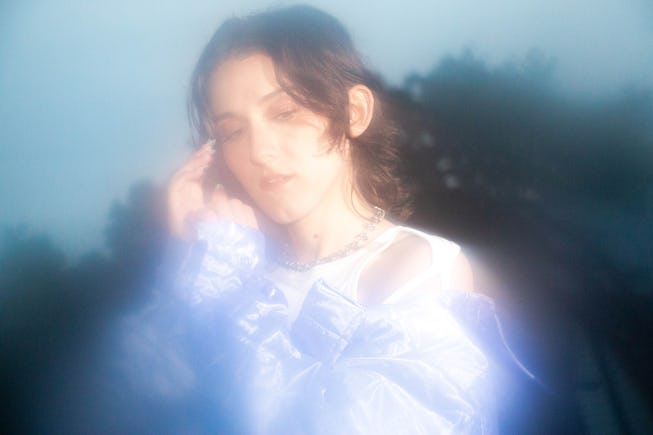 Natalie Leonard & Rachel Cabitt (c/o Pond Creative)
Sadie's EP 'Tides' Is Exquisite Hyperpop That Basks in the Feeling of Feeling
On the Brooklyn-based producer and songwriter's second EP, she ascends her shimmery pop to new heights.
For sadie, tales of love and frustration are best told in glossy, glitchy synths; in music that lingers with you long after the club closes.
On her second EP Tides, co-produced by Joe Valle from Wet, the Brooklyn-based producer and songwriter (née Anna Schwab) expands her pop — leaning into the intentional exquisiteness of feeling anything at all. The four-track EP is a short but powerful ascension into a glitzy funhouse — a swirling, twinkly flash of hyperpop that will leave you feeling better than when you walked in.
"I love pop music, but I also like some feeling, too," sadie tells NYLON. "I love just pure feel-good poppy music, but I'm also a sap." It's a feeling best expressed in the titular track "Tides," a song that makes her feel sad, though you'd never know by listening to it, with its buoyant synths and delicate Autotune.
"'Tides' is about looking back on things that have changed and wanting to have it [back to] the way it was ... but knowing that it wouldn't be the same, and it's special because it happened, if that makes sense," she says. "This song feels very true to me and sincere."
Similarly, on her single "Up All Night," obsession is a party: "Going insane, numb in the brain/Way you keep you up, up," she sings over polished, relentless synths. "You got me up all night/But I don't mind, I don't mind."
Sadie, a born and bred New Yorker, has made music in various forms her whole life, starting with classical piano when she was four years old. In college, she taught herself guitar and "was writing pretty cheesy acoustic songs," she recalls. During her last year of college, she started teaching herself Ableton; in the last few years, she decided to really pursue her craft.
On Tides, she is finding her stride; she feels braver after gaining confidence with the acclaimed release of her debut EP, which was praised by everyone from The New York Times to the Fader. She recently opened for Kelela at South by Southwest, in what was only her fourth performance ever. And nothing short of magic happened for Tides: it kind of spilled out of her, and there was less than a year between the two EPs.
"This is just a moment for me because if you were to have asked me literally a year and change ago if I would be in Austin playing South by Southwest and having an interview with Nylon, I would've been like, 'Shut the f*ck up,'" she says. "It is crazy that this is where I am right now, and I'm just really appreciating it. It's just kind of mindblowing."
NYLON spoke with sadie ahead of Tides' release about how the project came together, about what exactly hyperpop is, and about why Autotune gets such a bad rap.
Where did this EP begin for you?
It actually came together really, really fast. I wrote it in the months after I released the first EP. I'm sure most musicians can relate to this, but it takes so long to put music out, and I had been sitting on my first EP for so long. By the time it came out I hated it, and I was really ready to write new stuff. And my collaborator Joe [Valle] and I started working on "Tides" — that was the first song that we wrote. And then it literally happened so fast. I had these four songs and my manager was like, "We should just put out another EP." So it was just less than a year in between the two. I know that most writing processes won't be that easy, but compared to the first one, this was a breeze. It was really fun, and I branched out and worked with new people, too, which is fun.
Do you feel like Tides is a continuation of the first EP, or are you coming at it from a different place?
I feel like I have a complicated relationship with — not being described as hyperpop, because I love hyperpop and I know that my music is definitely a little hyperpop — but with this one I was trying to be a little less hyperpop. I guess it still is, but I feel like anything with Autotune, people are just like: "hyperpop."
I was also in a more confident place. I was so nervous before releasing my first batch of songs. Not that I wasn't confident in my voice, but I think after releasing songs and getting positive feedback, I just had more belief in myself after, and I was more relaxed and carefree writing this one. "Okay," I started on the guitar. I was just trying to play around. I felt more brave..
I'm wondering if hyperpop always felt like the best vehicle for what you want to say. It sounds like maybe it's not quite that cut and dry.
I feel like when people ask me to describe my music, I always just say hyperpop, but it feels like a cop out. People will call Caroline Polachek hyperpop, but I don't think that she is really. I don't really know what it means anymore. I feel like hyperpop, to me, what I associate with it is much faster BPMs, much more literally hyper and glossy and a little more squeaky. I obviously love hyperpop and a lot of synths that I use are very inspired by it, but I kind of like to cherry-pick things about hyperpop and then put my own flavor on it.
Assigning a genre to a piece of art is always a fraught exercise. And like you said, even if there's some autotune, then it immediately gets put into this category.
I love Autotune so much. People ask me, "Will you ever not use Autotune?" I'm like, "No, I love Autotune." It makes your voice into an instrument and it just sounds so good. I can sing, but I don't really care about having a good voice. It's just that I love Autotune. I think it can be so expressive.
I think so too, and it gets a bad rap.
It's just because our culture is so obsessed with people being "good singers." I used to "sing," but I don't care about that. To me, it doesn't even matter if you have a good voice. If you can express emotion, that's all that matters. I think that our culture is very obsessed with female fronted bands that have really good voices. Not to sh*t on anyone's style of music, but I think that that is where some criticism comes. When people are like to Charli XCX, "Don't use Autotune," she's like, "You're missing the point." People expect women to have beautiful voices, but I don't know.
Traditionally, having a really beautiful voice was a way for women to be in music, soo it's cool to be like "No, there's so many other ways that I can be in music and be expressive."
When you think about so many male rock stars, they don't have the best voices. Obviously Bob Dylan or Neil Young: not good voices. It's about how they use it, and it's the relationship between men and women and what it means to have a good voice is so different.
For men, it becomes a part of their act and their signature style. For women, there's a higher bar for what is acceptable.
Totally. No one's telling Drake not to use Autotune. No one cares if Drake uses Autotune or not.
What else have you been listening to lately?
Frost Children. Obsessed with them. They're just so amazing. They're so unabashedly themselves. They're so authentic and they're just geniuses. I love Kelela's new album. I just discovered them and they are no one on Spotify and I am obsessed, obsessed, obsessed: Maryy XX. She's from Lagos, Nigeria. She only has 1,900 monthly listeners, but my friend played her the other night when we were at dinner and I was like, "Whoa, this girl is so good!" You know who I love is Louke Man. He's so cool. I really want to work with him. I also am obsessed with PinkPantheress. I can't stop listening to her. She's an icon. Also, she goes on stage with her little purse. It's such icon behavior.
This interview has been edited and condensed for clarity.