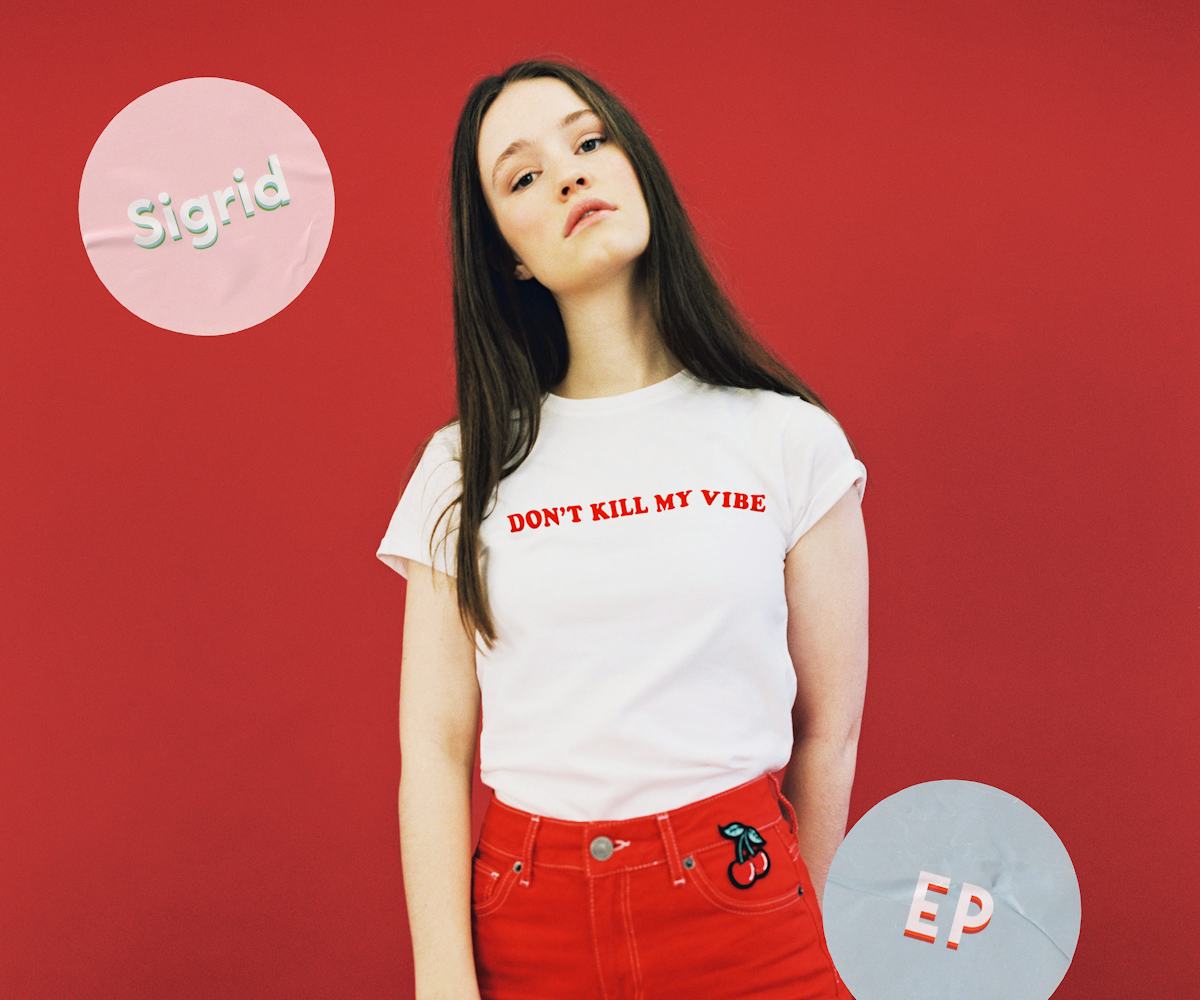 Photo by Francesca Allen
Sigrid's Debut EP Is "Dynamite"
'Don't Kill My Vibe' is out now
Sigrid Solbakk Raabe aka Sigrid has come a long way in a very short amount of time. The 20-year-old Norwegian singer wrote her first song only four years ago, and now she's signed to Island Records. The musical gem gained international attention after she released her first single, "Don't Kill My Vibe," earlier this year, and she's officially making her musical mark with her newly released Don't Kill My Vibe EP.
"The EP is mainly a summary of how 2016 was for me, New Year's Resolutions not included, I don't really believe in that," Sigrid tells us. "Moving away from Ålesund to Bergen after finishing high school, meeting new people, getting hurt by some of them, and then getting over it." Sigrid's voice and lyricism are well beyond what some might expect from someone her age, but she's not letting the skeptics hold her back. 
Now the indie pop princess is doing a ton of traveling and writing sessions for the first time. She adds, "Making this EP has been so much fun! It has seriously been the time of my life, and I don't think I've felt this way before."
Learn more about the stories behind each track as she breaks it all down, below. 
"Don't Kill My Vibe"
This one is inspired by a previous, and difficult, writing session. The most frustrating part wasn't the comments or how I felt in the session, but the fact that I didn't speak up. I just sat there like a doll. So, it was really good to get all my feelings out sometime later in my writing session with the wonderful Martin Sjølie. I got something nice out of something bad.
"Fake Friends"
I wrote this one with Martin Sjølie, too, and we just wanted to make a big minor-based power tune. The song is about having difficult relationships and letting them go.
"Dynamite"
This one is so honest, it's almost awkward singing it. I love it though. I wrote it with Askjell Solstrand, and I remember we just talked about life with a capital L. Askjell mixed "Dynamite," as well as "Fake Friends" and "Plot Twist."
"Plot Twist"
Henry and George Flint came to Bergen from London a while ago to write with me, and "Plot Twist" is the result. The tune is about getting over someone. "Give me a show, still that's a no from me" is a shout-out to Simon Cowell. I just love the way he says, "That's a no from me."