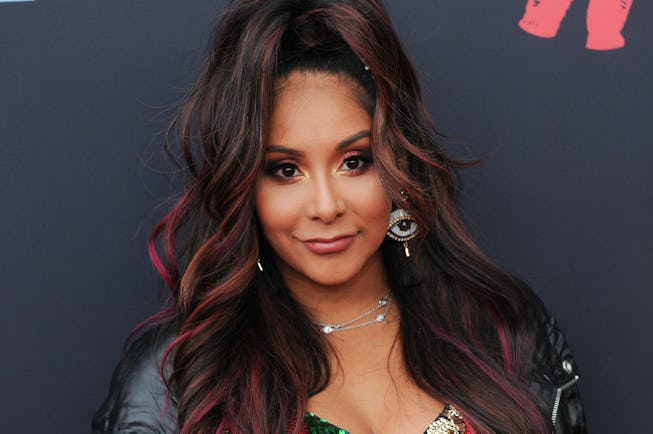 SOPA Images/LightRocket/Getty Images
The Context Behind Snooki's Iconic Outfits Will Have You Laughing Out Loud
The "Jersey Shore" MVP took us for a walk down memory lane.
The 2000s had its fair share of icons, but there's only one Italian-American woman under five feet tall who remains firmly in our hearts: Snooki. As an original cast member on MTV's riotous Jersey Shore franchise, Snooki's partying, fighting, and sartorial choices have evolved into grade-A meme fodder for over a decade. And the best of it all is how she is very much in on the joke.
Self-awareness is a trait that reality television celebrities categorically lack, but not our girl, Snooki. She can laugh at herself! Case in point: when she logged onto Twitter and said she'd give context to any of her iconic outfits from over the years.
There were a few core tenets to Jersey Shore style: more was more, the higher the hair the closer to God, the brighter (and tanner) the better, and fashion always over function. Her bedazzled sunglasses may or may not completely block out her vision! If she's dressed in a Jersey Shore souvenir shirt and holding two water bottles, one is definitely filled with vodka! If she's exhausted from a bender, you better believe she's stepping out in fuzzy frog slippers!
The actual context behind the outfits is beautifully unhinged, and in some cases, inspiring. Take the iconic photo in which Snooki wears a neck brace: "I stole mikes neck brace because i didn't want to work, so i walked in and told our boss i broke my neck and couldn't work. This pic is of me asking people where the bar is." In some circles, we call that self-care!
Whether it was GTL (Gym, Tan, Laundry for the uncultured reading this), dressing against the climate, or staying unbothered in the face of her haters, it is Snooki's commitment to the bit that keeps her in the 2000s hall of fame. See more of our favorite outfit explanations, below.