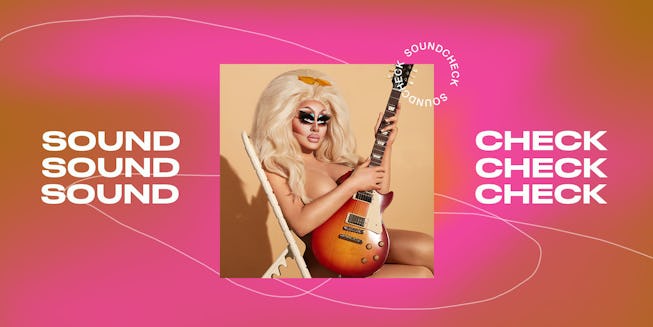 Photo by Albert Sanchez
Soundcheck: The 16 Best Music Releases Of The Week
Trixie Mattel, Porches, and more
Every weekend, we bring you #SOUNDCHECK—your destination for the best new music that hit the web over the course of the week. Because you should always be prepared when someone passes you that AUX cord. This week's roundup features 16 of our favorite emerging and established artists including Trixie Mattel, Porches and so many more. Turn up, tune in, and tune out.
Alas, the time has come in the middle of the month for a momentary breath between albums from the biggest women in pop; while Halsey and Selena Gomez held it down for the first weeks of the year, it's still another several days before Animals are slayed by Kesha's High Road. But have no fear, there are still plenty of bops to go around this week — and who better than to keep the party going than Trixie Mattel with an early summer anthem? Her third studio album Barbara is still weeks away, but new single "Malibu" is sure to hold you over until it arrives.
Elsewhere, The Turning (Original Motion Picture Soundtrack) revealed to be a true who's-who from the canon of indie-rock women, from Soccer Mommy and Mitski to Kim Gordon and Cherry Glazzer. What's not to love? Below, hear all the best music releases of the week.
"Malibu" - Trixie Mattel
This is the cure for the it's-still-not-summer blues, for sure.
"Do U Wanna" - Porches
Play this on a rainy day for maximum gloomy vibes.
"P*$Y Fairy (OTW)" - Jhené Aiko
Drop this in the DMs of your favorite booty call.
"Legs, Run" - Lala Lala
A cinematic love-lorn anthem, complete with a finale that will have you playing it on repeat.
"LOVE IN THE DARK" - Jessie Reyez
Reyez's latest romantic ballad is a must-listen.
"Misconception" - Chloe Kae
Fans of Kllo will have no choice but to stan.
"YES MAN" - HOOK
HOOK plus a chiptune trap beat is what the world needs most right now.
The Turning (Original Motion Picture Soundtrack) - Various Artists
Mitski, Vagabon, girl in red... there's not a skippable song on this soundtrack.
"Over" - PREP ft. Anna of the North
Ignore the title — there's no way you'll be over this song anytime soon.
"fever dream" - mxmtoon
The viral TikTok artist's latest release is pure whimsy and light.
"Boring People" - L Devine
Let your inner pessimist shine.
"TOY" - Chromatics
Grab a hairbrush; it's time to dance around your bedroom to this latest Chromatics song.
"Rich White Bitch" - Daddy
Daddy Ramazani wrapped his lyrical commentary on white privilege in a bubbly '80s pop package.
"ISH" - Zebra Katz
His debut album can't come soon enough.
"Jealous Of My Friends" - LOVA
Queue this up for your anti-Valentine's Day celebrations.
"Total Eclipse Of The Heart" - Angie McMahon
Angie McMahon delivers a frizzled, indie-rock rendition of the camp karaoke classic.