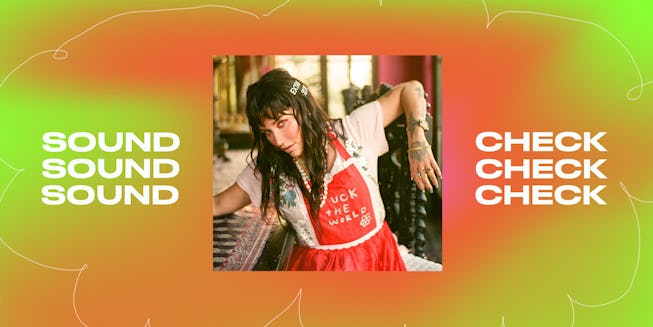 Courtesy of artist
Soundcheck: The 11 Best Music Releases Of The Week
Kesha, Demi Lovato, and more
Every weekend, we bring you #SOUNDCHECK—your destination for the best new music that hit the web over the course of the week. Because you should always be prepared when someone passes you that AUX cord. This week's roundup features 11 of our favorite emerging and established artists including Kesha, Demi Lovato, and so many more. Turn up, tune in, and tune out.
Kesha's back, and everything is right in the world... at least, for Animals that is. Her long-awaited album High Road came with the return of her fierce delivery and petty lyrical quips, as well as plenty of emotional swells for whenever you're in need of a good cry. After all, each of the singles — from "Raising Hell" ft. Big Freedia to "My Own Dance" — were surefire signs of a banger-packed record yet to come.
The 2020 Grammy Awards provided ample new releases courtesy of killer performances by Lil Nas X and Demi Lovato. Nas X teamed up with his iconic predecessor of the same name to give his Panini single "Rodeo" a major upgrade. And of course, the whole world wept as Demi Lovato made her triumphant return to music with her performance of new single "Anyone".
Check out all the week's best releases below.
High Road - Kesha
Play standout track "Cowboy Blues" on repeat for optimal listening experience.
"Anyone"- Demi Lovato
Has anyone stopped crying since this was released?
"Sometimes" - H.E.R.
Apologies in advance if you wind up in your feelings because of this song.
"Oh My God" - Sevdaliza
Masterfully pairing witchy lyrics with slow-churning bass beat.
"GOOD GRIEF"- Torres
Let Torres' vocals haunt you.
"Die Without You" - Dawn Richard
An ode to ride-or-dies, just in time for Valentine's Day.
"Hurt By You" - Donna Missal
This song was made for rolling the windows down and speeding on the backroads.
"Fkn Around" - Phony Ppl ft. Megan Thee Stallion
This might just be the funkiest Meg has ever sounded.
"Rodeo" - Lil Nas X ft. Nas
Nas squared? There's never been a better collab.
"Night Terrors" - Diet Cig
Lead singer Alex Luciano's voice is filled with the whimsy and optimism the world needs most right now.
"Body to Body" - ABISHA
Set the vibe right with the latest from this up-and-comer.